Preparing tomorrow's leaders: CrossRoad applications for high school juniors and senior available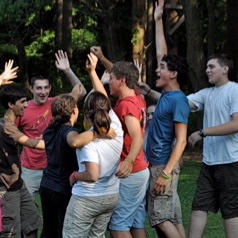 Wednesday, December 7, 2011 — Orthodox Christian students from the United States and Canada are invited to take part in a summer vocation exploration program that integrates faith, learning, and service. In its ninth year, the CrossRoad summer institute has proven to be a successful program preparing teens for leadership in the Church and in their communities.
One of the vibrant programs of Holy Cross Hellenic College's Office of Vocation & Ministry (OVM), CrossRoad offers participants access to HCHC's distinguished faculty instruction and enthusiastic graduate students who serve as staff. Since the program is on HCHC campus, participants experience the beautiful campus that is within minutes of Boston. In addition to participating in theology classes, CrossRoad students attend Vespers each evening at neighboring parishes in the Boston area and engage in community service. Described by many as a "life-changing experience," CrossRoad provides a strong foundation for the future leaders of the Church, evidenced through the way CrossRoad alumni reflect on what they learned during the 10-day period.
CrossRoad alumna Katya Soot of Albany, OR, said, "Two and a half years ago, I attended Crossroad, and yet it feels like yesterday. Time and distance have no power over the love and knowledge that Crossroad fostered for all of us in just ten days. To this day, what I learned and the people I met at Crossroad continue to influence my life, and I know this is something that will last forever."
Alumnus Michael Takes of Clayton, MO, added, "CrossRoad was an amazing experience that helped me learn about my faith and prepared me for living an Orthodox life in college."
This year's sessions are June 23-July 3 and July 10-20, 2012. Application Priority Deadline is March 1, 2012. Applications may be downloaded from the CrossRoad website.
About CrossRoad
CrossRoad draws its name in part from the metaphorical crossroad at which high school seniors and graduates find themselves as they prepare to embark on their life journey towards further studies and careers. CrossRoad's 350 alumni hail from 39 states, Canada, and the Bahamas. To accommodate the overwhelming interest, CrossRoad runs two sessions annually.
For summer 2012 each accepted applicant will receive a full scholarship and is only responsible for travel costs to/from Boston. CrossRoad is funded by the OVM through the generosity of the Lilly Endowment Inc., the Archbishop Iakovos Leadership 100 Endowment Fund, Old Neighborhood Foods, the Virginia H. Farah Foundation, and benefactors from the greater Orthodox community. Applications may be downloaded from the CrossRoad website or received by mail by calling the office at 617-850-1310. Visit the website to see a short video of the CrossRoad experience. Applicants must currently be in their junior or senior year of high school. Application Priority Deadline is March 1, 2012.