Visit to the Orthodox Church of the Czech Lands and Slovakia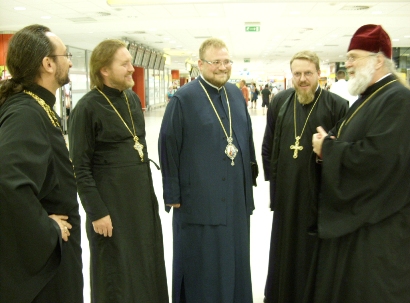 His Grace, Bishop Benjamin of San Francisco and the West; Archpriest Eric G. Tosi, Secretary of the Orthodox Church in America; and Mr. Barry Migyanko, Administrative Assistant of the Diocese of the West, began a week-long official visit to the Orthodox Church of the Czech Lands and Slovakia, at the invitation of His Beatitude, Metropolitan Krystof.

His Beatitude, Metropolitan Jonah, is expected to arrive in the Czech capital on the eve of the Great Feast of the Dormition [old style], and is expected to concelebrate the festal services with Metropolitan Krystof. Metropolitan Jonah's departure was delayed as he traveled to Dallas, TX, to visit His Eminence, Archbishop Dmitri, who, as reported on oca.org, has been in declining health for several weeks.
[On Friday afternoon, August 26, it was learned that, due to Archbishop Dmitri's deteriorating health, Metropolitan Jonah would be staying in Dallas, TX, with him.]

The OCA delegation was met at the Prague airport by His Eminence, Archbishop Juraj of Michalovce and Kosice and three priests.

Background information on the visit, as well as information on the history and current situation of the Church of the Czech Lands and Slovakia, may be found on the OCA web site.
A photo gallery of the visit may be found here.