Ancient Faith Radio launches new podcast featuring Metropolitan Jonah
Ancient Faith Radio [AFR] has launched a new podcast featuring His Beatitude, Metropolitan Jonah, titled, "Conversations with Metropolitan Jonah."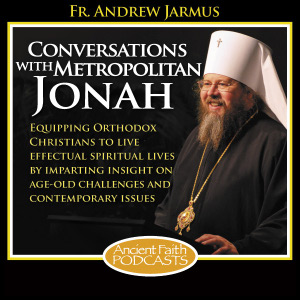 In "Conversations with Metropolitan Jonah," OCA Director of Ministries and Communications, Archpriest Andrew Jarmus, engages in an ongoing dialogue with the primate of the Orthodox Church in America, discussing age-old challenges and contemporary issues facing Orthodox Christians.
"We are very happy to continue our media partnership with Ancient Faith Radio," Fr. Andrew said. "Our work together at the OCA's 15th All-American Council last November was very positive for both the OCA and AFR. We are hoping that this new podcast with His Beatitude, as well as other projects in the future, will also bear fruit for the Church."
In the first installment of "Conversations," Metropolitan Jonah discusses the vision of a united North American Orthodox Church, the principle that the local church is identified as a diocese gathered around its hierarch, and the idea of conciliarity in which all members of the Church have a voice in Church life.
"Conversations with Metropolitan Jonah" on Ancient Faith Radio may be found here.