Bishop-Elect Matthias elevated to rank of Archimandrite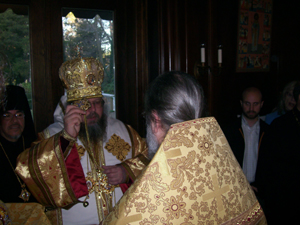 Metropolitan Jonah presents Archimandrite Matthias with the jeweled pectoral cross.
SYOSSET, NY [OCA]—During the Divine Liturgy for the Feast of Saint Tikhon of Moscow, celebrated at Saint Sergius of Radonezh Chapel at the Chancery of the Orthodox Church in America here Thursday, November 18, 2010, His Beatitude, Metropolitan Jonah elevated Bishop-Elect Matthias [Moriak] to the rank of Archimandrite.
The Liturgy was opened the final day of the Holy Synod of Bishops' fall session.
On Tuesday, November 16, the members of the Holy Synod canonically elected Archimandrite Matthias to fill the vacant See of Chicago and the Midwest.
It is anticipated that his consecration and installation will take place in Chicago in May 2011.
Reports on the Holy Synod's fall session will be posted as they become available.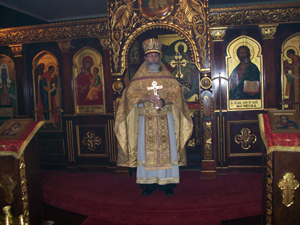 Archimandrite Matthias, Bishop-Elect of Chicago and the Midwest