Boston's Holy Trinity Cathedral celebrates the 25th anniversary of the Very Rev. Robert Arida's pastorate
On Sunday, May 31, 2009, the community of Holy Trinity Cathedral here celebrated 25 years of service of their beloved pastor, the Very Rev. Robert M. Arida, and his wife Susan.
The joyous event commenced with the celebration of the Divine Liturgy by His Grace, Bishop Nikon of Boston, New England, and the Albanian Archdiocese, which was attended by the clergy of the Diocese of New England. A festive dinner for the parishioners and guests followed at the cathedral.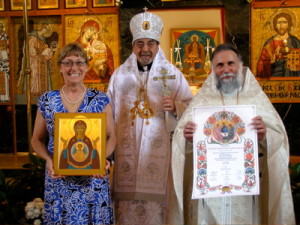 Bishop Nikon presented Father Robert with a Commendation of the Holy Synod of Bishops of the Orthodox Church in America in recognition of his 25 years of faithful service. The parishioners of the Holy Trinity Cathedral presented the Aridas with an icon of the Mother of God of the Sign, the work of iconographer Mirra Meylakh; a commemorative book reflecting 25 years of memories in photographs and stories; and a monetary gift.
Father Robert and Susan have served the Holy Trinity community in faith and with love for a quarter of its 100-year history, personifying the reality of the presence of Christ in our midst and embodying the self-emptying love of the Lord in their service. The recent words of Patriarch Kirill of Moscow could have been spoken about Father Robert: "[In our time,] when people no longer believe in spoken words, the life of the priest must be a constant sermon by its acts."
Holy Trinity Orthodox Cathedral has been a solid presence in the Fenway since the 1950s, when it relocated from its first home in Roxbury.
Father Robert and Susan have not only served the cathedral faithful, but they have encouraged them to reach out to the wider Fenway neighborhood community, many of whom benefit from the Saint Herman Food Pantry.
May God grant the Aridas many more years of devoted ministry and witness!