Metropolitan Filaret of Minsk awarded Honorary Doctorate by St Vladimir Seminary
On October 5, 2002, His Beatitude, Metropolitan Herman, Primate of the Orthodox Church in America and President of Saint Vladimir Orthodox Theological Seminary here, presided at an academic convocation, during which His Eminence, Metropolitan Filaret of Minsk and Slutsk, Belarus, was awarded an honorary Doctor of Divinity degree.
The convocation was held after the Divine Liturgy, at which Metropolitan Herman presided, marking the opening of the seminary's annual Orthodox Education Day.
Prof. John Erickson, recently-installed Dean of Saint Vladimir Seminary, opened the convocation with a tribute to Metropolitan Filaret.
"Over the years here at Saint Vladimir's Seminary, we have welcomed many distinguished churchmen and many outstanding theologians and educators," Dean Erickson said. "While some of them have blended churchmanship and theological acumen, few have done so to the eminent degree of our guest today, His Eminence, Metropolitan Filaret of Minsk and Slutsk."
Dean Erickson highlighted Metropolitan Filaret's contributions to the fields of theology and theological education, noting that, as chairman of the Synodal Theological Commission of the Russian Orthodox Church, Metropolitan Filaret oversaw the development one of the most significant Church documents of the post-communist period, "Basic Principles of the Attitude of the Russian Orthodox Church Towards the Non-Orthodox."
After Dr. Paul Meyendorff read the text of the doctoral citation, Metropolitan Herman bestowed the doctoral Cross upon Metropolitan Filaret.
Earlier in the week, Metropolitan Filaret served as keynote speaker at a major academic symposium, "Russian Theological Traditions: Yesterday and Today," which was held on the seminary campus October 2-4. The symposium attracted participants from around the world to review new challenges facing Church and society in the post-communist period.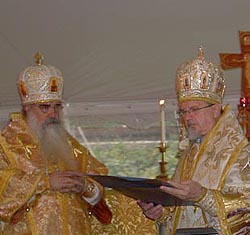 During the symposium, papers were also presented by the Very Rev. Alexander Golubov, Academic Dean of Saint Tikhon Orthodox Theological Seminary, South Canaan, PA; Dr. Vera Shevzov, Professor of Religion at Smith College; Dr. Paul Valliere, McGregor Professor of Humanities in the Department of Philosophy and Religious Studies, Butler University, Indianapolis, IN; the Rev. Michael Plekon, Professor of Sociology and Anthropology, Baruch College; Dr. Konstantine Gavrilkin, a Ph.D. candidate at Drew University; the Very Rev. Nicholas Ozolin, Professor at Saint Sergius Orthodox Theological Institute, Paris, France; Dr. Paul Meyendorff, Alexander Schmemann Professor of Liturgical Theological at Saint Vladimir Seminary.
Metropolitan Herman, together with His Eminence, Archbishop Peter of New York and New Jersey; Protopresbyter Robert Kondratick, OCA Chancellor; and the Very Rev. Jaroslav Sudick, Chancellor of the Diocese of New York and New Jersey, participated in the symposium.
In addition to Metropolitan Filaret, the Russian Orthodox Church was represented by the Very Rev. Vladimir Shmaliy, Secretary of the Synodal Commission, and Mr. Alexander Kyrlezhev, a Commission consultant, who also addressed symposium participants.