Metropolitan Herman addresses Cleveland Orthodox Christian and Inter-faith Leaders, IOCC Board
Regional Orthodox and inter-faith religious leaders joined members of the Board of Directors of International Orthodox Christian Charities [IOCC] for a luncheon on Thursday, March 6, 2003 during which His Beatitude, Metropolitan Herman, Primate of the Orthodox Church in America, delivered an address on inter-faith initiatives.
The gathering was sponsored by Mr. Alex Machaskee, publisher of The Plain Dealer, well known Orthodox layman, and member of the Orthodox Church in America's Department of Communications.
"Gatherings such as this—gatherings of people of various religious backgrounds—remind us that religious communities do not live in isolation," Metropolitan Herman said after thanking Mr. Machaskee for his hospitality and acknowledging the ever-expanding work of IOCC. "Meetings and gatherings such as this on the local, national, and international level, compel us to acknowledge one another, to share in the good work we accomplish, and to move towards greater and more effective dialogue with one another—for the good and well-being of the world and the society in which we live.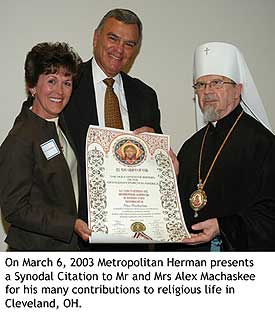 Metropolitan Herman went on to note that "inter-religious gatherings… remind us that we live in a pluralistic society, in a society in which there are countless different expressions of faith. This is especially the case in the United States of America, where we struggle to remain true to our varied faith traditions while respecting the religious traditions of other people of good will. The concept, let alone the reality, of a monolithic culture has been replaced by pluralism. And while there still exist nations and communities throughout the world which promote ethnic and religious segregation, their ability to maintain such isolation is declining. It would not be an exaggeration to say that religious isolation or segregation is rapidly becoming a concept one ponders, rather than a reality one lives.
"Indeed, the world is growing smaller through the emergence of multi-cultural encounters," Metropolitan Herman continued. "Globalization is a political and economic reality; it confronts us daily, as recent world events remind us. But globalization also must be challenged by all who seek the Truth. We cannot pretend—nor should we pretend—that we in this country live in isolation from one another. Our experience of various cultures and faith traditions living side by side offers us an opportunity to creatively use the ecumenical and inter-religious forum in a way that will truly benefit human society."
Metropolitan Herman cautioned that inter-religious dialogue can often stray from addressing the ultimate needs of the human person—needs "that are bound to the inner struggles of faith."
"Discussion often veers towards the need to improve social structures and economic conditions and assessing the political climate of the day," Metropolitan Herman said. "Such issues are necessarily of concern to all people of faith. The faith communities we represent recognize that the world is anxious about the possibility of war and that the nations of the world and all faith traditions must condemn international terrorism. Important as these issues are, we must never forget that authentic inter-religious dialogue by definition must be rooted in the human person's needs and can be met only when there is an encounter with the immanent and transcendent God. Much emphasis is placed on social needs, yet this can not ensure that spiritual voids will be filled. Ironically, the stress on social needs has been unable to satisfy the restless minds and hearts of those entrusted to our care."
In evaluating what he termed "American spirituality," Metropolitan Herman noted that sociologists and theologians have stressed that it is quite solvent and capable of meeting the many needs of "religious practitioners."
"On one level this is true; however, on another level, religion in American life has been reduced to a self-help aide governed by the needs of the individual and not by the dynamic encounter of the human with the Divine," Metropolitan Herman continued. "Without encountering—and, ultimately, communing with—the Divine, human personhood is compromised. Without an awareness and love for the Word and glory of God, the human person can find himself or herself cut off from the self and from neighbor. The human person becomes a spiritual exile in the midst of all that is familiar and taken for granted, generating a profane and selfish existence. Despite its wealth of religious symbols and rhetoric, American culture and society remain one-dimensional. The pluralistic context driven by the engine of supply and demand makes little time and displays little concern for the holy."
Metropolitan Herman concluded by challenging his audience to "to cultivate an awareness of and love for God's Word" - an awareness that "can indeed impact and improve the quality of human life, spiritually as well as socially and materially."
"The Word of God has the power to fill the human mind and heart with the sacred, the Divine, transforming a profane and self-centered existence into the very engine which drives one to serve and love others," Metropolitan Herman concluded. "And, despite our differences, I am sure that this reality is one upon which we can all agree—and ultimately—live!"
Later in the day, Metropolitan Herman, who was accompanied by Protopresbyter Robert Kondratick, Chancellor of the Orthodox Church in America, visited Cleveland's historic Saint Theodosius Cathedral, where he was welcomed by the Very Rev. John Zdinak, Dean. Metropolitan Herman presented the cathedral community with relics of their patron, Saint Theodosius of Chernigov.
On Friday, March 7, Metropolitan Herman shared a luncheon with IOCC Board members at The Plain Dealer where he presented a Synodal Citation to Mr. Bert Moyar, members of the Board of Directors, the staff of IOCC and Mr Constantine Triantafilou for all of their tireless efforts to provide Humanitarian Assistance around the world on behalf of the Orthodox Church.
His Beatitude also visited several parish churches in the Cleveland area including Falling Asleep of the Virgin Mary Romanian Cathedral, St Andrew's Church in Maple Heights, Holy Trinity Church in Parma where he viewed the extensive Iconography project the parish is completing and Archangel Michael Church in Broadview Heights. On Saturday, March 8, Metropolitan Herman returned to New York, where he will mark the opening of Great Lent with the celebration of the Sixth Hour and the Rite of Forgiveness at Saint Sergius of Radonezh Chapel at the OCA Chancery in Syosset, NY on Monday, March 10 and, later the same day, the Great Canon of Saint Andrew of Crete at Saint Vladimir Seminary, Crestwood, NY.