Metropolitan Herman calls for prayers for ailing Russian Patriarch
In a letter addressed to the faithful of the Orthodox Church in America dated November 13, 2002, His Beatitude, Metropolitan Herman, Primate of the Orthodox Church in America, asked for prayers for His Holiness, Patriarch Aleksy II of Moscow and All Russia, who was hospitalized at the end of October.
The text of Metropolitan Herman's letter reads as follows:
"Dearly beloved in Christ: On October 27, 2002, during a trip to Astrakhan to attend celebrations marking the 400th Anniversary of the local diocese, His Holiness, Patriarch ALEKSY II of Moscow and All Russia was hospitalized with hypertension. The following day, he was flown to Moscow and admitted to the intensive care unit of Central Clinic Hospital. Initial indications that His Holiness had suffered a micro-brain hemorrhage proved to be negative. On Monday, November 4, His Holiness' physicians were satisfied that his condition had stabilized and, while he remains hospitalized, he was released from the intensive care unit. Physicians are confident that His Holiness will recover fully and will be able to resume his normal routine in the coming weeks.
"The burdens of the patriarchal office are great indeed. Patriarch ALEKSY has labored tirelessly in rebuilding the Russian Orthodox Church after seven decades of brutal repression and persecution. He has always been deeply concerned for the growth of his flock and his homeland, and he was especially disturbed by the terrorist attack in Moscow, which was unfolding at the time he was hospitalized. Mindful of the common roots which unite the Church of Russia and the Orthodox Church in America, he has consistently displayed brotherly concern and affection for our Church, its hierarchs and clergy, and its faithful. It is with great fondness that we recall His Holiness' visits to the Orthodox Church in America in 1991 and 1993—visits which not only reflected the revival of the Church in his homeland, but ushered in a new era of cooperation between the Russian Orthodox Church and Orthodox Christianity in North America.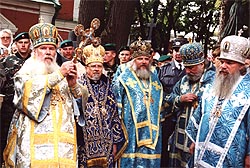 "I ask you to join me in offering prayers to Our Lord, the Healer and Physician of our souls and bodies, for the speedy and complete recovery of His Holiness, Patriarch ALEKSY. May our prayers, combined with the prayers of millions of other Orthodox Christians around the world, enable His Holiness to return to active ministry and to continue the ongoing work of strengthening and rebuilding the Orthodox Church in his homeland. May Our Lord strengthen His Holiness and lighten the burdens of his primatial ministry in the months and years to come.
"In light of His Holiness' recovery, I have postponed my official visit as Primate to the Russian Orthodox Church at His Holiness' invitation until his full recovery is confirmed. As a result of this postponement, I must also necessarily delay my visit to Finland due to the fact that both visits were planned together for travel considerations.
"Thanking you for your prayers and support, and confident that the Our Lord will grant His Holiness a complete recovery, I remain
With love in Christ,
+ HERMAN
Archbishop of Washington
Metropolitan of All America and Canada