Metropolitan Herman sends letter of condolence to widow of Aleksandr Solzhenitsyn
On August 5, 2008, His Beatitude, Metropolitan Herman sent a letter of condolence to Natalia Dmitrievna Solzhenitsyna, widow of the recently reposed Aleksandr Solzhenitsyn.
The text of Metropolitan Herman's letter is as follows.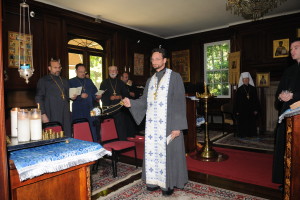 Memorial Litiya served for the newly-reposed Aleksandr Solzhenitsyn at St. Sergius of Radonezh Chapel at the OCA Chancery.
"We were saddened to receive the news of the passing away of your husband, Aleksandr Isaievich. We have offered prayers for his repose at the Chapel of St. Sergius at the Chancery of the Orthodox Church in America. We are also praying that Our Lord and Savior Jesus Christ grant you and your family consolation at this sorrowful time.
"Aleksandr Isaievich was one of the great men of our times. Like the prophets of old, his writings and voice shook the world into recognition of the horrors inherent in a political system that was devoid of Christian morality and spirituality. A giant on the landscape of Russian history, he also played an important role on the world stage. During his twenty year exile from his beloved homeland, he found refuge in the United States where he could continue his research and writing. As a deeply religious man Aleksandr Isaievich also sought spiritual sustenance while living here. We recall that your husband became a close friend with the late Protopresbyter Alexander Schmemann. Another priest of the Orthodox Church in America, Archpriest Andrew Tregubov frequently provided Aleksandr Isaievich and your family with sacramental life and spiritual direction during your years in Vermont.
"On behalf of the Holy Synod of Bishops, the clergy and laity of the Orthodox Church in America, we want to express our heartfelt condolences to you, your children, grandchildren and all of your family. Please be assured of our continued prayers for the repose of Aleksandr Isaievich. May Our Lord grant him rest with the saints and make his memory to be eternal!"
Aleksandr Solzhenitsyn was buried at the Donskoi Monastery in Moscow on August 6, 2008.