Metropolitan Herman to Chair Fall Session of Holy Synod of Bishops
His Beatitude, Metropolitan Herman, Primate of the Orthodox Church in America, will preside at the Fall Session of the Holy Synod of Bishops at the OCA Chancery here October 21-24, 2002.
The session will open on Monday, October 21, with a Service of Prayer, followed by Metropolitan Herman's address. On Tuesday, October 22, the hierarchs will hear reports from Protopresbyter Robert Kondratick, OCA Chancellor; the Board of Theological Education; and the Office of External Affairs. The hierarchs will also review Guidelines on Sexual Misconduct and, on Wednesday, October 23, consider follow up on the 13th All-American Council.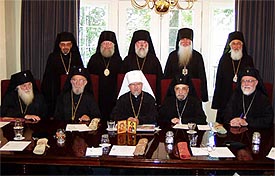 Among the issues to be considered by members of the Holy Synod is the OCA's 2003 operating budget and its relationship to the "fair share" system of funding the work of the Church, adopted by delegates to the 13th All-American Council held in Orlando, FL in July 2002. The budget will be reviewed carefully by the hierarchs, who will then pass on their reactions to the Metropolitan Council in November for review, any necessary revision, and resolution. The final adopted budget will then be "fair shared" to the dioceses, according to the process adopted at the All-American Council.
Appointments to Church departments, boards, committees and commissions will also be made before the hierarchs adjourn on Thursday, October 24.
The Holy Synod of Bishops is composed of the Primate and all ruling diocesan bishops of the Church who meet in regular session in the fall and spring of each year and at other times as needs dictate. In addition to Metropolitan Herman, members of the Holy Synod of Bishops include His Eminence, Archbishop Kyrill of Pittsburgh and Western Pennsylvania; His Eminence, Archbishop Peter of New York and New Jersey; His Eminence, Archbishop Dmitri of Dallas and the South; His Eminence, Archbishop Nathaniel of Detroit and the Romanian Episcopate; His Grace, Bishop Job of Chicago and the Midwest; His Grace, Bishop Tikhon of san Francisco and the West; His Grace, Bishop Seraphim of Ottawa and Canada; and His Grace, Bishop Nikolai of Sitka, Anchorage and Alaska. His Grace, Bishop Nikon, Bishop of Baltimore and Auxilary to His Beatitude Metropolitan Herman will also be in attendance.