Metropolitan Jonah, OCA hierarchs, join March for Life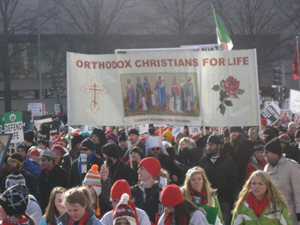 WASHINGTON, DC [OCA]—Freezing temperatures failed to deter hundreds of thousands of pro-life marchers from descending on Washington, DC on Monday, January 24, 2011, for the annual March for Life.
This year's March marked the 38th anniversary of Roe v. Wade, the 1973 Supreme Court decision that defined abortion in the early stages of pregnancy a constitutional right and the criminalization of abortion a violation of a woman's right to privacy.
The first March for Life in protest of the Roe v. Wade decision took place in 1974.
His Beatitude, Metropolitan Jonah, was among several speakers at the pre-March rally, during which Archpriest John Kowalczyk of Jermyn, PA, a pro-life activist involved in the March for Life for over 25 years, delivered a benediction.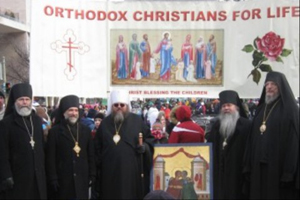 Metropolitan Jonah [center] with [from left] Archimandrite Matthias, Bishop Michael, Bishop Tikhon, and Bishop Melchisedek.
"Abortion creates a culture of death, which creates a culture of despair, which condemns a generation of women to self-hatred, to decades of guilt, to decades of despair," Metropolitan Jonah told the tens of thousands of marchers, including an estimated 27,000 teens and preteens, who gathered in the shadow of the Washington Monument for the rally.
Joining Metropolitan Jonah in leading the Orthodox Christian marchers were His Grace, Bishop Tikhon of Philadelphia and Eastern Pennsylvania; His Grace, Bishop Michael of New York and New Jersey; His Grace, Bishop Melchisedek of Pittsburgh and Western Pennsylvania; Archimandrite Matthias, Bishop-Elect of Chicago and the Midwest; faculty and students from Saint Tikhon's Seminary, South Canaan, PA and Saint Vladimir's Seminary, Crestwood, NY; and Orthodox Christian clergy and faithful from the east coast and beyond.
On the morning of the March, Metropolitan Jonah presided at the celebration of the Divine Liturgy at the OCA's Saint Nicholas Cathedral. His sermon, which set the tone for the Orthodox Christian marchers, may be viewed on the OCA web site at www.oca.org or directly accessed at http://vimeo.com/19136862.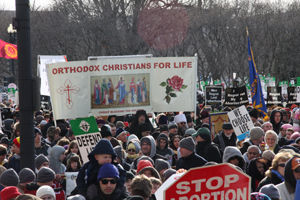 At the conclusion of the March, the Orthodox Christian marchers joined Metropolitan Jonah and the hierarchs in front of the US Supreme Court to offer prayers for the victims of abortion.
Metropolitan Jonah's annual message, read in parishes on Sanctity of Life Sunday—January 23—may be found at http://www.oca.org/news/2374. It will also appear in the current issue of The Orthodox Church magazine, slated for posting on the OCA web site during the week of January 24.