Metropolitan Jonah visits IOCC Office and US Embassy in the Georgian capital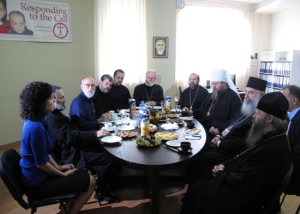 On Thursday, October 15, 2009, His Beatitude, Metropolitan Jonah, the Primate of the Orthodox Church in America, visited the Office of International Orthodox Christian Charities [IOCC] in the Georgian captial, where he had the opportunity to speak with its director and staff. Also participating in the meeting were the members of the official delegation of the Orthodox Church in America accompanying him on his visit to the Sister Autocephalous Orthodox Church of Georgia, including Archimandrite Zacchaeus, OCA representative to the Russian Orthodox Church; the Very Rev. Alexander Garklavs, OCA Chancellor; the Very Rev. Leonid Kishkovsky, Director of the OCA Department of External Affairs; the Very Rev. Alexander Tandilashvili, translator; and Archdeacon Kirill Sokolov.
During the course of the meeting, Metropolitan Jonah learned much about the work being undertaken in regard to refugees and others in need in the country. After hearing a thorough report, he engaged in a thoughtful dialogue with the staff, and subsequently offered his support for the ongoing good work of the IOCC.
At present, IOCC is facing many critical challenges due to ongoing difficulties in the region. More can be found about IOCC's work at www.iocc.org.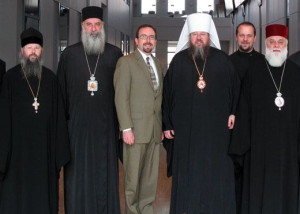 The same day, Metropolitan Jonah and the OCA delegation were received by the newly appointed Ambassador of the United States of America to the Republic of Georgia, His Excellency, Mr. John Bass. Accompanying the OCA delegation were His Eminence, Metropolitan Dimitri of Batumi and Lazeti, and His Eminence, Metropolitan Gerasim of Zugdidi and Tsaishi, Chairman of the Foreign Affairs Department of the Georgian Patriarchate.
Prior to the meeting with the newly appointed US Ambassador Bass, who is currently awaiting the possibility to present his official credentials to the President of Georgia, Mr. Mikhail Sakashvilli—the occasion is planned for Friday, October 16, 2009—the Deputy Chief of Mission, Mr. Kent D. Logsdon, spoke at length with Metropolitan Jonah and those accompanying him about the current situation between the US and Georgia. Among the many topics discussed were the humanitarian aid projects that have taken place under the auspices of the US Embassy in Tbilisi with USAID and the humanitarian aid that has been distributed under the close supervision of the Orthodox Church of Georgia in conjunction with IOCC. Likewise, the US diplomat made it a point to mention the great respect that his government has for the good work of His Holiness and Beatitude, Catholicos-Patriarch Ilia II of All Georgia, especially with regard to refugees from war-torn areas under his spiritual care.
Ambassador Bass pledged his support of the good work that is currently taking place in building bridges between the two cultures through this important visit.
Click here to view the photo gallery of the US Embassy in Tbilisi.
Click here to view the photo gallery of the Georgian office of the IOCC.
Story Credit: www.st-catherine.ru