OCA, other autocephalous Churches, represented at celebration of 1020th Anniversary of the Baptism of Kyivan Rus'
His Eminence, Archbishop Seraphim of Ottawa and Canada and chairman of the Orthodox Church in America's Office of External Affairs and Interchurch Relations, headed the delegation that represented the OCA at the celebration of the 1020th anniversary of the Baptism of Rus' in Kyiv, Ukraine during the last weekend of July 2008.
The delegation was sent in response to an invitation to the Primates of the autocephalous Churches to send representatives to the celebration.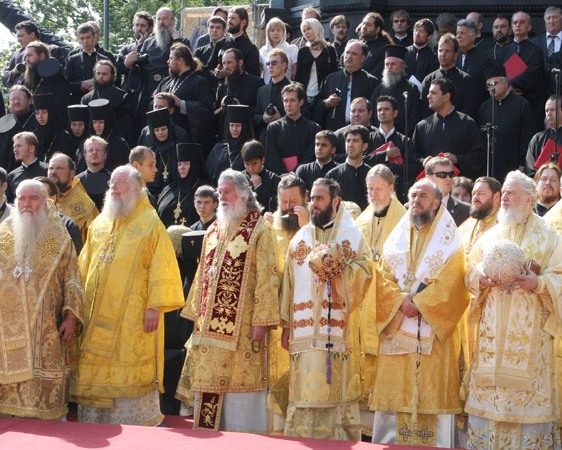 The highlight of the anniversary was the celebration of the Divine Liturgy at the monument to the Holy Prince Vladimir which overlooks the Dnieper River, on July 27. It was in the Dnieper that the inhabitants of Kyiv and the surrounding regions were baptized in the year 988 after Saint Vladimir embraced Orthodox Christianity.
Concelebrating the Divine Liturgy were His All-Holiness, Ecumenical Patriarch Bartholomew of Constantinople; His Holiness, Patriarch Aleksy II of Moscow and All Rus'; His Beatitude, Archbishop Hieronimos II of Athens and All Greece; His Beatitude, Archbishop Anastasios of Tirana and All Albania; and His Beatitude, Metropolitan Vladimir of Kyiv and All Ukraine; as well as numerous hierarchs from Ukraine, Russia, Belarus, Moldova, and the autocephalous churches. Ukrainian President Victor Yuschenko also was present at the service.
After the Divine Liturgy, Archbishop Seraphim offered greetings on behalf of His Beatitude, Metropolitan Herman.
This monument was erected in 1853. The magnificent figure of the holy prince, holding a cross in his right hand and a prince's cap in his left, is a Kyiv landmark, measuring 20.5 meters in height.
Thousands of faithful from Kyiv, other regions in Ukraine, and abroad gathered for the Divine Liturgy, which was broadcast on large screens placed in various parts of the adjacent park. The Divine Liturgy was also broadcast live by several TV channels.
Other members of the OCA delegation included Archimandrite Zacchaeus, OCA Representative to the Moscow Patriarchate, and Archpriests Vladimir Alexeiev and Oleg Kirillov.