OCA to publish book commemorating election and enthronement of His Beatitude, Metropolitan Jonah
The Chancery of the Orthodox Church in America has announced plans to publish early in 2009 a book commemorating the election of His Beatitude, Metropolitan Jonah.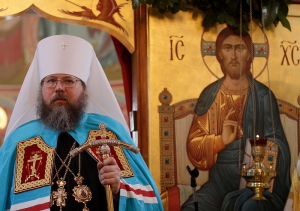 "The book will document His Beatitude's election as Primate of the Orthodox Church in America at the OCA's 15th All-American Council, November 12, 2008, and his enthronement at St. Nicholas Cathedral in Washington, DC, December 28, 2008," said OCA Director of Ministries and Communications, Archpriest Andrew Jarmus. "The publication will also offer insight into the life and ministry of Metropolitan Jonah prior to his election. Additionally, the book will give OCA parishes, institutions and members an opportunity to publish greetings to His Beatitude."
The OCA chancery has also announced that profits from the sale of the commemorative book will be earmarked for the Fellowship of Orthodox Stewards [FOS] to help fund Church ministries. "Metropolitan Jonah has also indicated his desire that the a portion of the book's sales will go to support the work of the Orthodox Christian Fellowship, OCF, which is involved with campus ministry at universities and colleges throughout the US and Canada," Fr. Andrew said.
The OCA Chancery is also examining the possibility of producing a video documentary of Metropolitan Jonah's election and enthronement.
A mailing with information regarding greetings for the commemorative book will be sent out by the Chancery shortly.