Orthodox Christian Mission Center utilizes St. Vladimir's Seminary for meeting
On November 12-14 2002, the Orthodox Christian Mission Center (OCMC) held their semi-annual Board meeting at St Vladimir's Orthodox Theological Seminary in Crestwood, New York. This was the first time the OCMC Board of Trustees has met at St. Vladimir's.
"We believe that seminary institutions play a critical role in the life and pulse of the Church and are central to the ability to address, inspire and educate our faithful on the essence of missions," said Fr Martin Ritsi, OCMC Executive Director. "By meeting at St Vladimir's Seminary, we were able to inspire a greater awareness of the need and centrality of missions in the Orthodox faith among the students. With the faculty we began an exciting process to develop and plan for expanded cooperation between the Mission Center and St Vladimir's Seminary."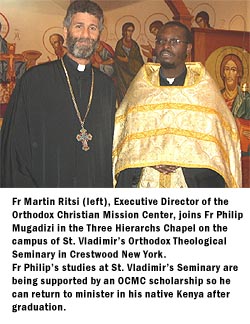 Within its committee meetings, the OCMC board discussed board development, communications, the capital campaign, missionaries, and team projects. They met to review and plan for all 2003 mission projects and programs. Among some of the key results of the meeting were the approval of 5 new missionaries and the agreement of 11 proposed mission teams. Budgets were reviewed for many philanthropic program grants for 2003 under the AGAPE canister program ranging from a weekly feeding program in India to the support of a children's home in Indonesia. Budgets for an increased and expanded support of indigenous clergy through OCMC's Support A Mission Priest (SAMP) program were also confirmed.
In addition to the business of the OCMC board, participants were able to enjoy many aspects of the life of the seminary, including the celebration of Divine Liturgy commemorating the feast day of St John Chrysostom.
The OCMC board also had a chance to meet with Fr Philip Mugadizi, a third-year student from Kenya, whom OCMC is supporting in preparation of serving his church in native Kenya.
The Orthodox Christian Mission Center is the official international mission and evangelism agency of the Orthodox Churches in North America under the Standing Conference of Orthodox Bishops in America (SCOBA). Originally founded in 1985 as an arm of the Greek Orthodox Archdiocese of North and South America, the Mission Center was transferred to SCOBA in 1994.
Operating from its headquarters in St. Augustine, Florida, OCMC offers assistance and support to over 25 countries throughout the world.
St Vladimir's Theological Orthodox Seminary is a graduate school of theology, whose primary purpose is the preparation of leaders - both clergy and lay - for service to the Orthodox Church and the world at large. The seminary offers a Master of Divinity; a Master of Arts in Christian Education, Liturgical Music, and General Theology; a Master of Theology; and a Doctor of Ministry degree.