Seminarians hosted at OCA Chancery on Bright Wednesday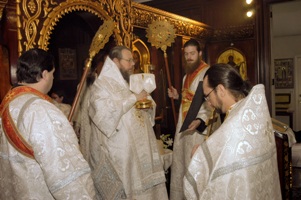 Over 40 students and staff members and their families from Saint Vladimir's Seminary, Crestwood, NY, visited the Chancery of the Orthodox Church in America here on Bright Wednesday, April 27, 2011, where they enjoyed a cookout luncheon with His Beatitude, Metropolitan Jonah; His Grace, Bishop Melchisedek; and members of the Chancery staff.
The day opened with the celebration of the Divine Liturgy in Saint Sergius Chapel. Concelebrating with Metropolitan Jonah were Archpriest Eric G. Tosi, OCA Secretary; Protodeacon Joseph Matusiak; and Hierodeacon Philip, music instructor at Saint Vladimir's Seminary.
Also attending were Archpriest John Behr, seminary dean, and Archpriest Chad Hatfield, seminary chancellor.
After the luncheon, Alexis Liberovsky, OCA archivist, gave the students a tour of the Chancery and Archives. For many of the students, it was their first visit to the Chancery.