Alaskan clergy, faithful support release of "Arctic 30"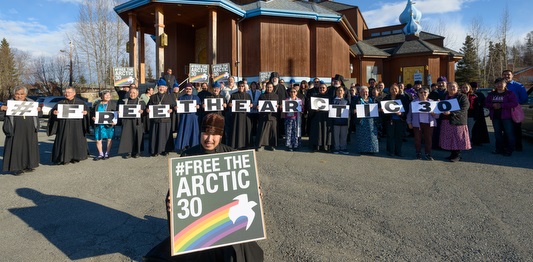 On a recent sunny afternoon during the annual Assembly of the Diocese of Alaska at Saint Innocent Cathedral, Anchorage, AK, clergy and faithful gathered to show support for the release of the Arctic 30, currently held in Russia on piracy charges.
His Eminence, Archbishop Benjamin and Archimandrite David, Bishop-elect of the Diocese, joined clergy and lay delegates from across the state in taking a short recess from plenary sessions to acknowledge how the group of 28 activists and two journalists need support from communities like theirs.
Ironically, the Orthodox Church of Russia is the Mother Church of the Orthodox Diocese of Alaska, which traces its origin to the arrival of Orthodox monks in Kodiak, AK in 1794. Today, the Diocese is petitioning, through banners and signs, for the government of Russia to allow the Arctic 30 to return home to their families and loved ones in the spirit of brotherhood and solidarity.
Read the complete story at http://greenpeaceblogs.org/2013/10/21/orthodox-cathedral-in-alaska-shows-support-for-the-arctic-30//.