Bishop Nikon hosts Hellenic College's CrossRoad Institute participants at cathedral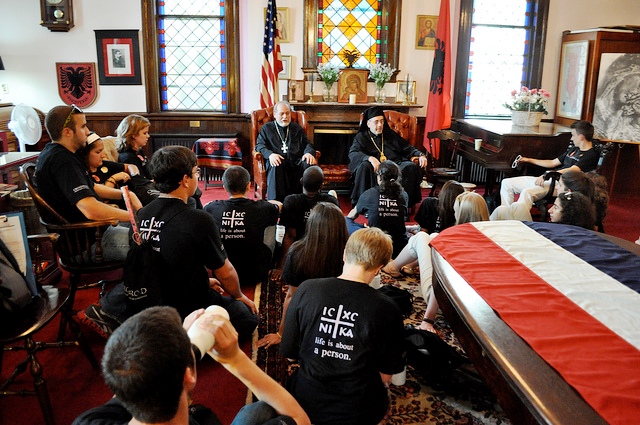 His Grace, Bishop Nikon of Boston and New England and the Albanian Archdiocese welcomed to Saint George Cathedral here two groups of student participants in the annual "CrossRoad" Summer Institute sponsored by Hellenic College, Brookline, MA.
The 2011 institute, directed by Mary Long, attracted 60 high school juniors and seniors from 29 states, as well as Canada and the Bahamas. Due to overwhelming response, the program once again offered two sessions, offering an opportunity for Orthodox Christian youth to grow in their faith, explore their strengths, engage in serving others, and discover how their gifts and talents can serve the needs of Church and society.
Throughout each 10-day session, participants visited and attended Vespers at several other Boston-area parishes, including the Orthodox Church in America's Holy Trinity Cathedral.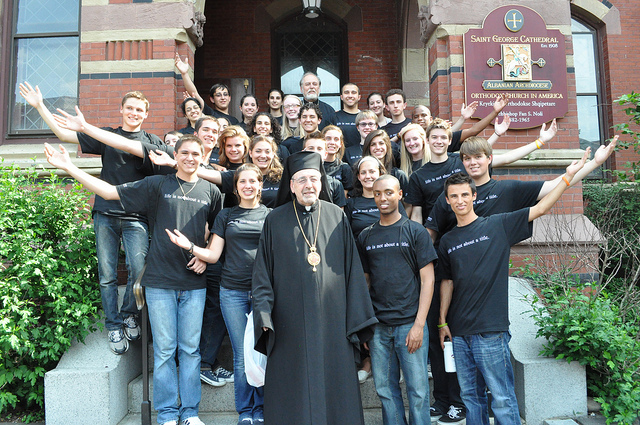 CrossRoad participants returned home with life-long friendships, a deeper understanding of their faith, and a strong desire to participate actively in the Church both now and in the future. Paulina Kordonis of Charleston, South Carolina shared, "My life is forever changed —the experiences I've had and the lessons I've learned will be things that I will carry with me for the rest of my life."
CrossRoad is funded by grants from the Lilly Endowment Inc., the Archbishop Iakovos Leadership 100 Endowment Fund, and the Virginia H. Farah Foundation, and support from benefactors within the greater Orthodox community.
For further updates and information and to download an application for CrossRoad 2012, please log on to crossroad.hchc.edu.
A photo gallery of the CrossRoad Institute may be found on oca.org here.