Bulgarian Church elects successor to late Patriarch Maxim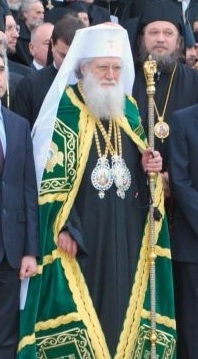 His Eminence, Metropolitan Neofit of Ruse was elected to succeed His Holiness, the late Patriarch Maxim of Bulgaria, at a meeting of the Holy Synod of the Orthodox Church of Bulgaria here on Sunday, February 24, 2013.

Patriarch Maxim fell asleep in the Lord at the age of 98 in November 2012. He had headed the Bulgarian Church since 1971 and helped guide it through the turbulent years that followed the fall of communism.

Following the election, Patriarch Neofit and the hierarchs processed to Sofia's Saint Alexander Nevsky Cathedral, where he was enthroned.

According to the web site of the Orthodox Church of Bulgaria, Patriarch Neofit was born Simeon Nikolov Dimitrov in Sofia on October 15, 1945. After completing his studies at the Sofia Seminary in Cherepish Station in 1965, he enrolled in Sofia's Saint Clement of Ochrid Theological Academy, from which he graduated in 1971. Two years later he completed studies at the Moscow Theological Academy, where he specialized in liturgical music. After returning to Sofia, he was appointed professor of liturgical music and conductor of the Theological Academy Choir.
He was tonsured to the monastic life with the name Neofit in 1975, and shortly thereafter ordained to the diaconate and priesthood. In 1985, he was consecrated to the episcopacy and served as a Vicar. He also served as Rector of the Theological Academy and was appointed the first Dean of the reestablished Theological Faculty of Sofia University—a post he held until January 1992, when he was named Secretary of the Holy Synod. He was elected Metropolitan of Dorostolski Cherven in 1994 and, in 2001, Metropolitan of Ruse.

Additional information will be posted as it is received.