Deadline for submitting AAC resolutions is April 17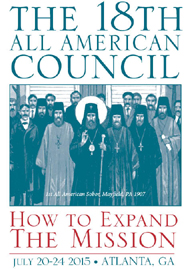 April 17, 2015 is the deadline for submitting proposed resolutions for the 18th All-American Council, slated to convene in Atlanta, GA July 20-24, 2015.
Proposed resolutions should be sent via e-mail to .(JavaScript must be enabled to view this email address) or in hard copy to the Resolutions Committee, 18th All-American Council, c/o the Chancery of the Orthodox Church in America, PO Box 675, Syosset, NY 11791. After review by the Resolutions Committee, they will be published/posted by May 15, 2015—60 days before the AAC per Article III, Section 5, Part E and Article XIII, Sections 1-2 of the current Statute of the Orthodox Church in America. Resolutions also may be proposed during the course of the AAC itself.
As announced in mid-January, the Resolutions Committee will review all submitted proposals.
If necessary it will discuss possible editorial changes with the submitting body.
If substantially identical resolutions are submitted, the Committee will consolidate them into a single resolution, again after consultation with the submitting bodies.
If, in the estimation of the Committee, a proposed resolution clearly lies outside the competence of the All-American Council, whether on canonical grounds or in conflict with the OCA Statute, the Committee will inform the submitting body of this.
In case of doubt, a proposed resolution will be submitted to the Holy Synod to determine whether it can be brought before the All-American Council.
If a proposed resolution is determined to lie outside the competence of the All-American Council, the Committee, in consultation with the Holy Synod and the proposing body, will consider alternative ways of bringing issues underlying the proposed resolution to the attention of the All-American Council. After review of submissions, the Resolutions Committee will turn over proposed resolutions to the Preconciliar Commission for inclusion on the All-American Council agenda. Deliberation on proposed resolutions will take place in plenary sessions throughout the course of the Council.
Resolutions from parishes normally shall bear the signatures of the parish priest and the president of the parish council; those from deaneries, of the dean and other priests of the deanery; those from dioceses, of the bishop and the diocesan chancellor; those from stavropegial institutions, of the abbot, dean or rector, and at least one other member of the institution in question.
Resolutions and proposed amendments to the OCA Statute will be sent to the respective diocesan hierarch, who will sign and forward them to the Resolutions Committee.
Detailed information on resolutions may be found here.