DIOCESAN UPDATES: Alaska, Canada
ALASKA: Napaskiak parish hosts clergy wives' lenten retreat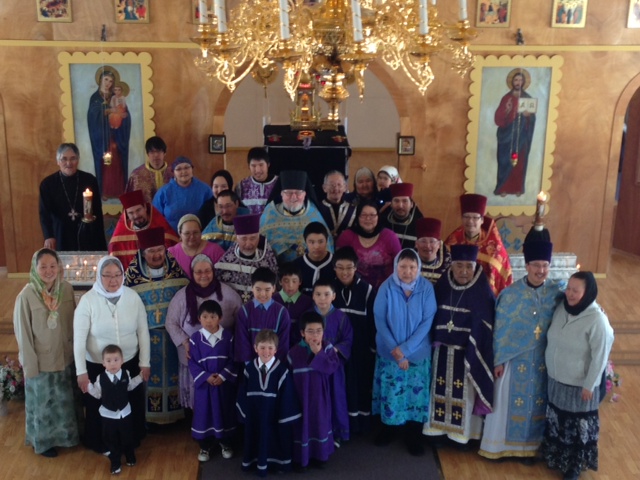 Archimandrite David [Mahaffey], Chancellor and Administrator of the Diocese of Alaska, was the keynote speaker at a lenten retreat for clergy wives of the Kuskokwim and Yukon Deaneries at Saint James Church, Napaskiak, AK April 6-7, 2013.
A widower, Father David shared stories from his life with his late wife, Matushka Karen, and spoke on "Famous Mothers in the Bible." Welcoming the many participants were Priest Vasily Fisher, rector, and Archpriest Phillip Alexie, Dean of the Kuskokwim Deanery.
The gathering also provided an opportunity for Father David to meet with Deanery clergy.
A photo gallery can be viewed on the OCA web site and OCA Facebook page.

CANADA: Gatineau, Quebec site of 2013 Archdiocesan Assembly
The Chateau Cartier Hotel and Conference Center, Gatineau, Quebec, will be the site of the Archdiocese of Canada's Assembly August 21-25, 2013.
His Grace, Bishop Irénée, will preside at the Assembly, the theme of which is "Faithful Stewardship—Our Words, Commitments and Actions. Services will be held at Ottawa's Annunciation Cathedral, including the closing Divine Liturgy on Sunday, August 25, at which His Beatitude, Metropolitan Tikhon will preside.
The event will open with a Clergy Synaxis on Wednesday, August 21. Later that evening, a welcoming reception celebrating the 10th Anniversary of the Saint Arseny Institute will be held.
Plenary sessions will be held from Thursday through Saturday, August 22-24. Protopresbyter Thomas Hopko, retired Dean of Saint Vladimir's Seminary, Yonkers, NY, will provide inspirational talks on Assembly theme throughout the Assembly.
On Thursday evening, August 22, the new Archdiocesan Residence and Office will be blessed, after which Father Thomas will speak at the cathedral. Other educational and social events will be held throughout the gathering.
A marketplace featuring books, liturgical supplies, and other items will be available throughout the Assembly. Interested vendors will find exhibition rules and regulations, deadlines, and vendors' contracts on the Assembly information page. General Assembly information will be found at the same site.