East Meets West at "Magnificat" Concert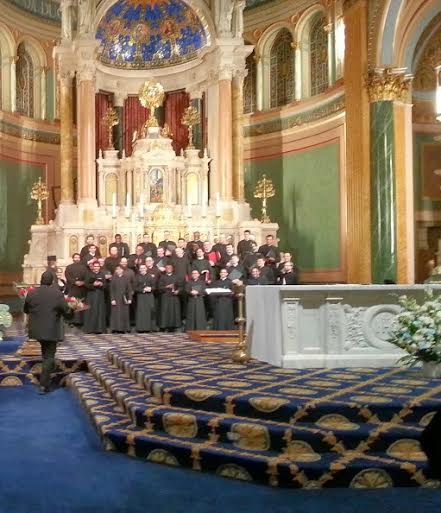 The outstanding acoustics and resplendent interior of St. Jean Baptiste Church in New York City provided a fitting venue for "Magnificat: Hymns to the Mother of God from the East and West," a concert of sacred music presented by the Male Choir from Saint Vladimir's Orthodox Theological Seminary, directed by Hierodeacon Herman [Majkrzak], and the Schola from Saint Joseph's Seminary [Dunwoodie] of the Roman Catholic Archdiocese of New York, led by Dr. Jennifer Pascual.

The choirs, representing their respective church traditions, received two standing ovations from more than 400 concert-goers at the conclusion of their performance on Monday evening, November 25, 2013.

"Tonight, we are carried through a liturgical year as we hear hymns to the Mother of God from East and West," said Saint Vladimir's Chancellor/CEO, Archpriest Dr. Chad Hatfield in his homily. "With perfect harmony we experience the magnificent song of praise from Luke's Gospel that is 'Magnificat'!"

Musical selections from the Orthodox Christian tradition illustrated the Church's feasts dedicated to the Theotokos and included a stunning original arrangement for the Great Feast of the Meeting of the Lord in the Temple, composed by Hierodeacon Herman, with featured soloist Gregory Abdalah ('08 alumnus). Saint Joseph's Schola presented time-honored hymns to the Virgin Mary taken from ancient Latin chant and from the classical period up until modern times, such as, O Sanctissima, by Beethoven (1770–1827). The choirs joined in a few pieces to conclude the concert, ending with the sublime Ave Maria by Biebl, with Saint Vladimir's seminarians Gregory Tucker, Brad Vien, and Ian Abodeely singing triadic portions of the piece.

Noted Father Chad, "This sort of joint venture has never been done between an Orthodox and Roman Catholic Seminary before, and it heralds the renewal of our mutually beneficial relationship with Saint Joseph's."

The Rector of Saint Joseph's Seminary, Rev. Msgr. Peter Vaccari, added, "This evening reflects our vibrant, living traditions and represents the most recent phase of what has been a growing tradition of collaboration and communication in prayer, the promotion of a culture of scholarship, and our mutual recognition of the place of beauty in artistic expression."

Other distinguished guests offering greetings at the concert's conclusion were the Rev. John A. Kamas, S.S.S., Rector of St. Jean Baptiste Church; His Eminence, Zachariah Mar Nicholovos, Metropolitan of the Northeast American Diocese, Malankara Orthodox Syrian Church and a member of Saint Vladimir's episcopal Board of Trustees; and Bishop Gerald Walsh, Vicar General of the Roman Catholic Archdiocese of New York. Trustees, faculty, and staff from both institutions enjoyed a reception prior to the concert.

A CD of the concert may be offered in the future.

For additional information and a concert program, visit www.svots.edu/sites/default/files/magnificatprogram.pdf.