Fr. Robert Taft, SJ, to lecture at SVOTS June 12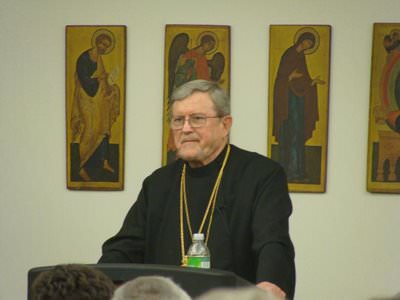 Celebrated scholar and Eastern Catholic Churchman Archimandrite Robert Taft, SJ, will present the keynote for the 2014 Congress of the Society of Oriental Liturgy [SOL], which will meet on the campus of Saint Vladimir's Orthodox Theological Seminary here this summer.
Father Taft's lecture, titled "Goodbye to All That: Swansong of an Old Academician," will be free and open to the public and will be held in The Metropolitan Philip Auditorium of The John G. Rangos Family Building on Thursday, June 12, at 7:00 p.m. The lecture will review Father Taft's life, in liturgy and in academics.
Father Taft, who is Professor Emeritus of Byzantine Liturgical History at the Pontifical Oriental Institute in Rome, founded SOL in 2005, and is its Honorary President. Dedicated to the scholarly study of Eastern Christian liturgy and related fields, SOL is respectful of all churches and religious traditions and has no confessional affiliation. Members of SOL are university professors and scholars from all around the world (mainly North America, Europe, North Africa, the Middle East, and India).
"Over the past 50 years, Fr. Taft has been the leading scholar of the Eastern liturgical traditions," noted Archpriest Dr. Alexander Rentel, Assistant Professor of Canon Law and Byzantine Studies at Saint Vladimir's. "His lecture no doubt will be an incredible opportunity to hear his reflections on his remarkable career."