Gettysburg, PA site of FOCA's 88th national convention July 25-28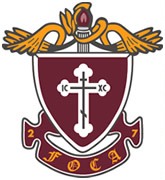 The Fellowship of Orthodox Christians in America [FOCA] will hold its 88th annual national convention at the Gettysburg Wyndham here July 25-28, 2014.

Surrounded by historic Civil War-era landmarks and stunning natural landscape, Gettysburg is a South Central Pennsylvania destination unlike any other. Situated just outside downtown Gettysburg on the 100-acre Gateway Gettysburg campus, it boasts modern amenities and world-class dining just minutes from Gettysburg's most popular attractions.

This year's convention will be hosted by the FOCA's Pittsburgh District. Anyone can attend and participate in the many activities planned for this year's gathering.

The convention committee is currently working diligently to put together a wonderful program for FOCA members and guests. In addition to plenary sessions, discussions, and liturgical services, attendees will enjoy a variety of activities. Ample time will be available to explore the area's historic buildings, landmarks and battlefields. Various tours are being planned for participants to get the most out of a trip to historic Gettysburg.

Additional information may be found on the FOCA web site, while room reservations are now being accepted at www.wyndham.com/groupevents2013/MDTGE_ORTHODOXCHRISTIANS/main.wnt.

Established in 1927 as the Federated Russian Orthodox Clubs to unite Orthodox Christians in faith, fellowship and service, the FOCA petitioned the Holy Synod of Bishops of the Orthodox Church in America to be officially recognized by the OCA. At its 1998 national convention, the organization adopted its present name. It maintains chapters in dozens of parishes across the country.