Holy Myrrhbearers Monastery to celebrate triple milestone August 25-26, 2012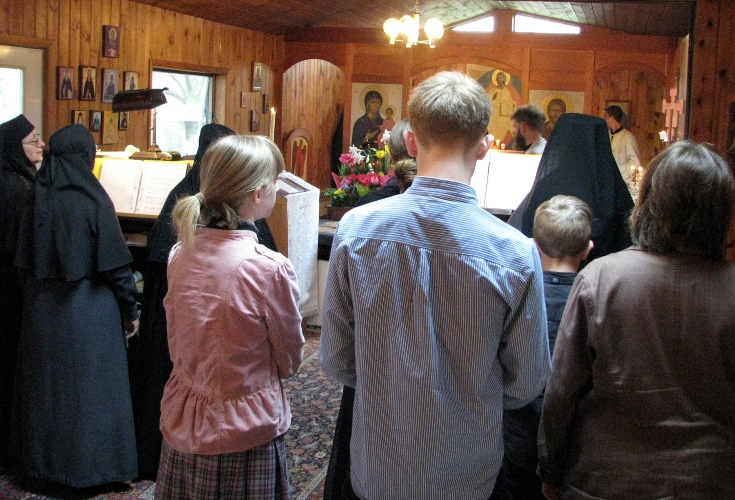 With profound joy and gratitude to God, His Beatitude, Metropolitan Jonah, Primate of the Orthodox Church in America, announces a milestone in the history of Orthodox Christian monastic spirituality in North America.

On Saturday and Sunday, August 25-26, 2012, this national celebration of Orthodox monasticism will be marked by a threefold commemoration – the 35th anniversary of the founding of Holy Myrrhbearers Monastery in Otego, NY; the 40th anniversary of the monastic profession of its Abbess, Mother Raphaela; and the 50th Anniversary of one of its nuns, Mother Michaela, to the monastic tonsure.

Orthodox hierarchs, clergy and faithful of all jurisdictions in our country are invited to share in this milestone event of monasticism in North America.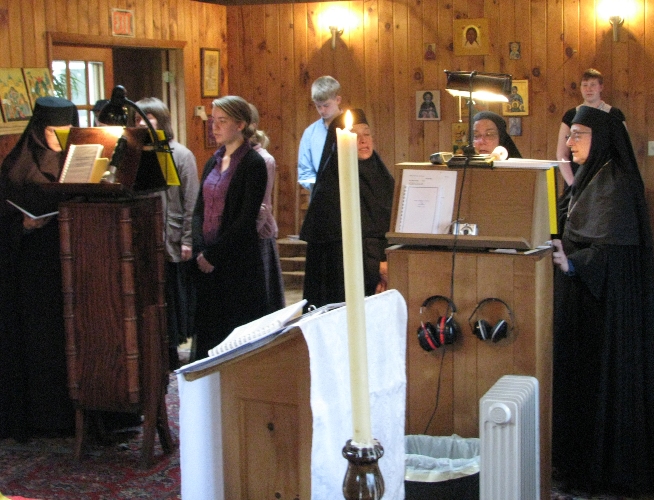 On Saturday, August 25, members of the Holy Synod of Bishops of the Orthodox Church in America will celebrate the Divine Liturgy at Dormition of the Virgin Mary Church, 53 Baxter St., Binghamton, NY, at 9:30 a.m. A banquet will follow at Saint Michael's Center (American Carpatho-Russian Orthodox Diocese), 296 Clinton Street, Binghamton.
At 5:00 p.m. on Saturday, dinner will be served at Holy Myrrhbearers Monastery, 144 Bert Washburn Road, Otego, NY, followed by the celebration of the Vigil at 6:00 p.m. His Grace, Bishop Michael of New York and the Diocese of New York and New Jersey together with His Grace, Bishop Melchisedek of Pittsburgh and the Diocese of Western Pennsylvania will preside.
On Sunday, Bishop Michael and Bishop Melchisedek will celebrate the Divine Liturgy at the monastery at 10:00 a.m.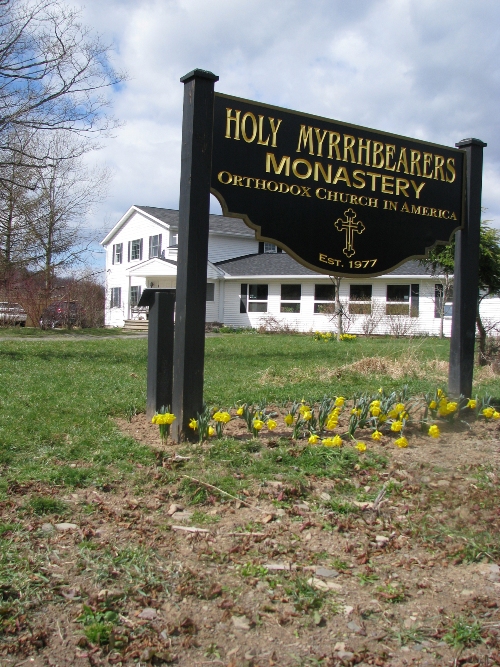 Background of the monastery. From modest beginnings in 1977, when they celebrated their first Divine Liturgy as a monastic community on the Sunday of the Holy Myrrhbearers, this sisterhood has endeavored, with God's help, to "feel our way into a traditional form of monastic prayer and life within our American setting." They began their communal life on the premises of the Chancery of the Orthodox Church in America, eventually moving to rented quarters near Saint Vladimir's Seminary, Crestwood, NY, as they solidified their efforts to generate income and purchase property. During this time the sisters began a mail-order business with their own greeting card designs, prayer books and other products. With the more recent additions of liturgical texts to their catalogue, the publishing concern has become an important means of support for the monastery – and a blessing for all the faithful who are enriched by these publications.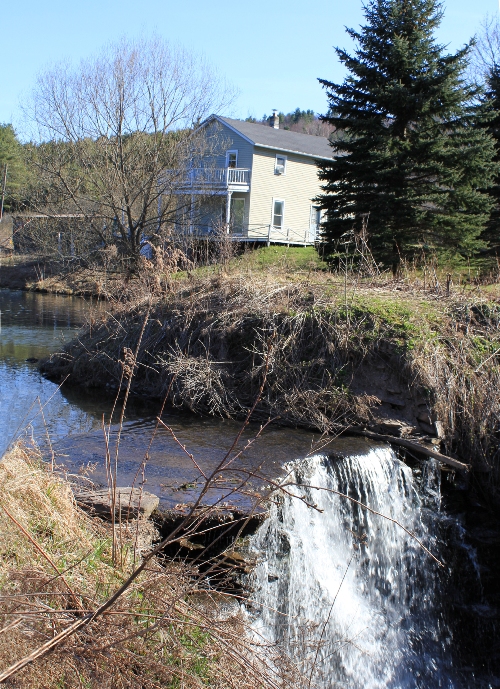 In 1982 the sisters' search for a permanent home bore fruit. In a Pennysaver ad, they discovered a 144-acre plot in rural central New York state with a farmhouse, two barns, a mobile home, and a pond. By "a series of miracles," they were able to make a down payment that year – and be mortgage-free by the end of the following year! Not long afterward, in 1986, work began on the Monastery chapel – with immense amounts of time, materials, labor, and love contributed by many clergy and laypersons from nearby parishes in Herkimer, Watervliet, Binghamton, Wappingers Falls, and elsewhere. These joy-filled "work parties" culminated in the consecration of the chapel by Metropolitan Theodosius, Archbishop Job of blessed memory, and many of the clergy who had guided this budding monastic family through its first decade of life. A memorial prayer garden was soon added through the generosity of friends from Geneva, NY; and the nuns acquired an adjoining piece of property and old mill-house, which they renovated to serve as guest quarters. A set of six magnificent bells, specially cast in Russia for Holy Myrrhbearers Monastery, was installed in the mid-1990s.

A crowning achievement came in 1998 with the completion of the new monastery, which provides the nuns the silence and privacy needed for the hidden life of a monastic, while also providing reception rooms where guests and other pilgrims can find hospitality and opportunities for quiet reflection. Finding themselves with more room and more sisters joining the community, the nuns continued to develop the farm as an integral part of their life and livelihood. They sell yarn spun from the fine wool of their sheep, prayer ropes and other items made from this yarn, and eggs from their chickens and ducks, and nourish guests with the goats' milk and cheese.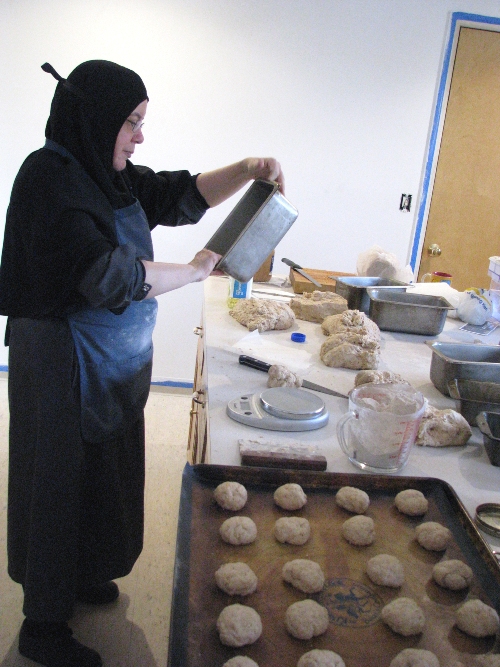 The community publishes a newsletter, Essays and Notes, with essays on the Christian life written by the sisters and other authors, and conducts numerous retreats. They host two pilgrimages each year, one on their patronal feast of the Holy Myrrhbearers (the second Sunday after Holy Pascha) and another on the second weekend in October. Remembering the early years when they shared space with the Primate and the staff of the OCA Chancery in Syosset, NY, the sisters have extended this same hospitality by sharing their chapel with the budding Mission of Saint Innocent, a small but growing flock of faithful Orthodox Christians who come together as a parish in the monastery church for their divine services. Lone pilgrims and small groups are welcomed throughout the year; many visitors find peace and spiritual healing not only in walking the grounds and praying the divine services, but by actively helping with the farming chores – until the majestic peals of the six custom-cast bells call all to the chapel for prayer.

As the nuns of Holy Myrrhbearers ring in this celebration of 35 years of engaging in the ascetical struggle together, they honor two other very special anniversaries at the same time. This year marks both the 40th year of Abbess Raphaela's taking of monastic vows, and the 50th year of monastic tonsure for Mother Michaela, the monastery's senior nun.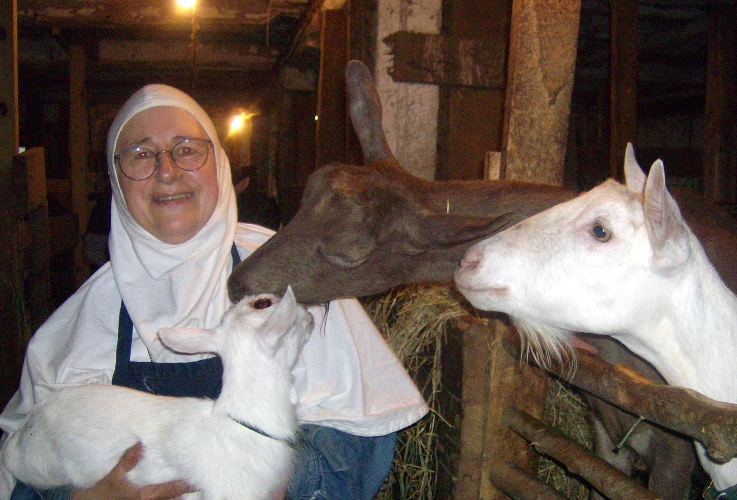 Mother Raphaela was raised in the Episcopalian tradition. During college she experienced an unexpected and life-changing encounter with monasticism, making the acquaintance of a nun who shattered her preconceptions of the cloistered life by simply being "one of the most normal, together persons I'd ever met." After her years in an Episcopalian convent, she discovered and joined herself to the Orthodox Church. Upon the formation of the Myrrhbearers community in 1977, Metropolitan Theodosius sent her to France to stay with the nuns at the Monastery of the Veil of Our Lady in Bussey-en-Othe, so that she might be more fully oriented to the Orthodox monastic vocation. This experience served her well, and she became Abbess of the Myrrhbearers community in 1987. She has a particular love for liturgical music and has expanded and enhanced the sung worship of the monastery's daily cycle of services by setting appropriate texts in the Byzantine, Russian, Carpatho-Russian, and Romanian musical traditions.

Three books of Mother Raphaela's collected essays, Living in Christ, Growing in Christ and Becoming Icons of Christ, have been published by Saint Vladimir's Seminary Press. As an experienced disciple in the ascetical life, Mother Raphaela inspires all who seek to understand the role of Orthodox monasticism on this continent, and in this age, with these wise words: "Ultimately, monasticism in this country needs to be American monasticism… there is a tendency to import a foreign monasticism because of the idea that, somehow, God is not able to work in America. Somehow, the work of the Holy Spirit comes here and crashes to a halt…. If the Lord was able to work in the first century, when they were all converts, He can certainly work with us."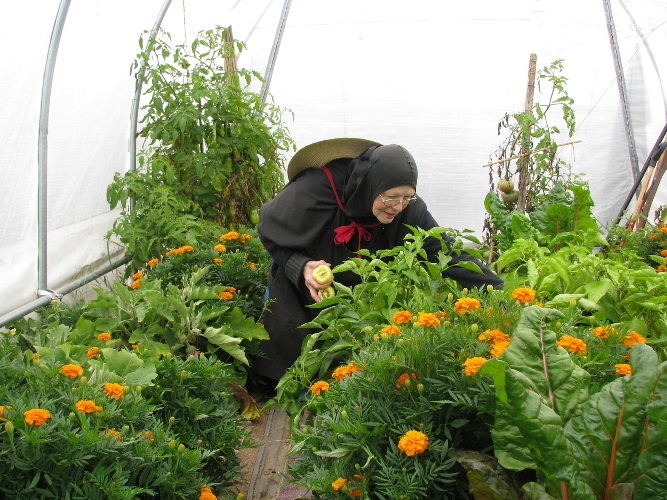 Also being honored in this triple celebration is Mother Michaela, who this year marks half a century as a monastic. Mother Michaela was born in Palestine, TX, and was baptized and confirmed in the Episcopalian tradition. She graduated from high school in Boling, TX, after which she received her degree from North Texas University in 1958 and taught art and music in the Dallas public schools for a year.

In 1959 she entered the Episcopalian Community of the Holy Spirit, a teaching community located in New York City. There she taught art, music and drama to elementary students and, in 1962, made her life profession. In 1965, she received a Library of Science degree; and she served as principal of the grammar school begun by her community in Melrose, NY from 1969-1972, during which time she met Mother Raphaela, who was then also a member of an Episcopalian community. In the early 1980s, Mother Michaela visited Holy Myrrhbearers Monastery, shortly after they moved to Otego, NY, and she maintained a relationship with the sisters for many years while serving as sister-in-charge of the Episcopalian convent in Melrose.

In 2005 Mother Michaela was received into the Orthodox Church; she moved to Holy Myrrhbearers Monastery that same year. Since that time, she has "worn many hats" and won the love of her sisters. She acts as sister-in-charge when the abbess must be absent; and in addition to her other duties, she has created a large and productive garden supplying the monastery table with fruits and vegetables. Truly, her wisdom, experience, and talents are a source of encouragement for the sisters and their visitors alike.