IN THE NEWS: Connecticut, Pennsylvania, New York
Bridgeport, CT: Historic church receives $20,000 grant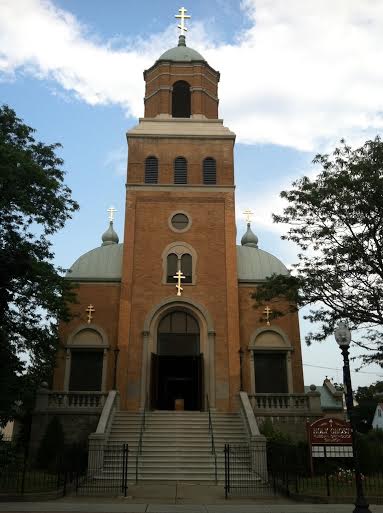 Holy Ghost Church, Bridgeport, CT, recently was awarded a $20,000.00 Historic Preservation Technical Assistance Grant [HPTAG] to fund a condition assessment and restoration plan for its church building. The grant, given by the Connecticut Trust for Historic Preservation, has been equally matched by funds from a bequest to the parish from Alexander and Astrid Samus, by permission of Sophie Rogers, sister of Mr. Samus and current member of the parish council of Holy Ghost Church. The church has contracted with TLB Architecture, Chester, CT, to do a top-to-bottom assessment of the building during the coming year, beginning in February 2014.

Archpriest Steven J. Belonick, Rector, explained the need for the assessment, saying, "Our church temple during the past decades has suffered damage from the natural elements and is certainly feeling its age. This architectural study will help us better understand any major and minor problems with the structure and the building's mechanicals, and will help us better plan our course for the future."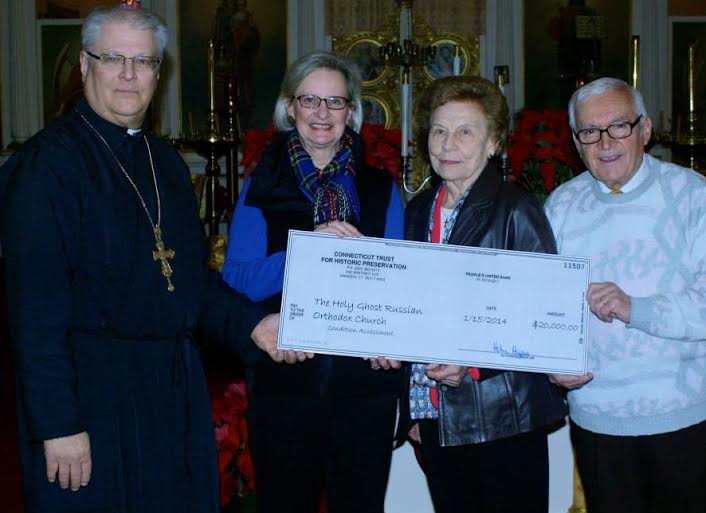 Holy Ghost Church, located at 1510 East Main Street in the heart of Bridgeport, was founded in 1894. A canonized saint of the OCA, Priest Alexis Toth, served at the dedication of the parish's first church building, located at Hallett Street, on Palm Sunday, April 26, 1895. The parish relocated to East Main Street and dedicated its present building on Palm Sunday, April 26, 1937.
The church building contains a wealth of historic treasures, including six enormous sonorous bells cast by master metallurgist B. M. Orlov in St. Petersburg, Russia and donated to the parish by Tsar Nicholas II in 1896. The largest bells, which weighs 4,000 pounds, contains relief images of Tsar Nicholas II and Tsarina Alexandra on one side and an icon of Christ on the other side. The iconostasis also was donated by Tsar Nicholas II and Tsarina Alexandra and contains a unique panel of their patron saints. The church's magnificent stained glass windows were the subject of a survey by the Stained Glass Association of America in 1983, and subsequently became included in a computer base at the University of Massachusetts, Amherst, as a study for art historians.

HPTAG is a collaborative historic preservation technical assistance program of the Connecticut Trust for Historic Preservation, in partnership with and funding from the State Historic Preservation Office, Department of Economic and Community Development, through the Community Investment Act.
Philadelphia, PA: Eastern PA Diocese offers support to FOCUS
At their recent meeting at the Assumption of the Holy Virgin Church, Philadelphia, PA, the members of the Diocesan Council of the Diocese of Eastern Pennsylvania welcomed Mr. Nicholas Chakos, Executive Director of FOCUS North America, to whom they presented a check for $2,000.00 for the agency's ongoing ministries.

Council members expressed the desire to evaluate the possibility of initiating FOCUS ministry through Assumption parish.

"The need is very great in Philadelphia, especially in areas surrounding the church," said His Grace, Bishop Mark of Baltimore, Diocesan Administrator. "As FOCUS does not want to duplicate, but supplement existing ministries to the needy, a study will be conducted on how to best assist those in need."

FOCUS North America is a national movement of Orthodox Christians united in faith and joined by a desire to provide action-oriented and sustainable solutions to poverty in communities across America. Each year, FOCUS helps thousands of homeless and working poor families. FOCUS transforms lives, moving people from dependency to self-sufficiency by helping them obtain jobs and permanent homes and providing children with educational resources. Through all of its programs, FOCUS promotes the engagement of Orthodox Christians in practical, hands-on activities that serve those in need. FOCUS has operations and youth volunteer experiences in more than 30 cities across the US and a volunteer corps of 7,000. For more information visit www.focusnorthamerica.org.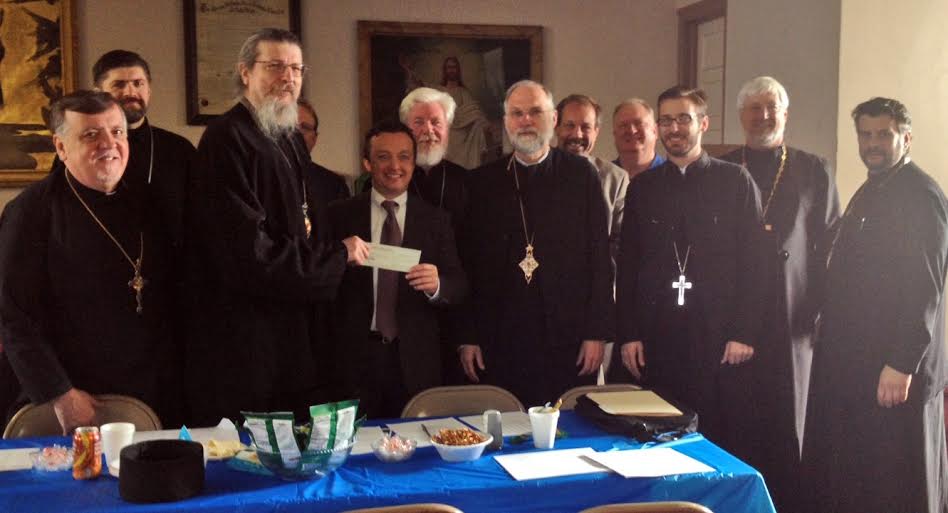 Pictured at the meeting are [from left] Father John Kowalczyk, Diocesan Chancellor; Father Victor Gorodenchuk; His Grace, Bishop Melchisedek of Western Pennsylvania, Locum Tenens of the Diocese; Douglas Yates; Mr. Chakos; Father Martin Browne, Diocesan Treasurer; Bishop Mark; David Yeosock; Mark Linnehan; Father Timothy Hojnicki, Diocesan Secretary; Father James Weremedic, Dean of the Philadelphia Deanery; and Father Nicholas Solak, Dean of the Wilkes-Barre Deanery.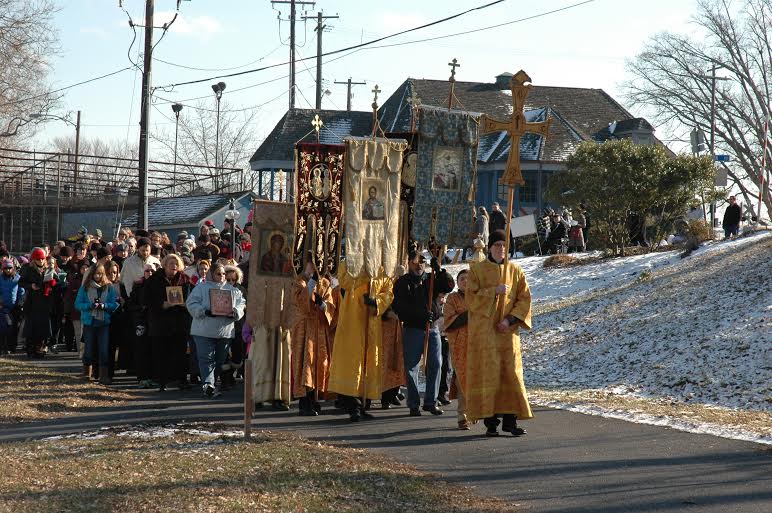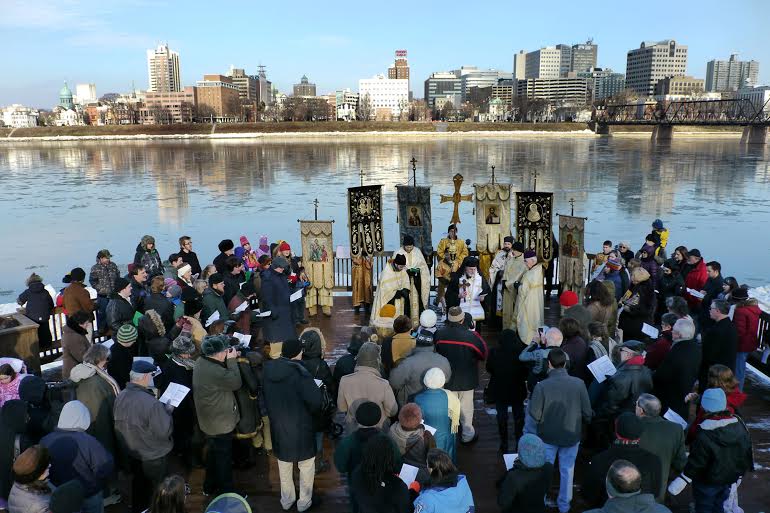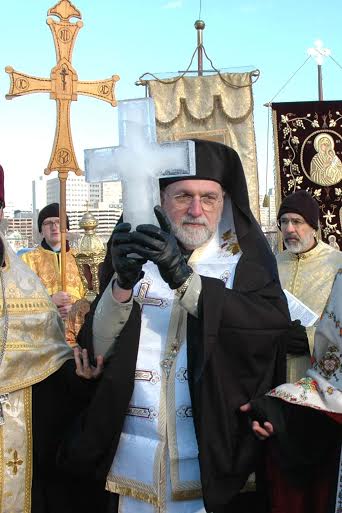 Harrisburg, PA: Pan-Orthodox river blessing
On Sunday, January 19, 2014, clergy and faithful from Orthodox Christian parishes of the greater Harrisburg region gathered at City Island Park for the Sixth Annual Pan-Orthodox Great Blessing of the Susquehanna. His Grace, Bishop Mark of Baltimore, presided at the celebration, assisted by the clergy of Christ the Saviour Church [OCA], Harrisburg; Holy Apostles Mission [OCA], Mechanicsburg; Holy Trinity Greek Orthodox Cathedral, Camp Hill; and Saint Nicholas Serbian Orthodox Church, Oberlin.
Staten Island, NY: Adult "Home" closes after 37 years
The Saints Cosmas and Damian Adult Home, Staten Island, NY, recently closed its doors after 37 years of service. Rising costs, increasing regulations by the State of New York and New York City, and the inability to make capital improvements over the years became insurmountable for the non-profit facility.

The Home was founded in 1977 by the late Protopresbyter Alexander Warnecke with the blessing of His Beatitude, Metropolitan Ireney [Bekish] and the assistance of the Saint Panteleimon Society of New York City and young Orthodox Christians of various jurisdictions. The first Board of Directors consisted of members representing several jurisdictions, some of whom served on the original staff. The Board of Directors petitioned that the Home's chapel be named under the patronage of Saint Ireney in recognition of Metropolitan Ireney's great financial support. The home's long-time administrator was Argyra Lapchuk, daughter of Father Warnecke, and the present OCA Chancellor, Archpriest John Jillions, served as Home administrators in the early 1980s.

"The facility was committed to providing the highest quality health and personal care services to its residents in an affordable and most cost-effective manner," said Archpriest Joseph Lickwar, Jersey City, NJ, corporate CEO. "It served thousands of needy persons from its beginning. The corporation was governed by state and city regulations and strived to satisfy all the demands of unions, inspections and regulations. It was truly a 'home' for people, who had no place to be. It was an ideal experience providing affordable care and a safe place to be within a community with a church."

The Home also housed its own spiritual center, Saint Ireney Chapel, in which regular services were celebrated by resident chaplains and visiting clergy. Although the facility was open to people of all faiths, it was home for a number of Orthodox Christians, including Metropolitan Ireney, Archbishop Nikon [de Greve], Archimandrite Innocent [Fryntzko], and Archpriest Prokopy Powers [Povarnitzin].

While the facility has been sold, the Saints Cosmas and Damian "non-profit" Corporation will continue to exist under the management of its Board of Directors, who will manage the income from the sale of the property, satisfy payables, resolve on-going issues, and look to developing in the future care for the elderly. The annual meeting of the Board of Directors will be held in April 2014, and under the chairmanship of His Beatitude, Metropolitan Tikhon, there will be an election of officers, reception of new members to the Board of Directors, and the formulation of an agenda for the immediate future.

"This ministry was a 'first of its kind" for Orthodox Church in America," added Father Joseph, "and the Board of Directors expresses deep appreciation to those countless Orthodox Christians who have given their financial support, time and talent over the years. We thank God for those who served this cause faithfully."

The new name of the facility is the Mariners Residence, whose business office may be reached at 718-720-8800. For additional information, contact Archpriest Joseph Lickwar, CEO of the corporation, at .(JavaScript must be enabled to view this email address).