IN THE NEWS: Illinois, PA, Minnesota
CHICAGO, IL: Parish partners with community to provide Thanksgiving Day dinner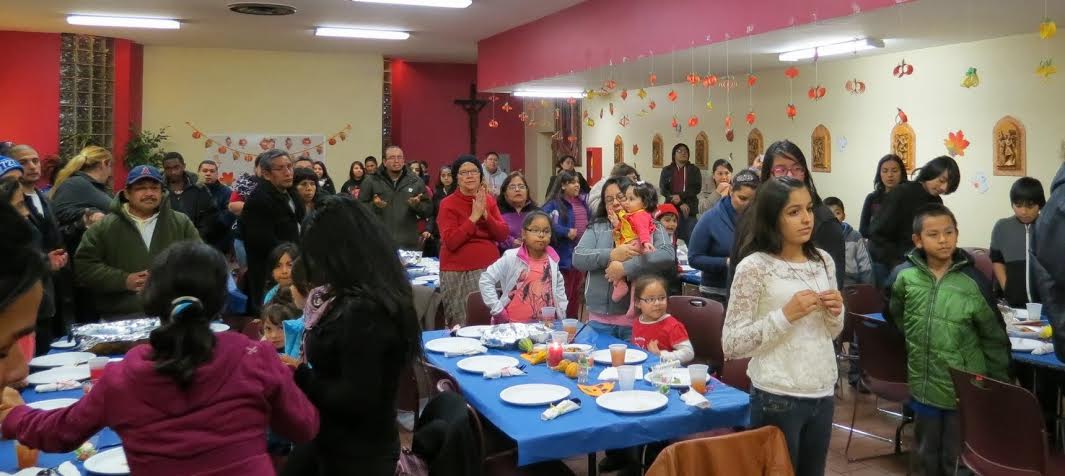 On Wednesday, November 27, 2013—the eve of Thanksgiving Day—Father John Baker and a group of faithful from Christ the Savior Parish, Chicago IL, gathered at the parish hall of Saint Agnes Roman Catholic Church in the Little Village neighborhood to serve a Thanksgiving day dinner to 120 residents of the neighborhood, many of whom had lost loved ones to the gang violence that plagues the area.

"The idea to provide the meal was led by the initiative of Eddie and Kathryn Bocanegra, parishioners of Christ the Savior Parish, who both work in violence prevention programs and with families from the neighborhood," said Father John "Not only was a meal served, but it provided an opportunity for interaction between the two communities."

Children in attendance also enjoyed making Thanksgiving art projects with which to decorate their homes.

Located in the heart of downtown Chicago's north side, Christ the Savior parishioners continue to be involved in a variety of neighborhood outreach ministries.

An inspiring gallery of photos may be accessed at xcthesavior.org/public/sv/gallery.php?ssid=117.
JEANETTE, PA: Parish celebrates 103rd anniversary

Saints Cyril and Methodius Parish, Jeannette, PA, recently celebrated its 103rd anniversary with festivities that featured a month-long display of memorabilia illustrating the parish's history. Known as the "Kobasa Collection," in honor of one of the parish's early rectors, Father Gregory Kobasa, the display included newspaper clippings, articles, letters, heirloom vestments, and other artifacts.

The parish was founded in 1910 by Russian immigrants, under the patronage of the Czar of Russia, Nicholas II, according to Father Lawrence Daniels, Rector, who was ordained to the priesthood in 2012 after serving as a deacon for 36 years, the last 10 of which at Saints Cyril and Methodius Church.

"He and his wife, along with other parishioners, have worked diligently to bring the church closer to the community," reads a newspaper clipping at triblive.com/neighborhoods/yourjeannette/4921750-74/church-jeannette-daniels#axzz2ibUyi2TK, which features photos of the parish. "He has set up a learning center, a place to read and study, beside the church that is open every Wednesday from 10 a.m. to 3 p.m."
MINNEAPOLIS, MN: Cathedral Choir presents Festival of Hymns and Readings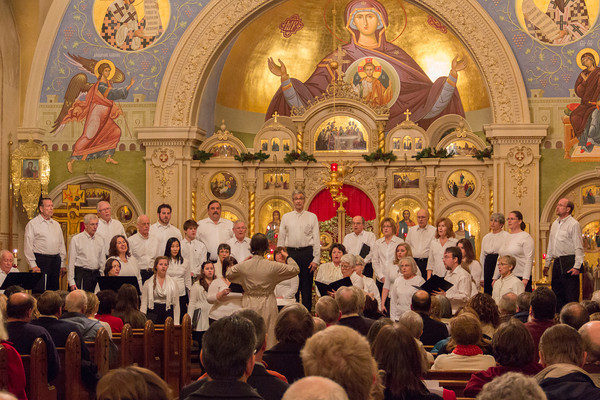 Members of Saint Mary's Cathedral Choir, Minneapolis, MN, presented a dynamic and dramatic Advent Festival of Hymns and Readings on Saturday evening, December 7, 2013.

"Titled 'Prepare, O Bethlehem,' the performance before a packed church drew upon hymns and texts from the feasts of the Annunciation through to the Nativity, focusing on the use of 'special melodies', as well as antiphonal dialogues from select Kontakia of Saint Romanos the Melodist," said Father Andrew Morbey, Cathedral Dean. "This was the second such concert undertaken by the choir, under the direction of Deacon Gregory Ealy, and it has become a popular northeast Minneapolis event."

A photo gallery of the Festival may be viewed at stmarysoca.smugmug.com/Category/Make-Ready-O-Bethlehem/35277022_9xcHSC#!i=2959599297&k=8zZrSgs.