IN THE NEWS: New Jersey, PA, Michigan, Florida
PRINCETON, NJ: Volunteers sought to help build new church
Construction of the new temple for the Church of the Mother of God, Princeton, NJ, is progressing. In a matter of weeks, project contractors will be ready to welcome volunteers from the Diocese of New York and New Jersey and beyond to the property of the new edifice for the work of "Operation Princeton."

Volunteers are being sought for landscaping work on Friday and Saturday, September 20-21. On Friday and Saturday, October 25-26, volunteers will tend to interior details.

The project marks a milestone inasmuch as it involves the building of the diocese's first new church in several years—a project that, given the present economic climate, stands as a testimony to the faith and commitment of the parish's faithful.

The effort to help the parishioners of Mother of God Church is the third such "Operation" in the Diocese of New York and New Jersey. It follows the successful "Operation Buffalo" (Saints Peter and Paul Church) and "Operation Oneonta" (Saint Innocent Mission) in New York State, where volunteer parishioners from throughout the diocese came together to offer their time, talent, and treasure for the successful refurbishing of existing facilities.

For more information or to volunteer, please contact Archpriest John Cassar at 609-306-4168.
PHILADELPHIA, PA: Mission team helps refurbish 100-year-old church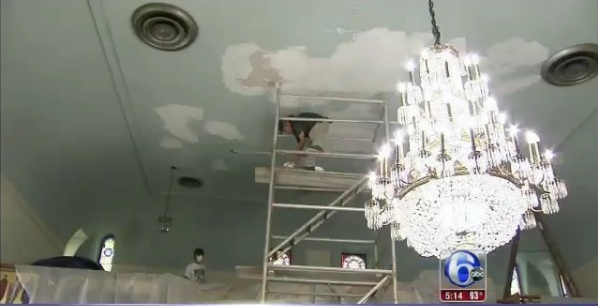 Volunteers from Saint Mary Church, Coaldale, PA and Holy Trinity Church, Stroudsburg, PA—many of them teenagers—recently joined Priest Matthew Cantrell and the faithful of the Assumption of the Holy Virgin Church on Philadelphia's South Side in refurbishing the 100-year-old church's interior and green space. In addition to receiving the thanks of the parish faithful, they were rewarded by a special spot on the WPVI-TV evening news. Log on to http://abclocal.go.com/wpvi/video?id=9176443 and be inspired!
COLVER, PA: Thieves make off with church's copper piping
Johnstown, PA's WJAC-TV reported that on Wednesday, August 14, thieves broke into Holy Ascension Church, Colver, PA, and stripped it of its copper piping. While incidents involving the theft of copper piping and roofing have been on the rise in recent years—a few years ago, thieves made off with copper from an entire cupola on Cleveland's Saint Theodosius Cathedral!—especially as the price of copper has increased sharply, the incident in Colver was compounded by the fact that it came just days before one of the parish's major fundraisers.

Parishioner Charles Olexa told WJAC reporters that water lines, door hinges, copper piping and hot water tank components were among the stolen items. "They turned the water off, took out the pipes off the hot water tank and all through the kitchen," he reported. "They even stole the garbage can out of there and put the pipes in there and hauled it out…. We're having a basket party Sunday, [and] they even stole some of the baskets."
RIVES JUNCTION, MI: Clergy wives' retreat to be held October 11-13
Holy Dormition Monastery, Rives Junction, MI, will be the site of the 26th annual Clergy Wives' Retreat October 11-13, 2013. The $70.00 registration fee includes housing, all meals, and all retreat materials. Scholarships are available for those who otherwise would not be able to attend.

In addition to liturgical worship and fellowship, this year's retreat features a very special speaker – Holy Dormition Monastery's Mother Macrina.

Participants may attend for one day or the entire weekend.

For more information and to request a reservation, please contact Matushka Jean Bass at .(JavaScript must be enabled to view this email address) or leave a message at 219-926-4358. There is no need to pay the fee until the opening day of the retreat, but early registration is recommended.
JACKSONVILLE, FL: Parish seeks Director of Children and Family Ministries
Saint Justin Martyr Church, Jacksonville, FL, is seeking the right person to lead its vibrant Children and Family Ministries. The successful candidate will be an enthusiastic Orthodox Christian committed to Jesus Christ and ministry with young people and their families. The parish seeks someone who is enthusiastic, flexible, energetic, willing to learn, has good people skills, a hard worker, a passion for sharing the Gospel, is creative, loves children and youth, team player and does things with a spirit of excellence. Saint Justin's will provide opportunities for continuing education and a fair working budget.

For a detailed job description and additional information on remuneration and related details, please contact Archpriest Ted Pisarchuk, 12460 Old St. Augustine Road, Jacksonville, FL 32258; .(JavaScript must be enabled to view this email address); 904-880-7671 during normal business hours.
Orthodox Christian Translation Society accepting proposals for translation projects
The Orthodox Christian Translation Society [OCTS], a non-profit organization committed to facilitating the entire process of creating high-quality Orthodox translations from project conception to publication and distribution, is accepting proposals for future translation projects. In late 2012, OCTS published its first translation, Place Your Hope in the Lord: The Poetic Spiritual Life of Father Lazar.

"If an Orthodox text exists that a translator believes can and should be made available in another language, then OCTS exists to assist them in bringing that translation to fruition," notes OCTS Board of Directors member David Twombly.

OCTS accepts proposals from skilled translators and selects projects to support. Once a project is chosen, OCTS commits to support that project financially from beginning to end. This includes translation, editing, publication, and distribution. Each translator is supported financially according to a method which best suits his or her needs; this may include hourly compensation, compensation based on length of the text, or royalty payments made at the time of sales. In this way, OCTS provides opportunities for skilled translators to commit their time to Orthodox translation work while also supporting themselves and their families or monastic communities.

OCTS is a pan-Orthodox organization. His Grace, Bishop Basil [Essey] of the Antiochian Orthodox Diocese of Wichita and Mid-America and Mother Gabriella of Dormition of the Mother of God Monastery in South-Central Michigan OCTS's Advisory Board.

The deadline for proposal submissions is October 1, 2013. For more information about submitting a proposal, visit OCTS web site.