IN THE NEWS: New York, PA, Ohio
New York: Mission Grant priest speaks at Malankara Syrian Orthodox conference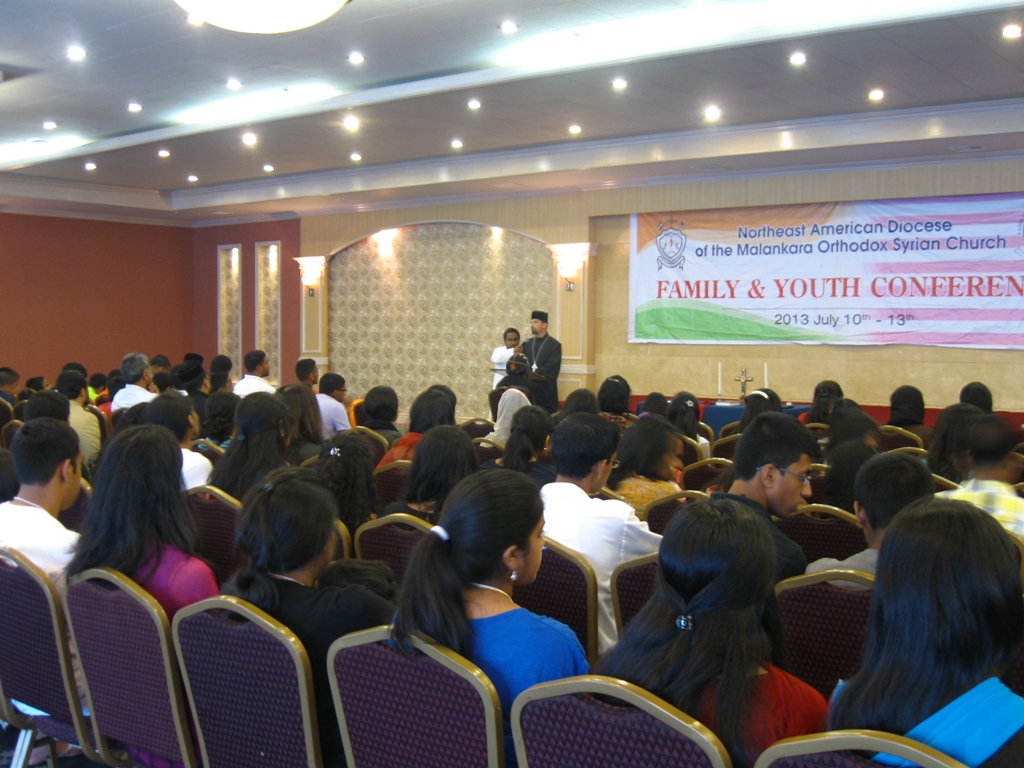 Priest Robert Miclean, Rector of Holy Archangels Mission, Annapolis, MD—an OCA Mission Grant recipient—was keynote speaker for the 2013 Family and Youth Conference of the Northeast Diocese of the Malankara Syrian Orthodox Church held in New York, NY July 10-13, 2013. Almost 500 participants attended the conference, at which Father addressed the youth on the theme, "Offer Ourselves as a Living Sacrifice," taken from Romans 12:1, and the broader conference on the topic of missions and evangelism. He challenged the youth to understand their calling in Christ, to resist in practical ways being conformed to this world, and to be transformed in Christ by applying their faith and the tools of salvation offered in the Church, so that they can offer themselves as Christ's ambassadors and impacting the world around them.
South Canaan, PA: 75th Anniversary Commemorative Tikhonaire now available on-line

The 75th Anniversary Commemorative Double Edition of the Tikhonaire is now available for viewing on-line at stots.edu/tikhonaire.html. The special edition, includes a photographic account of the seminary's entire history, includes photos of each graduate, faculty member, and administrator who has lived and worked at Saint Tikhon's since it's opening in 1938. In addition, the seminary has digitized its Tikhonaire Historical Archive, so that each year's edition may now be viewed online in its entirety.
LIMA, OH: Dr. Albert Rossi to speak at September 27-29 conference "From Pornography To Purity"

Dr. Albert Rossi, Ph. D., of Saint Vladimir's Seminary, Yonkers, NY and Professor at Pace University will be the keynote speaker at a conference titled "From Pornography to Purity: Finding Healing and Becoming a Healing Presence" sponsored by Saint Stephen Church here September 27-29, 2013. A licensed psychologist and an expert in the field, his wisdom has brought healing to many. For additional information and/or to register call 419-224-8600 or write .(JavaScript must be enabled to view this email address).
LIGONIER, PA: Clergy Wives Weekend 2013 November 8 – 10 at Antiochian Village

The fifth annual pan-Orthodox gathering for clergy wives, held in memory of Khouria Joanne Abdalah, will be held at Antiochian Village, Ligonier, PA, November 8-10, 2013. The conference topic will be "Balancing My Life, Family Life and Parish Life." Speakers will include His Grace, Bishop John [Abdalah] of the Diocese of Worcester and New England of the Antiochian Orthodox Christian Archdiocese of North America.

"As a parish priest for many years, and a husband for even more, Bishop John is well aware of the life of a clergy wife," said Khouria Stephanie Yazge, one of the gathering's organizers. "What would be good to know about balancing all of the life's demands?"

Also slated to address the gathering are Khouria Laila Ellias and Dr. John Dalack, psychologist, who will speak on "The Holy Family: Are We There Yet?"

Registration forms are posted on the Antiochian Village web site under the Conference Center/Upcoming Events and the Facebook group: Orthodox Clergy Wives Weekend. Additional questions may be addressed to Khouria Stefanie Yazge at 724-832-1101.