IN THE NEWS: Ohio, Oregon, Pennsylvania
LORAIN, OH: SS. Peter and Paul parish celebrates 100th Anniversary November 8-10
The faithful of Saints Peter and Paul Church, Lorain, OH, will celebrate the 100th Anniversary of their founding November 8-10, 2013.

The weekend will open with the celebration of the Divine Liturgy on Saturday, November 9. At 4:00 p.m. that afternoon, the Akathistos Hymn will be sung in the presence of the wonderworking icon of the Mother of God "She Who is Quick to Hear," which will be brought to the parish from Saint Tikhon's Monastery. His Beatitude, Metropolitan Tikhon and His Grace, Bishop Alexander, Locum Tenens, will be present for the Akathistos Hymn and the celebration of Great Vespers.

Sunday's Hierarchal Divine Liturgy will begin with the greeting of the hierarchs at 9:30 a.m. A reception will follow immediately in the undercroft of the church.

At 1:00 p.m. on Sunday, doors open at Saint Nicholas Greek Orthodox Church hall for the anniversary grand banquet. Dinner and program begin at 1:30 p.m. Banquet tickets, priced at $35.00, are still available.

For further information please call 440-277-5281.

MILWAUKIE, OR: Liturgical singing seminar attracts over 70 participants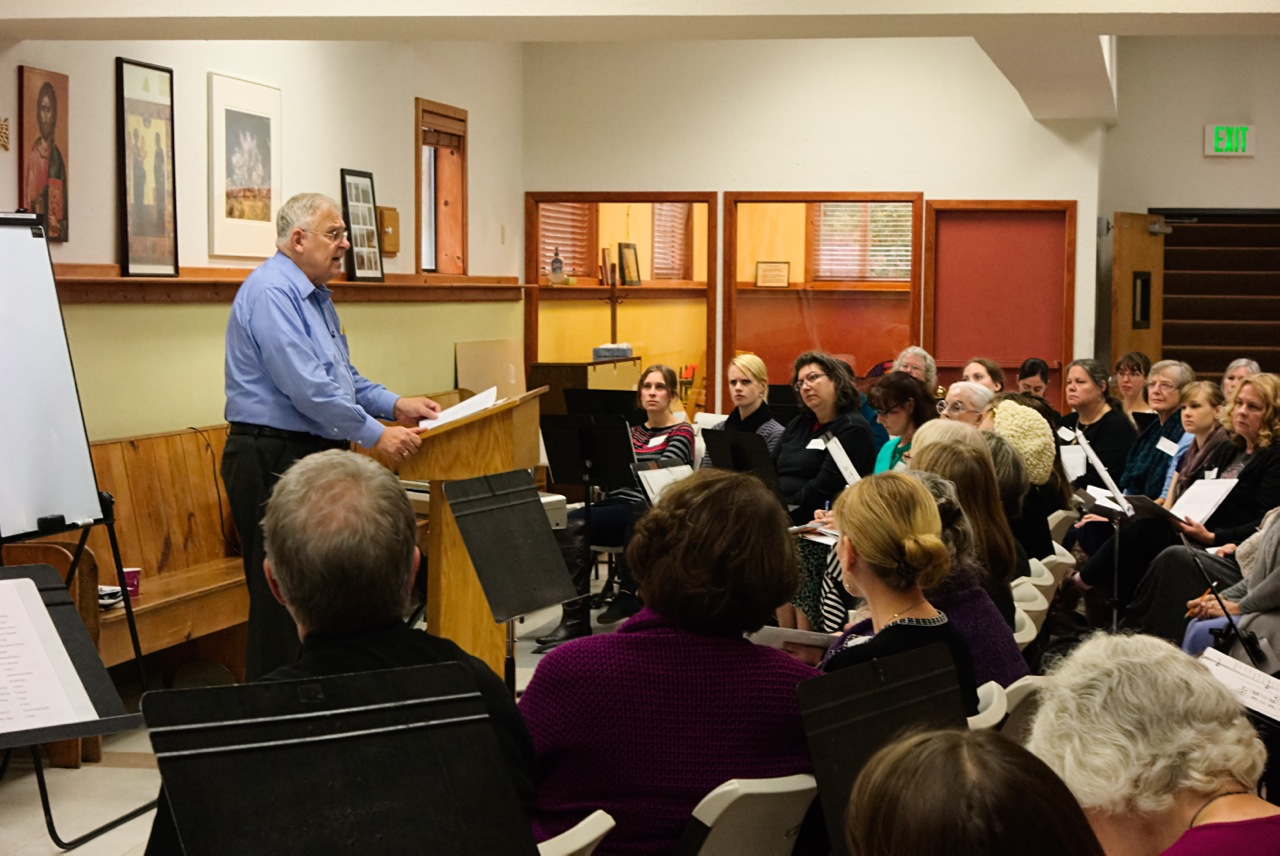 The annual Pacific Northwest Pan-Orthodox Liturgical Singing Seminar, recently held at the Church of the Annunciation, Milwaukie, OR, attracted over 70 choir directors, singers, readers, and clergy from the San Francisco Bay Area to Langley, British Columbia.
This year's guest lecturers were Prof. David Drillock, Chair of the OCA Department of Liturgical Music, and Valerie Yova. Attendees were immersed in an intensive, full-day seminar with lectures focusing on the history and development of Orthodox liturgical music, the role of antiphonal singing, hierarchical services, and related topics. Instruction on proper vowel formation, posture and intonation were also offered.
Seminar participants sang the responses at Great Vespers and the Divine Liturgy under the direction of Irina Burkett, Annunciation's choir director, who called the event "a grace-filled day of choir development, learning and prayer" for those who attended.
"Thank you so much for accommodating our large group of seven singers from Langley, British Columbia," said Gregory Gasciogne. "I have already started telling people here to book their holidays for next year to be able to attend this yearly music festival. I look forward to seeing you next year."
Plans for the October 2014 seminar will be announced as they become available.
MECHANICSBURG, PA: Holy Apostles Mission blesses site of future church
On Sunday, October 13, 2013, the faithful of Holy Apostles Mission, Mechanicsburg, PA, gathered for the blessing of their recently purchased 14 acre property—the site of their future church building.
According to Priest Timothy Hojnicki, rector, some 118 people were present to share the joy of witnessing the traditional planting of the Cross to mark the site. Among those joining him and Deacon Seraphim were Archpriest Alexander Atty, Louisville, KY, and Priest Stephen Vernak, Rector of Christ the Saviour Church, Harrisburg, PA.
Parishioners plan to build a multipurpose "Phase I" building in the coming year.
"Please keep the community of Holy Apostles in your prayers in the exciting and challenging months and years to come," said Father Timothy.
Photos of the event may be accessed at http://s1205.photobucket.com/user/HolyApostlesChurch/library/2013_10_13_Foundation%20Cross?sort=2&page=1 and www.dropbox.com/sh/usjigk2z473rsll/aDIVx-PSLo?n=200928161.