IN THE NEWS: Pennsylvania, Connecticut
Ellwood City, PA: Monastery's new bell tower completed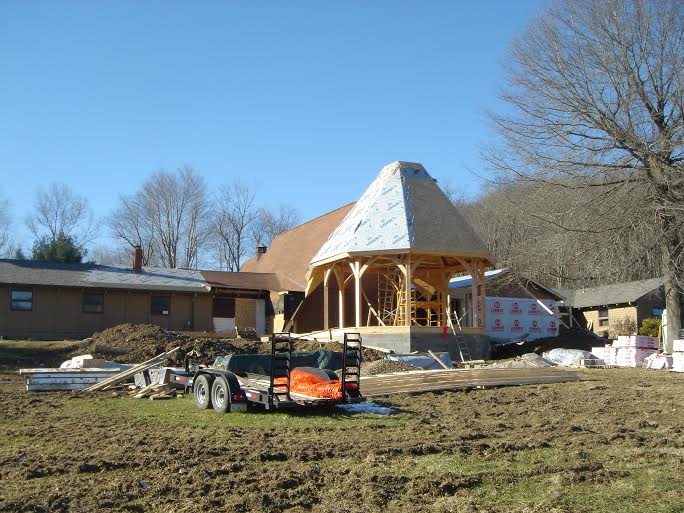 As part of a major renovation to the main building at the Monastery of the Holy Transfiguration, Ellwood City, PA, a new timber frame bell tower was recently completed. The bells were mounted in the tower and rang for the first time on the evening of the Great Feast of the Entrance of the Mother of God into the Temple.

"The nuns liked the look of the bell tower so much that the design of the new small chapel was modified to also be timber frame," said a monastery spokesperson. "The manufacturer of the kit (Riverbend Timberframe in Michigan) arrived Thursday, December 19, at 7:00 a.m, with a flatbed truck piled with numbered timbers. By the end of the day, the 23-foot high frame was in place, and by Friday, the walls had been added. Working conditions were difficult due to the cold and snow, so he nuns treated all the workmen to a good hot lunch."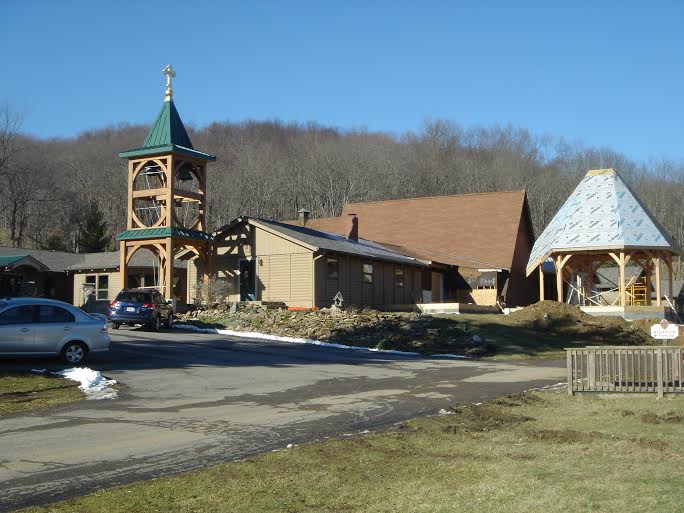 The chapel will rise 42 feet to the top of the gold cross. It also will feature 11 stained glass icon windows, donated by Holy Assumption Church, Ganister, PA, when that church had to close. This chapel is in addition to the monastery's main church, and will be used for pilgrims to have a private place to pray and for confessions. It will also greatly beautify the outside of the main monastery building.

This phase of the renovation also includes two rooms on each side of the new chapel, providing space for a sacristy and counseling room and vestry/sewing room.

To see photos and a video of the chapel construction, or to make a donation, visit www.orthodoxmonasteryellwoodcity.org/.
Carnegie, PA: First phase of iconography project completed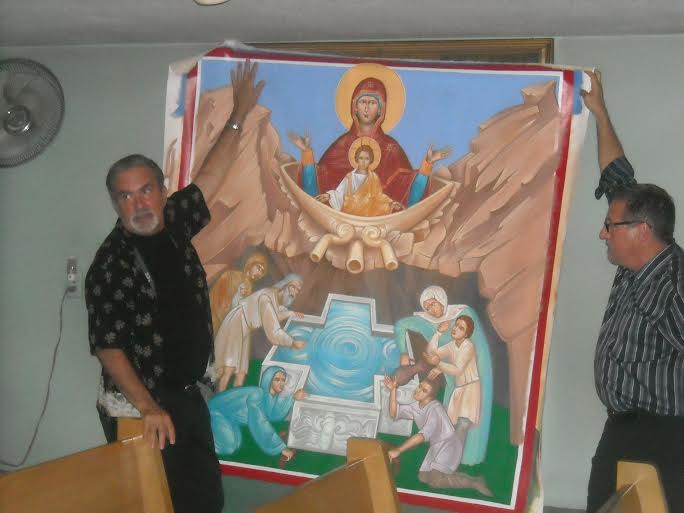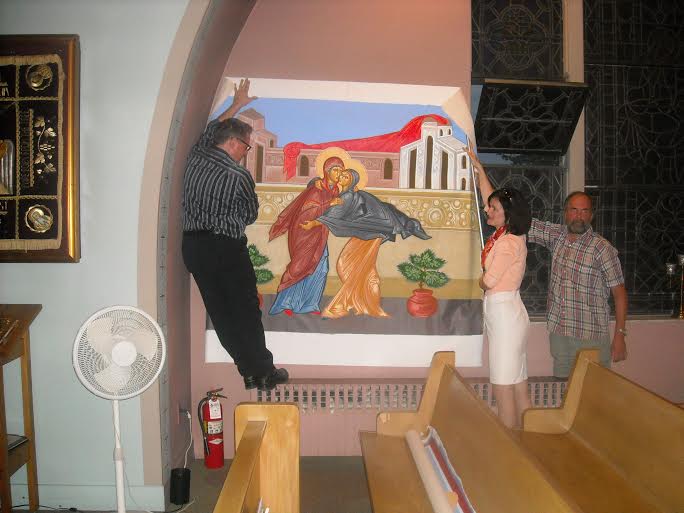 Through the generosity of Anthony Horbal, the interior of Holy Virgin Church, Carnegie, PA, is being transformed with new iconography by Robert Gerwing and Dave Rigo. According to Father George York, Rector, the project is being completed in three stages—the narthex, nave, and altar. Work on the church nave has been completed with the installation of two icons on December 31, 2013—new year's eve.
Bridgeport, CT: YES group at Holy Ghost Church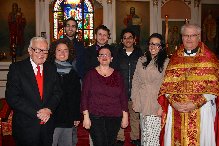 With boundless enthusiasm and energy, high school and college students spread good will and cheer in the greater Bridgeport, CT area the weekend of December 13–16, 2013, as they participated in the YES Program of FOCUS North America (Fellowship of Orthodox Christians United to Serve). During that weekend, 32 young Orthodox Christians gave up their smart phones for fellowship with each other, and exchanged social networking for social action—with unbridled joy.
YES (Youth Equipped to Serve), based in Pittsburgh, PA, provides opportunities for junior high, high school, and college students to engage in social action. The program is also designed to raise self-awareness through simulated and real encounters that create a deliberate tension between egoism and sacrifice, promoting conscious reflection about what it means to see the image of Christ in each person and to do God's work.

During their weekend in Bridgeport, YES participants took a non-conventional prayer tour of the city, and then on Saturday, quickly shifted their plans from visiting a local homeless shelter (which closed due to a New England snowstorm) to passing out small treats and holiday greetings to shoppers at the local mall. They also surprised shoppers by paying for their coffee or lunch!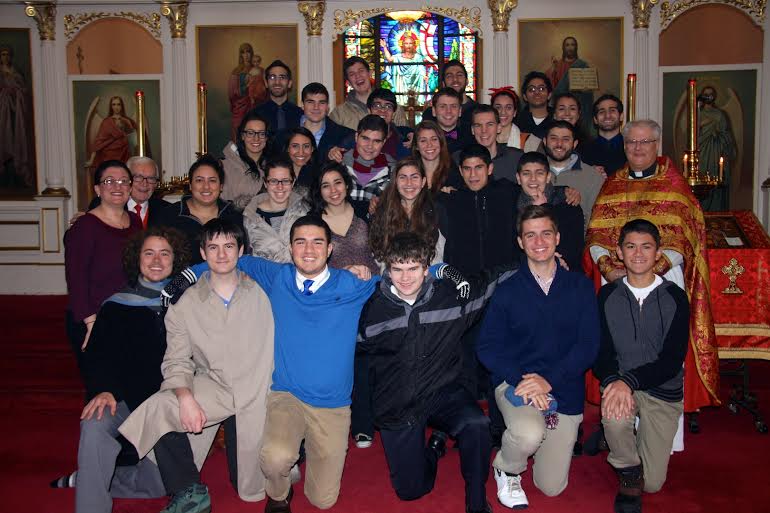 "It was actually more uncomfortable sharing kindness with the middle class and rich than with the poor!" acknowledged one participant. "Our efforts toward the poor this weekend were never rejected, but oftentimes people who were better off economically mistrusted or even snubbed us—and this was a valuable exercise in ministry, because we experienced, in a small way, the societal rejection that Jesus must have often felt."

"The fruit of engaging our groups in service to their community is that they begin to know as friends, the people that they once perceived to be strangers," said Katrina Bitar, director of the YES Program, and one of the supervisors accompanying the group to Bridgeport. "Students that experience a YES trip often become aware of who the Lord has created them to be—a valuable part of His workmanship—as they enter into a life of selfless love."

The YES group was hosted by Holy Ghost Russian Orthodox Greek Catholic Church, Bridgeport, where Archpriest Steven J. Belonick is rector, and housed at St. George Orthodox Church, Trumbull, where Archpriest Dennis Rhodes is rector. The parishes are in the New England Diocese and Albanian Archdiocese of the Orthodox Church in America, respectively. The group sang Vespers at Saint George Church on Saturday, and participated in Divine Liturgy at Holy Ghost Church on Sunday—as well as giving an impromptu and inspired sacred music concert in the church's choir loft following coffee hour!

"Any time Orthodox teens can come together to pray with each other, support each other in their faith, create friendships, and reach out to those in need, it is a very good thing," said Father Steven. "We were blessed to host the YES Program over the weekend and we look for another opportunity to invite them back. They made a lasting impression on my parish members."