June 15 deadline for Small Parish Forum hotel reservations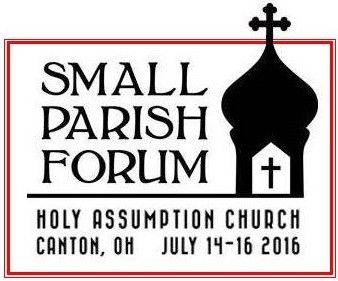 June 15 is the last day to take advantage of the discounted hotel rate for the third Small Parish Forum, slated to be held at Holy Assumption Church here July 14-16, 2016.

The discounted rate at the Canton Staybridge Suites is available by calling 330-966-6620 toll free—ask for the "Small Parish Forum group rate—and on-line.

Jointly sponsored by the Orthodox Church in America's Archdiocese of Western Pennsylvania and the Diocese of the Midwest, the Forum is open to clergy and laity of all jurisdictions and dioceses seeking to inspire and motivate parishes with memberships of 75 or less to accept their calling to live a life in Christ without necessarily becoming "big." [See related story.]

In related news, Joseph Kormos, Parish Development Ministry Leader for the Archdiocese of Pittsburgh and Forum chairperson and facilitator, recently announced the slate of speakers at this year's Forum, which includes

Archpriest Eric G. Tosi, OCA Secretary, who will deliver the keynote address titled "Expanding the Mission: The Critical Role of Small Parishes" and a workshop titled "The Evangelizing Parish."
Priest Justin Patterson, Rector of Saint Athanasius Church, Nicholasville, KY, who will offer insights about youth and education in his presenation titled "The Eight Person Sunday School and Four Person Youth Group: Making Things Work When You're Small."
Priest Daniel Mathewson, Rector of Saints Peter and Paul Church, Edinboro/Crossingville, PA, who will encourage parishes to look outside their walls during an interactive session titled "Inside Out, Outside In: Seven Keys to Understanding Your Parish Neighborhood."
Archpriest Peter Baktis, Rector of the Mother of God, Joy of All Who Sorrow Mission, Princeton, NJ, who will moderate a panel discussion titled "The Tentmaker" that takes a serious look at the positives and challenges of bi-vocational clergy in small parishes.
Archpriest Marc Vranes, Rector of Holy Trinity Church, Willimantic, CT and Priest Jonathan Bannon, Rector of Christ the Saviour Church [ACROD], Rockford, IL, who will speak on renewal efforts in their small heritage parishes.
Benedict Sheehan, Music Director at Saint Tikhon's Monastery and Seminary, who will offer sessions titled 'Singing in Small Ensembles: Tips from the Field" and "With One Heart and One Mouth: Building Beautiful Church Music in a Small Parish."
Joseph Kormos, who will offer a number of thematic workshops.
Also participating in the Forum will be Archpriest Daniel Rentel, Forum Chairperson Emeritus and retired Rector of Saint Gregory of Nyssa Church, Columbus, OH.