Metropolitan Jonah celebrates Divine Liturgy at DC's ROCOR cathedral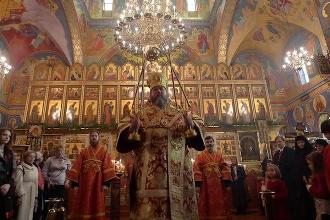 With the blessing and invitation of His Eminence, Metropolitan Hilarion, First Hierarch of the Russian Orthodox Church Outside of Russia, His Beatitude Metropolitan Jonah celebrated the Divine Liturgy at the Russian Orthodox Cathedral of St. John the Baptist in Washington D.C., with the Cathedral's Rector, Archpriest Victor Potapov on Sunday, January 1, 2012.
ROCOR and OCA clergy concelebrated.
At the conclusion of the Divine Liturgy and New Year's Molieben, Father Victor presented Metropolitan Jonah with a gift. He also noted that the occasion marked the first time a Primate of the Orthodox Church in America has celebrated the Divine Liturgy at the cathedral.
A photo gallery may be viewed here.