South Canaan, PA: Monastery to hold special services with miraculous icon July 21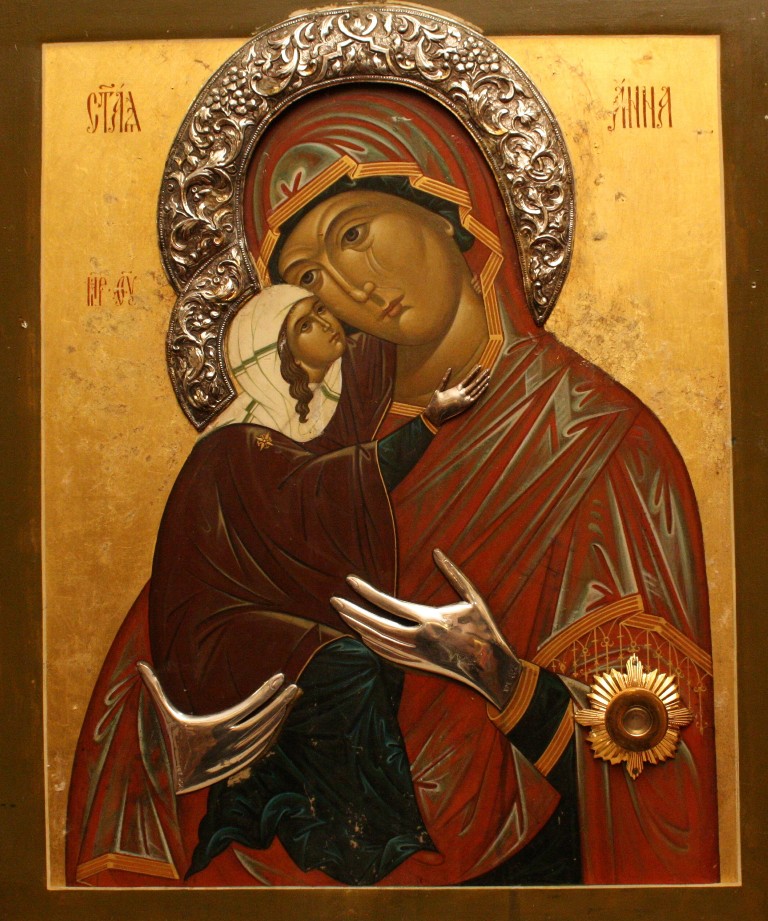 The faithful are invited to join the brotherhood of Saint Tikhon's Monastery, South Canaan, PA, for a special celebration centered around the monastery's miraculous icon of Saint Anna on Sunday, July 21, 2013. The day will open with the celebration of the Divine Liturgy and a festal meal in the monastery trapeza. The Akathistos Hymn in honor of Saints Joachim and Anna and procession will be celebrated at All Saints Chapel at 3:00 p.m.

Painted at the women's monastery on Jerusalem's Mount of Olives in 1998, the icon began streaming fragrant myrrh in May 2004 while it was enshrined at the Russian Orthodox Church of Our Lady, Joy of All Who Sorrow, Philadelphia, PA. Since the fall of 2012, the icon has been enshrined at Saint Tikhon's Monastery.

Additional information may be found here.
Moscow, Russia: Pilgrims visit St. Catherine Representation Church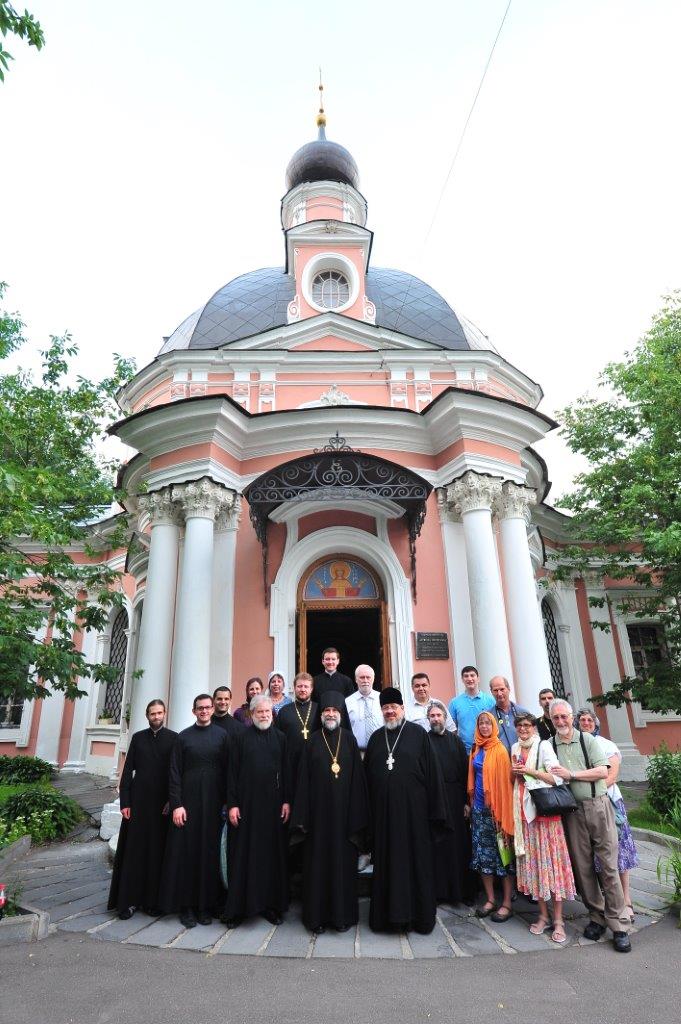 His Grace, Bishop Michael of New York and New Jersey and 40 pilgrims from the Orthodox Church in America were welcomed at the OCA's Representation Church of the Great Martyr Catherine, Moscow, by Archimandrite Alexander [Pihach], Dean and Representative to the Patriarchate of Moscow. Bishop Michael presided at a Service of Prayer marking the end of the pilgrimage.

On Thursday, July 4, Bishop Michael and Archimandrite Alexander attended holiday celebrations at Spaso House, the residence of the US Ambassador in Moscow.
A photo gallery can be viewed on the OCA web site and Facebook page.
Sitka, AK: Cathedral tops list of Alaska's endangered historic sites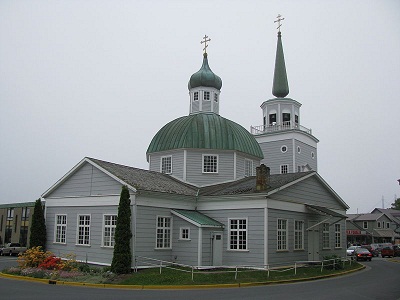 According to Archpriest Michael Boyle, Dean of Sitka, AK's Saint Michael the Archangel Cathedral, the Alaska Association for Historic Preservation [AAHP] has included the landmark church on the top of its list of the state's ten most endangered historic properties for 2013.

Second on the list is the Ascension of Our Lord Chapel, Karluk, AK. Other endangered properties include Ketchikan's Yates Memorial Hospital, Anchorage's Fourth Avenue Theatre, and historic cannery sites.

The list has been compiled each year since 1991 as a means of building public awareness to Alaska's threatened historic properties which, in turn, often leads to increased support for the conservation of endangered historic properties. The nominations for the program are submitted by individuals and organizations living and operating across Alaska.
Weirton, WV: Parish celebrates pastor's retirement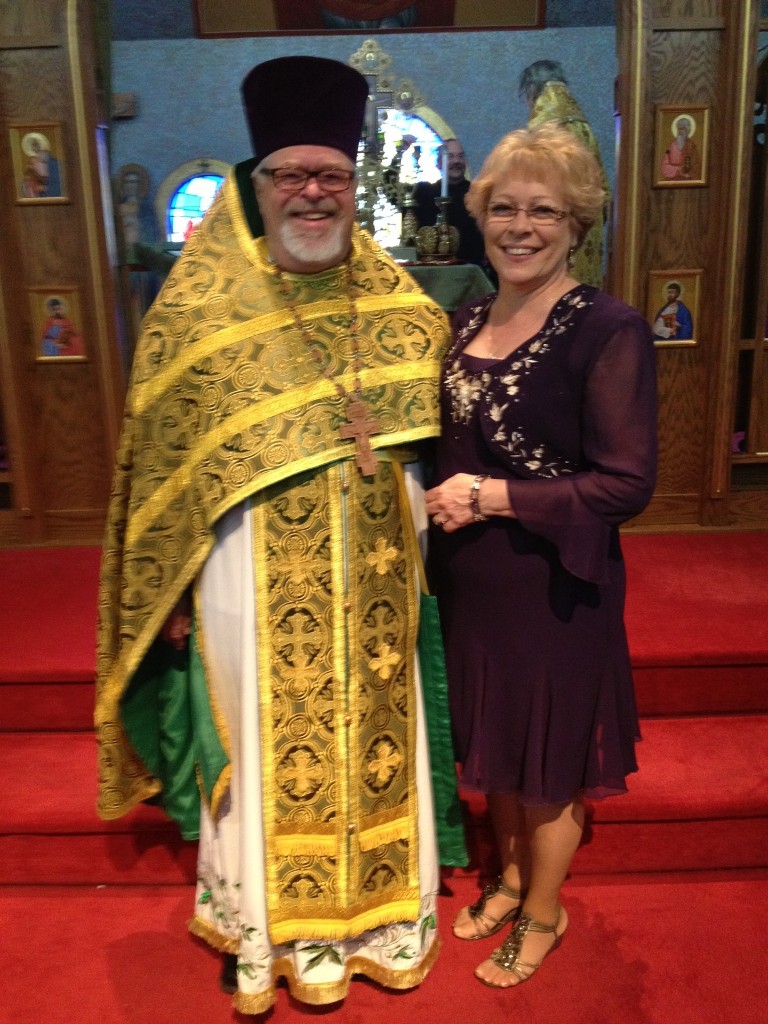 On Sunday, July 7, 2013, Archpriest Theodore and Matushka Mary Shomsky shared and served to the parishioners of Saint Nicholas Church, Weirton, WV, a luncheon marking their last Sunday at the parish they have served faithfully for 15 years. The event also marked Father Theodore's retirement after 38 years of active ministry within the Orthodox Church in America. The parish presented the couple with a beautiful icon to remember the occasion.
Jersey City, NJ: Parish celebrates 50th anniversary of pastor's ordination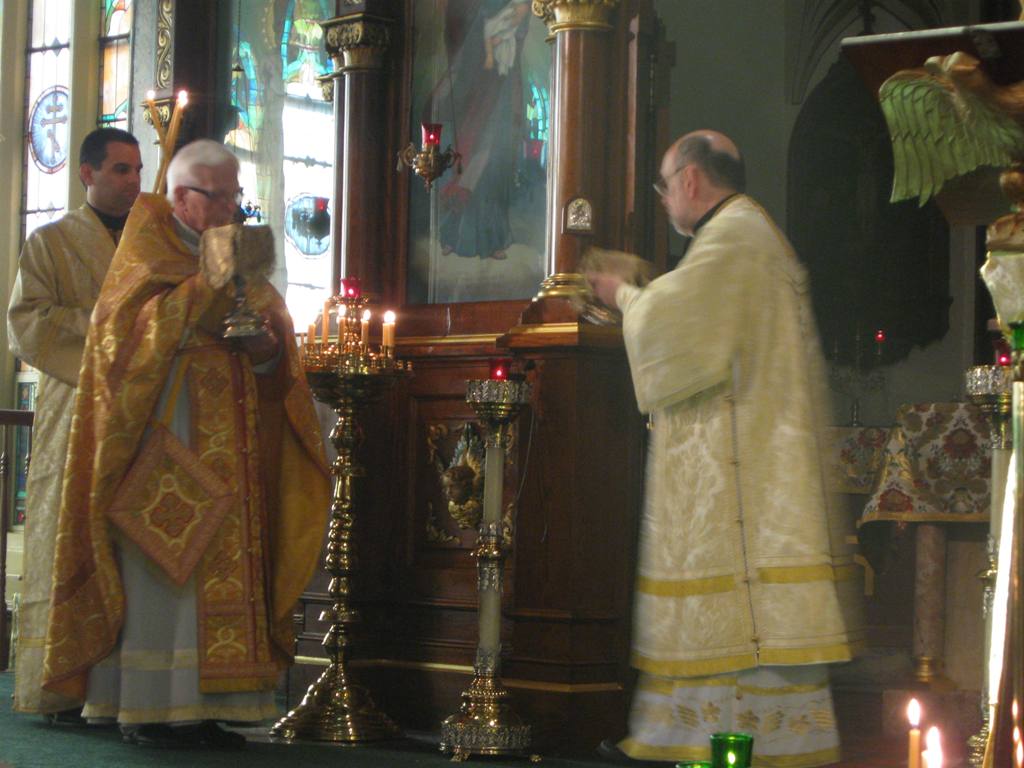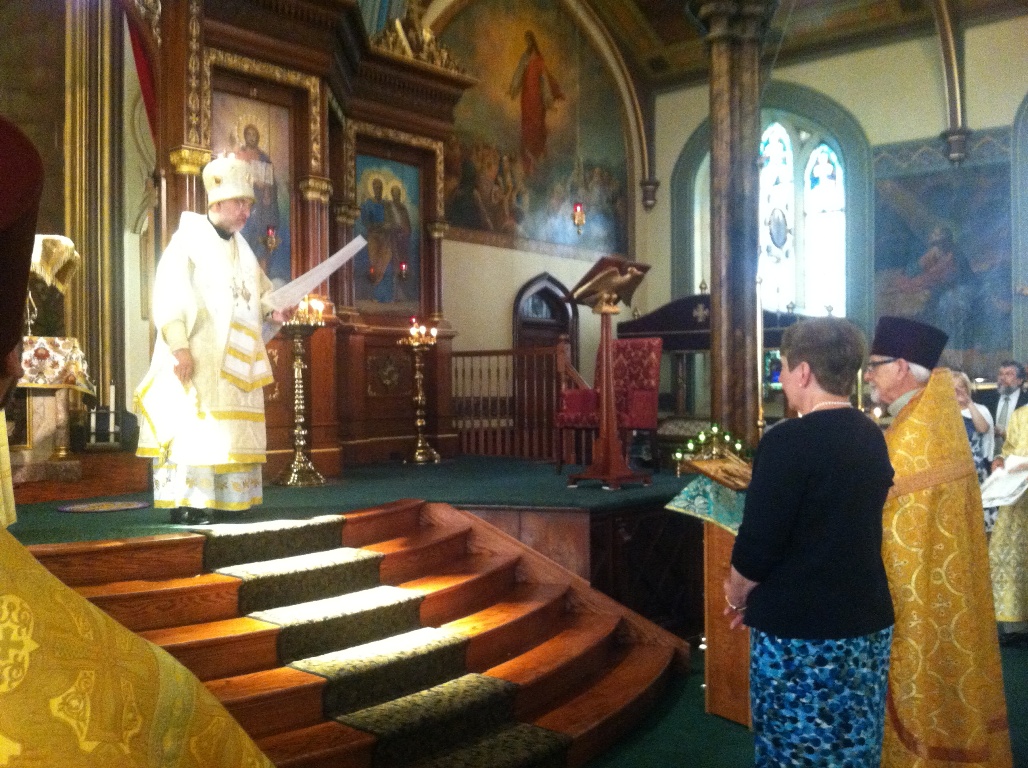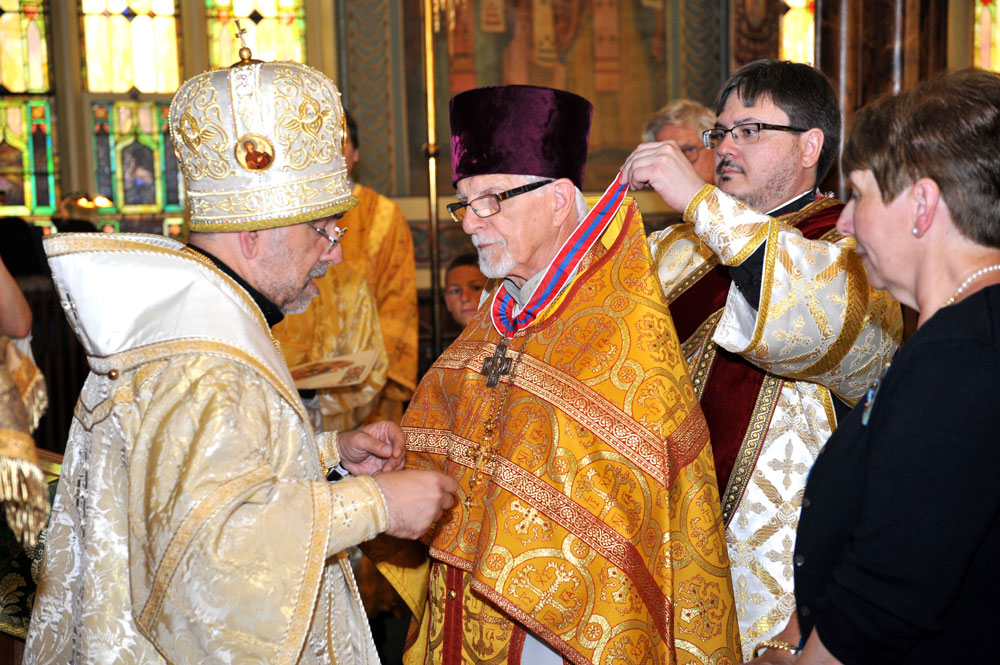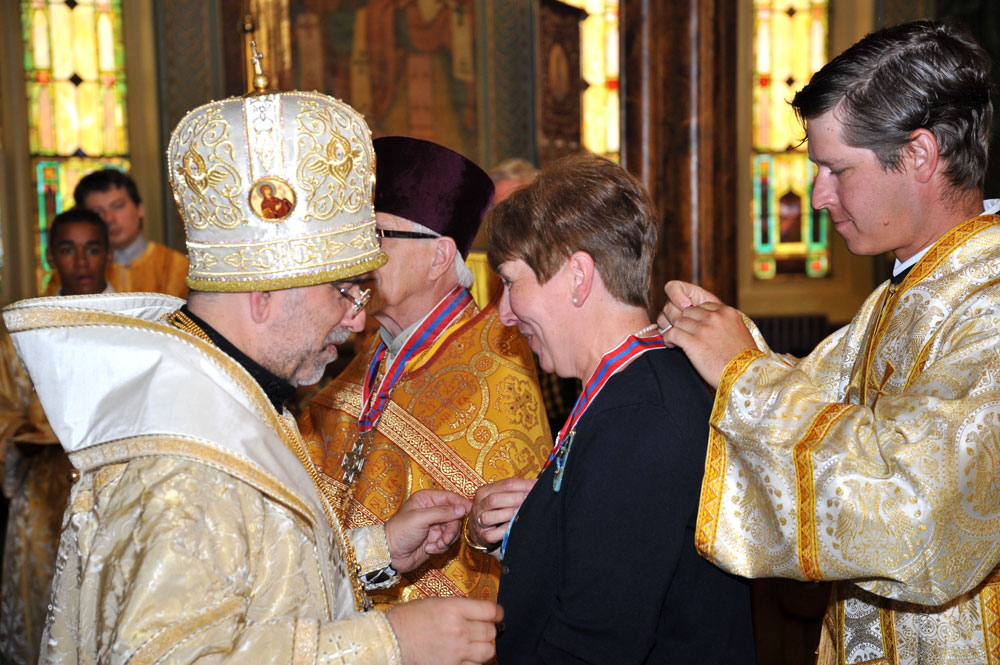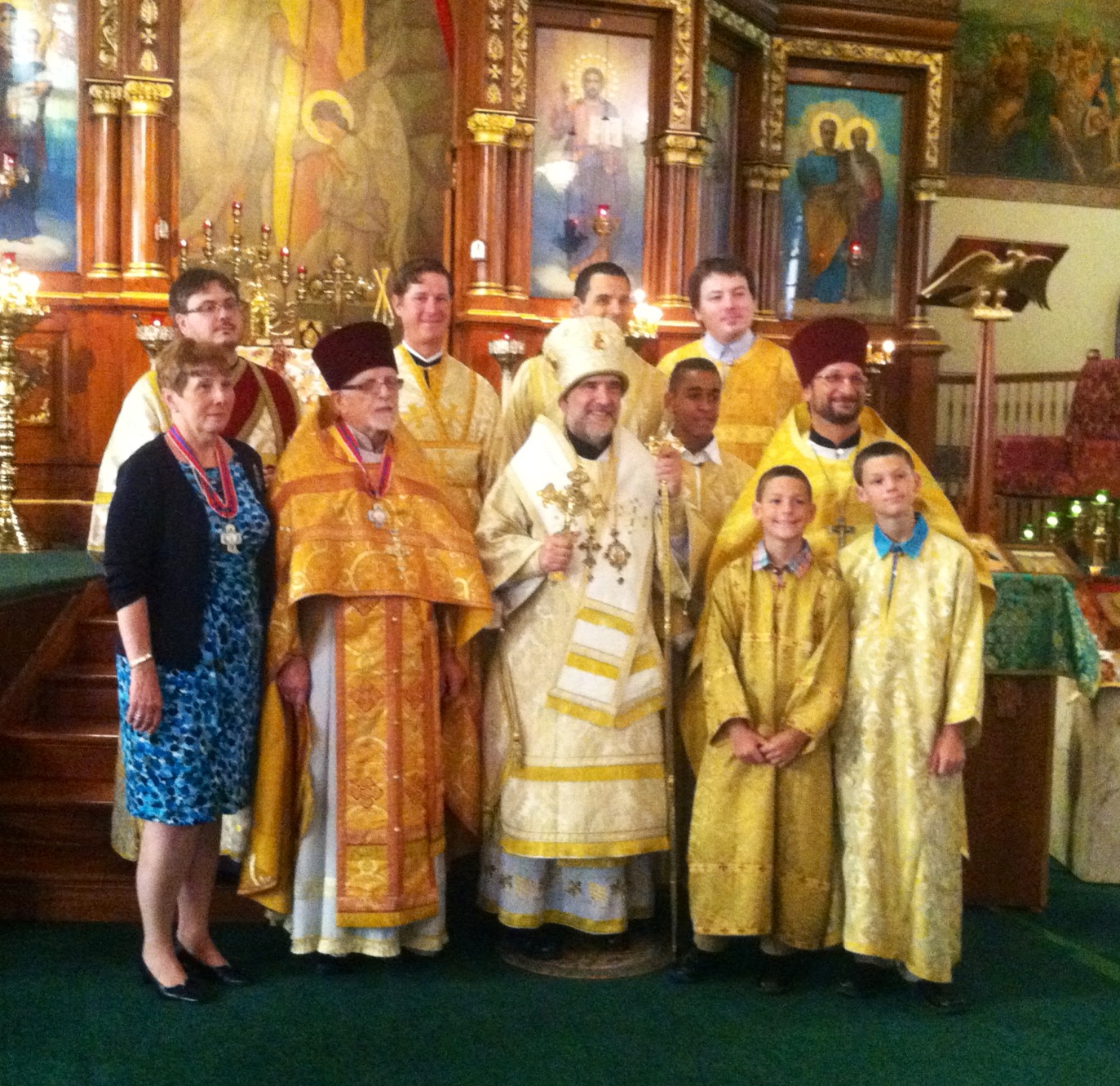 On Sunday, July 7, 2013, the 50th anniversary of Archpriest Joseph Lickwar's ordination to the priesthood was celebrated at Saints Peter and Paul Church, Jersey City.

After completing studies at Christ the Saviour Seminary, Johnstown, PA, Father Joseph was ordained by His Eminence, Orestes (Chornock) of the American-Carpatho Russian Orthodox Diocese at Christ the Saviour Cathedral on July 7, 1963. He served parishes in Akron, OH; McKeesport and East Pittsburgh, PA; and Whitestone, NY prior to his assignment to Jersey City, where he is beginning his 23rd year of ministry.

Presiding at the anniversary Divine Liturgy was His Grace, Bishop Michael, who told Father Joseph that as a rector, "you have loved and served, taught and spiritually guided the faithful of five different communities. As the Dean of the New Jersey parishes, you showed outstanding leadership, love and support to clergy and their families. And as Chancellor of our Diocese, you have labored with yeoman dedication and zeal as confidant and advisor to four hierarchs. Indeed, all your efforts have not been for your own glory or personal gain, but that the Holy Church might be strengthened. We give thanks to the Lord for all you have done in His Name with excellence these past 50 years, together with Matushka Shirley who has been your constant helpmate and co-laborer…. Saint John Chrysostom tells us, 'When you honor a priest, you honor the priesthood; when you honor the priesthood, you honor Christ.' Today all of us here at Saints Peter and Paul Church, which has been blessed by your ministry and pastoral love for the past 22 years, together with the clergy and faithful of our Diocese, honor you. Together bishop, clergy and faithful, thank you, Father Joseph, for honoring the very priesthood to the glory of God: "Axios! Axios! Axios!"
Salem, MA: Noted iconographer falls asleep in the Lord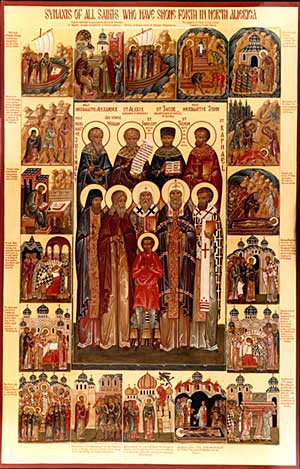 Funeral services for noted iconographer and restorer Ksenia Pokrovsky were held at Saint Nicholas Church, Salem, MA, on Wednesday, July 10, 2013. She fell asleep in the Lord on Sunday, July 7. Interment will take place at Saint Tikhon Monastery Cemetery, South Canaan, PA on Thursday, July 11. Ms. Pokrovsky is widely known for her magnificent icon, the Synaxis of All Saints Who Have Shone Forth In North America, which had been commissioned by the Orthodox Church in America. For a detailed biography of Ms. Pokrovsky, especially with Izograph Studios, please visit www.izograph.com/xenia.html.
May Ksenia's memory be eternal!