NEWS ELSEWHERE: California, DC, Michigan, New Jersey, Pennsylvania
Canonsburg, PA: FOCA National Basketball Tournament to be held May 17-19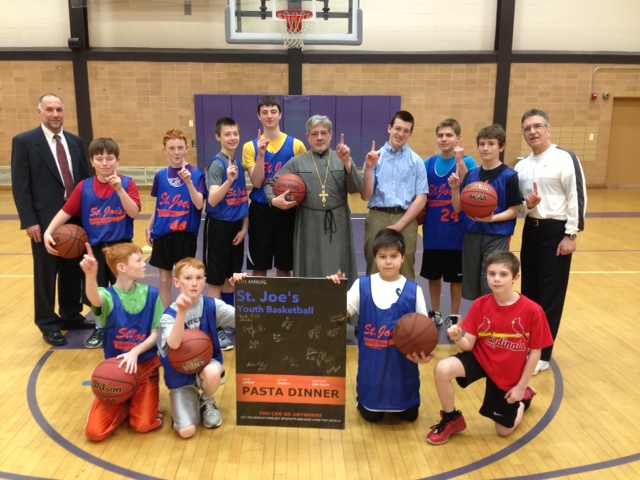 Final registration is now underway for the Fellowship of Orthodox Christians in America [FOCA] National Basketball Tournament, hosted by Saint John the Baptist Church "O" Club, in Canonsburg, PA May 17-19, 2013. The tournament annually attracts hundreds of participants representing all age groups, youth through adult. The Hilton Garden Inn Pittsburgh/Southpointe will be housing participants. For additional information please contact Diane Yarosh at .(JavaScript must be enabled to view this email address), or visit the FOCA web site , where information on the FOCA's upcoming golf and bowling tournaments also is available.

Fleetwood, PA: OCPM Seeks Development Director
Orthodox Christian Prison Ministry [OCPM], an agency of the Assembly of Canonical Orthodox Bishops of North and Central America, is seeking a Director of Development. The ideal candidate will be one who embraces the mission of the organization and believes and practices the basics of the Orthodox Christian life. In addition to fundraising, information management, planning, and other duties, the Director of Development will be required to articulate the mission of OCPM and secure the moral and financial support of others to fulfill the ministry. A detailed job description is available. Interested applicants should send a cover letter and resume to .(JavaScript must be enabled to view this email address). Orthodox Christian Prison Ministry brings the love of Christ to those who are in prison by providing encouragement, material support, transition and reintegration services, Christian education, spiritual guidance, and the sacramental life of the Church to prisoners and their families.
Rahway, NJ: Spirit of Orthodoxy Choir to present concert June 2
Hamilton Stage, 360 Hamilton Street, Rahway, NJ will be the venue for a concert presented by the Spirit of Orthodoxy Festival Chorus June 2, 2013. The 50-voice chorus, under the direction of noted conductor Aleksei V. Shipovalnikov, features singers from New York, New Jersey and Pennsylvania representing parishes of the Orthodox Church in America, Greek Orthodox Archdiocese of America, Russian Orthodox Church Outside of Russia, Antiochian Orthodox Christian Archdiocese of North America, and Patriarchal Parishes in the USA. Tickets go on sale May 15 and may be ordered by calling 732-428-4592.

Detroit, MI: Volunteers sought for "Urban Mission" June 14-16
With the continued blessing of His Eminence, Archbishop Nathaniel of Detroit and the Romanian Episcopate, Saint Raphael of Brooklyn Church, Detroit, will sponsor its annual "Urban Mission" June 14-16, 2013. Organized as a "working retreat for adults and young adults," Urban Mission will assist local ministries through Orthodox Detroit Outreach. Detailed information and registration forms are available at straphaeldetroit.org/urbanmission.html.

Washington, DC: Metropolitan Tikhon invited to speak at Orientale Lumen Conference June 17-20
His Beatitude, Metropolitan Tikhon, has been invited to speak at the Orientale Lumen XVII Conference at Washington Retreat House in the US capital June 17-20, 2013. The annual gathering is sponsored jointly by the Society of Saint John Chrysostom, the Orientale Lumen Foundation, and Eastern Christian Publications. The conference theme—"Vision of a Reunited Church"—will be developed by a number of speakers moderated by the Rev. Ron Roberson, CSP, of the US Conference of Catholic Bishops. Among the other Orthodox speakers are Priest Thomas FitzGerald, Hellenic College/Holy Cross Greek Orthodox School of Theology; and Sister Vassa [Larin] of the Russian Orthodox Church Outside of Russia, University of Vienna, Austria. Several prominent Roman Catholic speakers will also address participants. Detailed information on registration fees, schedule, and accommodations may be found on-line. Videos of past conferences may be viewed at www.oltv.tv.

Santa Rosa, CA: Liturgical music "Master Class" June 27-29
Maestro Vladimir Gorbik, one of the most accomplished choral conductors in Russia today, will conduct a Master Class on the techniques and principles of liturgical singing at Saint Seraphim Church, Santa Rosa, CA June 27-29, 2013. Among the many topics to be explored are the uniqueness and high calling of sacred choral art, the primacy of the word in liturgical music, technical particularities of Orthodox liturgical music, and choral intonation, timbre, blend, ensemble, dicton, articulation, breathing and phrasing. Detailed information and registration may be accessed here.