NEWS ELSEWHERE: Indiana, NY/NJ, Pennsylvania
Ft. Wayne, IN: August Symposium to discuss "Searching for the Sacred"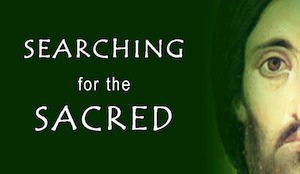 "Searching for the Sacred" is the theme of a symposium hosted by Saint Nicholas Church, Fort Wayne, IN, in partnership with the University of Saint Francis on Saturday, August 10, 2013.
"The purpose of the symposium is to examine how we can foster deeper understandings of the holy in a culture that, more and more, is losing its sense of the sacred," said Archpriest Andrew Jarmus, Rector of Saint Nicholas Church.
The symposium will take place at the University of Saint Francis North Campus Auditorium from 10:00 a.m. until 5:30 p.m. Speakers include His Grace, Bishop Alexander of Toledo and the Bulgarian Diocese, retired Professor of Patristics at Marquette University in Milwaukee, WI; the Rev. Dr. Silviu Bunta, Assistant Professor of Religious Studies, University of Dayton, Dayton, OH; and the Very Rev. Dr. Peter Galadza, Professor of Liturgy, Sheptytsky Institute, Saint Paul University, Ottawa.
On the eve of the symposium—Friday, August 9—Bishop Alexander will deliver a public lecture at St. Nicholas Church. On Sunday, he will celebrate the Hierarchical Divine Liturgy at Saint Nicholas Church.
More information about the weekend may be found HERE.
New York/New Jersey: Church School teachers' conferences announced
With the blessing of His Grace, Bishop Michael, the Diocese of New York and New Jersey will hold a series of conferences for Church School teachers in August 2013.
The theme of the conferences will be "Church School Teachers and Sexual Misconduct Prevention."
"All who are currently or would like to become involved in Church school are welcome," said Matushka Andrea Diamantis, lay chairperson of the diocese's Department of Christian Education. "There will be presentations on sexual misconduct and prevention, guided open discussions regarding attendance, parent involvement and how to organize class sizes, and take-away lessons."
The New York State Deanery conference will be held on Saturday, August 3, at Saint Basil Church, Watervliet, NY. The following Saturday—August 10—the New York City Deanery will hold its conference at Holy Trinity Church, Yonkers, NY, while Holy Resurrection Church, Wayne, NJ, will host the New Jersey Deanery conference on August 17.
The conferences are open to all jurisdictions. There is no charge to participate.
Additional information may be found at www.nynjoca.org, www.facebook.com/NYNJDCE and www.pinterest.com/christeducation.
Shirley, NY: Icon Workshop to be held October 7-12
Saint John the Theologian Church, Shirley, NY, will sponsor its second annual Icon Workshop October 7-12, 2013.
"This is an intensive six-day course designed to introduce first-time students to the ancient Orthodox art and discipline of iconography," said Archpriest Jonathan Ivanoff, host pastor. "Students will create traditional icons using ancient techniques and natural materials rich with symbolic meaning: carved wood boards prepared with gesso made from chalk and glue, finely ground clay, pure gold leaf, and ground mineral pigments in an emulsion made from egg yolk."
The workshop will be conducted by Father Mefodii of the Prosopon School.
Artistic experience is not necessary, and first-time students will be provided with step-by-step instructions and all materials to complete an icon. Experienced students will be assigned an icon appropriate to their experience and skill level.
For further information and registration, please contact workshop coordinator Adele McHugh at .(JavaScript must be enabled to view this email address) or 631-447-2017.
Harrisburg, PA: Matushka Theodora Ressetar honored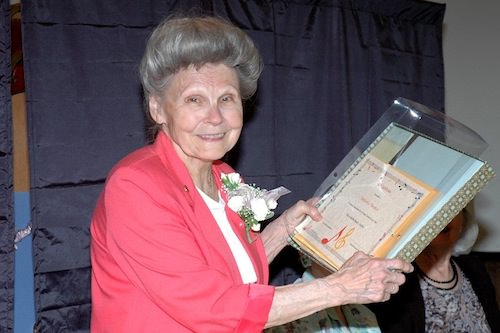 On Sunday, June 2, 2013, the community of Christ the Saviour Church, Harrisburg, PA, recognized Matushka Theodora Ressetar with a luncheon and program upon her retirement as parish choir director—a 35-year ministry she undertook from August 1978 through May 2013!
"Perhaps most impressive is that simultaneous to this position, she gracefully ministered with her husband, Archpriest Daniel Ressetar, for 48 years, raised three sons, and for many years served as Sunday School coordinator," said Priest Steven Vernak, Rector of Christ the Saviour Church. "She also continues be active in the Altar Guild and local FOCA chapter, as well as countless other parish activities—many known only to a few, and some known only to God!"
May God continue to bless Matushka Theodora for many years!