NEWS ELSEWHERE: Pennsylvania, New Jersey, Virginia, Finland
Ellwood City, PA: 50th Anniversary of Protopresbyter Thomas and Matushka Anne Hopko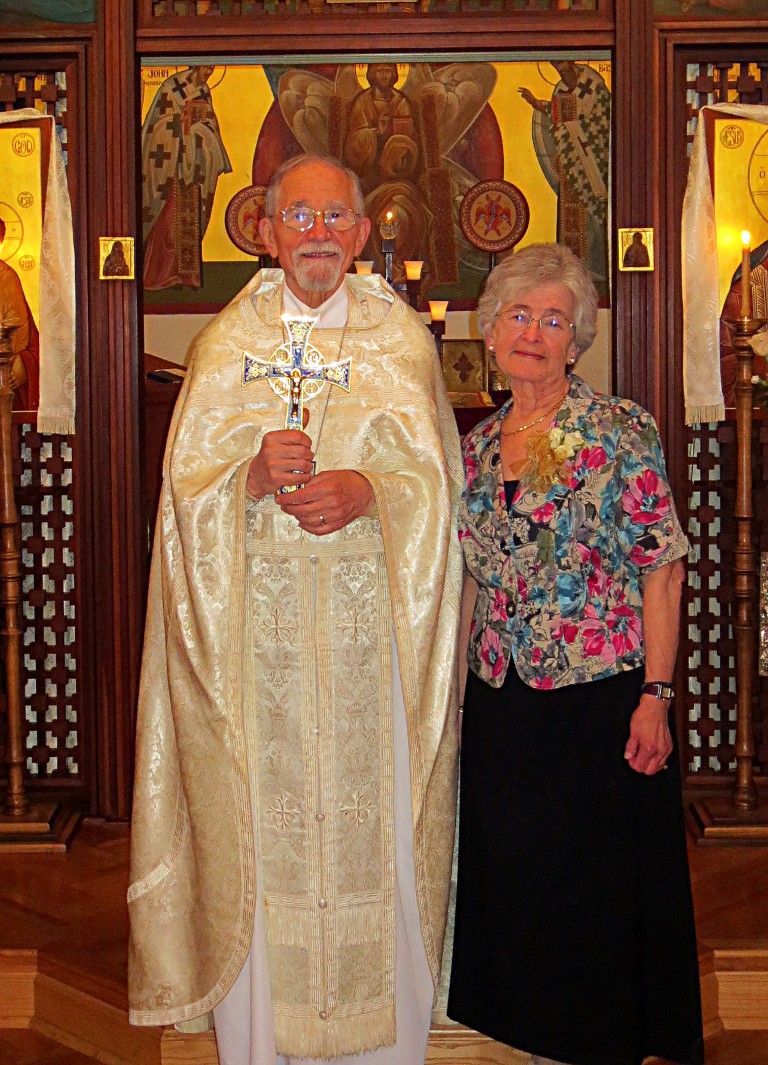 Protopresbyter Thomas and Matushka Anne Hopko celebrated their 50th wedding anniversary on Sunday, June 9, 2013. The nuns of the Orthodox Monastery of the Transfiguration, Ellwood City, PA, hosted an open house in their honor with over 100 area friends in attendance. A Service of Thanksgiving was conducted by Archpriest Joseph Wargo.

The Hopkos are the parents of five children, 16 grandchildren and one great grandchild. They will be hosted at a family gathering later in the summer.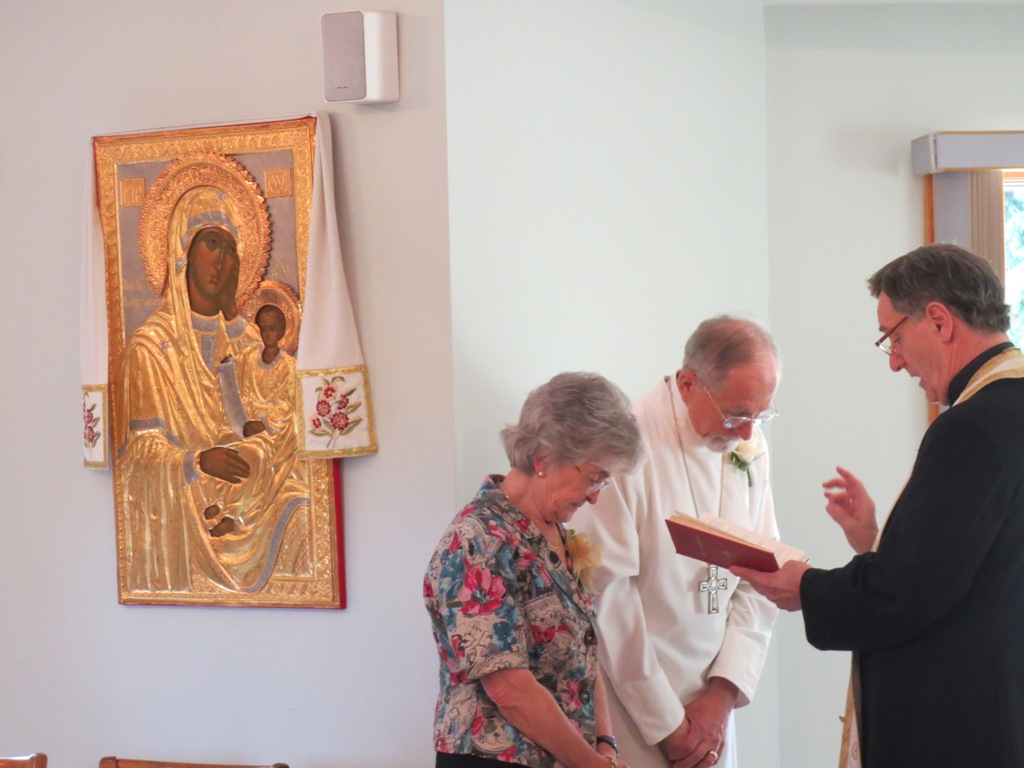 Father Thomas is Dean Emeritus of Saint Vladimir's Seminary. The couple has resided in Ellwood City for the past 11 years.

A personal interview and reflection on their life can be accessed on Ancient Faith Radio.

May God grant Father Thomas and Matushka Anne many years!

Jersey City, NJ: 50th Anniversary of Archpriest Joseph and Matushka Shirley Lickwar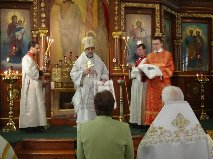 Saints Peter and Paul Church, Jersey City, NJ was the site of a celebration marking the 50th wedding anniversary of Archpriest Joseph and Matushka Shirley Lickwar recently. Also celebrated was Father Joseph's diamond anniversary of ordination. His Grace, Bishop Michael, presided.

Natives of Gary, IN and Turtle Creek, PA respectively, Father Joseph and Matushka Shirley met while he was in his last year of studies at Christ the Saviour Seminary, Johnstown, PA. They were married at Saint John the Baptist Carpatho-Russian Orthodox Church, East Pittsburgh, PA.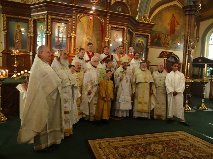 The Lickwars served parishes in Akron, OH; McKeesport, PA; East Pittsburgh, PA; and Whitestone, NY before assignment to Saints Peter and Paul Church, Jersey City, where they continue to serve. Father Joseph also serves as Chancellor of the OCA Diocese of New York and New Jersey. Formerly, he served as an instructor at Christ the Saviour Seminary. For a number of years, Matushka Shirley served as an assistant to His Eminence, the late Archbishop Peter and in related diocesan positions.

May God grant Father Joseph and Matushka Shirley many years!

Joensuu, Finland: OCA musicians participate in international conference on Church music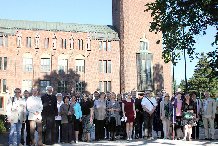 Three members of the Orthodox Church in America participated in the Fifth International Conference on Orthodox Church Music at the School of Theology of the University of Eastern Finland, Joensuu, during the week of June 3, 2013. The conference, hosted by the International Society for Orthodox Church Music (ISOCM) included participants from 15 countries. Papers on a variety of topics related to the conference's theme, "Church Music and Icons: Windows to Heaven," highlighted the program.

"This year's conference not only builds on the four previous ones, but expands our range, in linking the discussion of Church music with iconography," said the Rev. Ivan Moody, ISOCM board chairman, who added that the gathering offered an opportunity for musicians to discuss their work and its relationship to iconography.

Among those from North America who participated were Deacon Evan Freeman, a 2009 graduate of Saint Vladimir's Seminary who is now enrolled in the Doctor of Philosophy program at Yale University with a concentration in the History of Art; Deacon Gregory Ealy, also a graduate of Saint Vladimir's Seminary, who serves as music director at Saint Mary's Cathedral, Minneapolis, MN; and Mr. David Lucs, a director and composer who resides on Long Island while pursuing graduate studies in music theory and composition at LIU Post.

"One of the highlights of conferences hosted by ISOCM is the gathering of participants from around the world," said Mr. Lucs, who also serves on the ISOCM board. "In addition to the schedule of presentations and discussions on the conference theme, a number of divine services, workshops, and concerts provided attendees with the opportunity to worship and sing together, and also enjoy fellowship and make new friends."

Deacon Evan's presentation surveyed topics related to the works of Florensky, Ouspensky, and Kontoglou on Orthodox Iconology, while Deacon Gregory addressed the singing the Bakhmetev and Kievan Obikhods in English. In Mr. Lucs' paper, methods of introducing children to hymnography through iconography were offered.

The week-long gathering affirms the mission of ISOCM as a place in which like-minded people can come together, share their vision, and learn from others.

Founded in 2005, the ISOCM provides an open platform for musicians, musicologists, singers, and composers that encourages dialogue and the exchange of information and ideas and inspires cooperation. ISOCM sees the promotion of communication between East and West as one of its priorities. Its biannual conferences, hosted at the university in Joensuu, are just one of the ways ISOCM accomplishes this goal.

For more information visit ISOCM's web site.

Falls Church, VA: Doxacon conference registration now open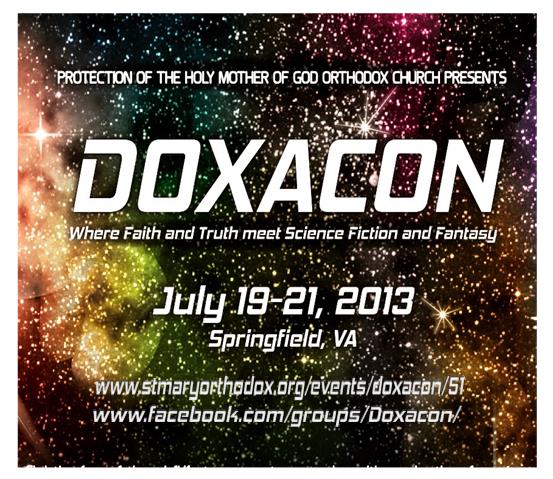 Doxacon is a conference about conducting a positive exploration of themes held in common between Orthodox Christianity, and the genres of Fantasy and Science Fiction.

"There are so many Christians who enjoy these genres and currently there isn't a place for them to get together and edify each other by discussing them in relationship to their faith," said Priest David Subu of the Protection of the Holy Mother of God Church, Fall Church, VA, which is sponsoring the convention July 19-21, 2013 at the Springfield Hilton in Northern Virginia. "The engaging of this culture is so important because Orthodox faithful have not had a voice in addressing these genres in the past, the so-called "Christian" response being typically only negative opinions. This has been incredibly discouraging to fans of these genres who often felt like they couldn't be both 'Geeks' and Orthodox Christians at the same time. When in fact fans of these genres know from experience that, like any other aspect of human culture, they aren't inherently evil, but with discernment can inspire, teach virtue, challenge your assumptions about reality, and lead one toward transcendent thought. There need to be voices from the Church that address these genres in a positive, discerning way and we hope at Doxacon to provide a forum for those voices."

The first keynote will be delivered by Dr. Thomas Bertonneau of SUNY Oswego, who will speak on Plurality and Divinity in the Work of Olaf Stapledon. Dr. Bertonneau is co-author of The Truth is Out There: Christian Faith and The Classics of TV Science Fiction. Other conference speakers include Nebula Award Finalist John C. Wright and his author wife L. Jagi Lamplighter, award winning science-fiction author Matushka Donna Farley, former Harvard University special collections librarian Dr. Alison Scott, Leslie Banta, Dr. Jonathan Chaves, Caleb Grimes, Dr. Jonathan Jacobson, and Father David Subu. His Eminence, Metropolitan Savas of Pittsburgh of the Greek Orthodox Archdiocese of America will be the closing keynote speaker of the conference. He will discuss how Orthodox Christians can profitably relate to and engage the genres of science fiction and fantasy.

Detailed information on presentations, topics, scheduling, fees, and housing is available at www.doxacon.org.