Patriarch Tikhon Choir announces September premiere concert series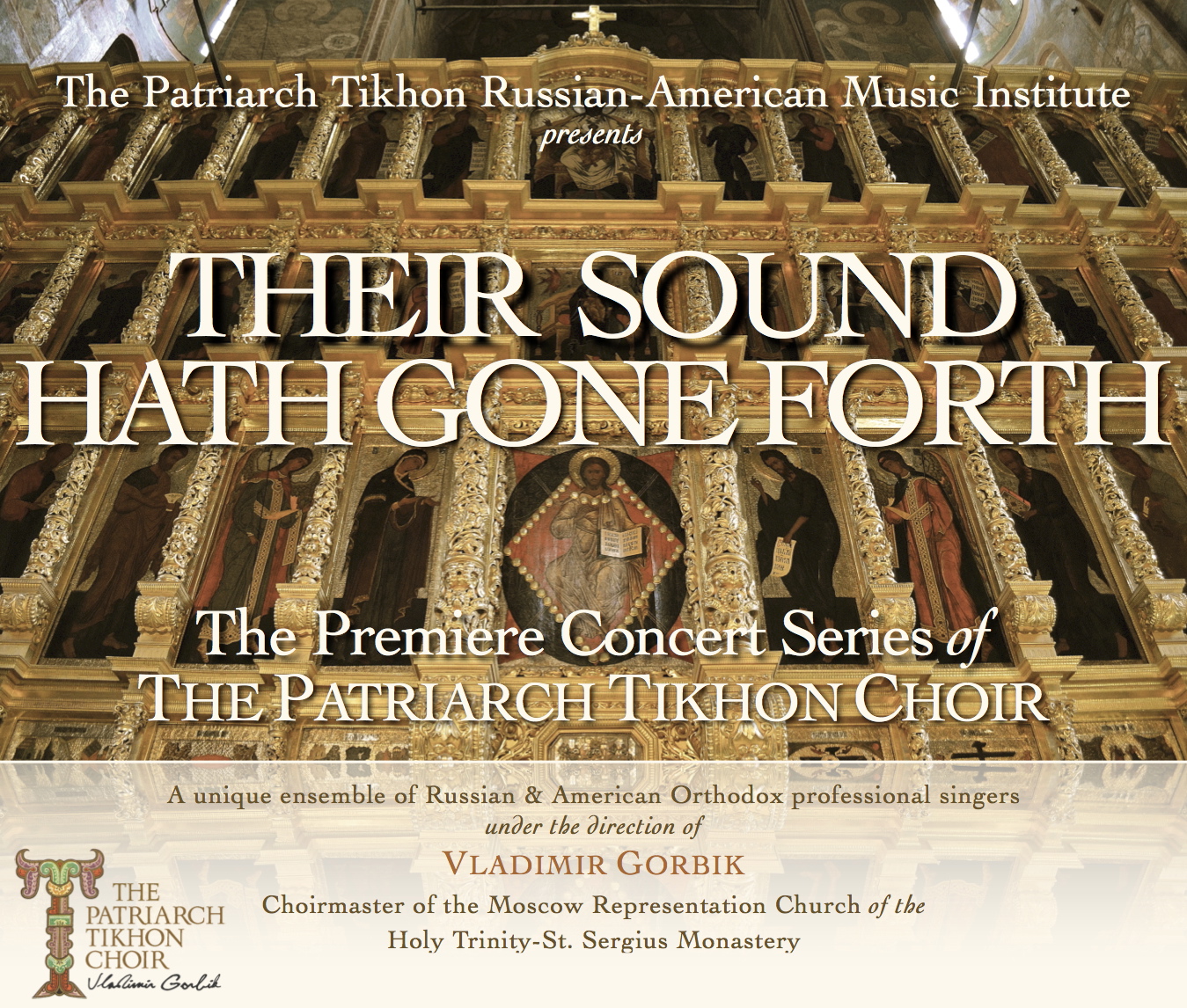 The Patriarch Tikhon Choir, a unique choral ensemble made up of professional singers from North America and Russia under the direction of renowned Moscow conductor Vladimir Gorbik, will perform its premiere concert series of Orthodox sacred choral works, "Their Sound Hath Gone Forth," September 16-18, 2013.

Three concerts will be offered.

Monday, September 16, 7:30 p.m. at Saint Malachy's, The Actors' Chapel, 239 West 49 Street, New York, NY.
Tuesday, September 17, 7:00 p.m. at First Baptist Church of Pittsburgh, 159 North Bellefield Avenue, Pittsburgh, PA.
Wednesday, September 18, 8:00 p.m. at Saint Peter's on Capitol Hill, 313 2 Street SE, Washington, DC,
Tickets may be purchased in advance at www.patriarchtikhonchoir.com and at the door.

The program includes works from the All-Night Vigil and Divine Liturgy ranging from austere, centuries-old Znamenny Chants to sumptuous polyphonic works by such Russian masters as Dmitry Bortniansky, Alexander Kastalsky, Pavel Chesnokov, Sergei Rachmaninoff, and Sergius Trubachev. Also featured on the program are compositions and arrangements by contemporary American Orthodox composers; several will be concert premieres. In keeping with the choir's multi-cultural approach, the program will be sung in both Church Slavonic and in English.

The recently formed Patriarch Tikhon Choir is a 35-voice mixed choir that brings together, for the first time, professional vocalists and choral musicians from the United States, Canada, and Russia. The singers, who, in addition to performing on the concert stage routinely sing Orthodox liturgical services, impart an essential spiritual element to their interpretation of sacred music.

The conductor, Vladimir Gorbik, is one the most prominent Church musicians in Russia today. Beginning his musical studies in Yekaterinburg, he continued them at the Moscow State Conservatory, completing a specialization in choral conducting in 1998 and in orchestral conducting in 2000. Since 1996 he has served as the choir director at the Moscow Representation Church of the Holy Trinity-Saint Sergius Monastery, and since 1998 has been Artistic Director and Conductor of its professional men's chorus. With this choir he has made more than a dozen outstanding recordings, of both liturgical services and concert programs. The choir has on numerous occasions sung at Patriarchal services in the Dormition Cathedral in the Kremlin and accompanied Patriarch Alexy II on his trip to the Holy Land in 2000. For his outstanding achievements and service, he has received an award of recognition from the Patriarch, and the medal of the Order of Saint Sergius of Radonezh, 2nd Degree. In September 2012, he was appointed to the conducting faculty of the Moscow State Conservatory.