Protopresbyter Thomas Hopko to deliver keynote address at July 10-13 Parish Ministries Conference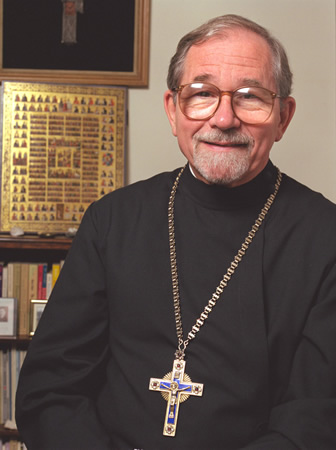 Protopresbyter Thomas Hopko, Dean Emeritus of Saint Vladimir's Seminary, Yonkers, NY, will deliver the opening keynote address at the Parish Ministries Conference slated to be held at Marymount University here July 10-13, 2013.

Father Thomas' address, titled "Ascetic Discipline and Christian Ministry," is scheduled to be delivered on Wednesday, July 10 at 7:30 p.m. He will draw on his many years of experience as a pastor, theologian, professor, lecturer and author.

The address is free and open to the public. A wine and cheese reception will follow.

Father Thomas graduated from Union-Endicott High School in 1956. He was baptized and raised at Endicott's Saint Mary Carpatho-Russian Orthodox Church. A graduate of Saint Vladimir's Seminary, he married the former Anne Schmemann in 1963. They are the parents of one son and four daughters and have 15 grandchildren.

During his 50 years of priestly ministry, he served as Pastor of parishes in Warren, OH; Wappingers Falls, NY; and Jamaica Estates, NY. In 1968, he began teaching courses in Dogmatic and Practical Theology, Homiletics, and Spirituality at Saint Vladimir's Seminary. From September 1992 until his retirement in July 2002, he served as seminary Dean and Rector of Three Hierarchs Chapel. Upon his retirement, he was given the title of Dean Emeritus by the seminary's Board of Trustees. He and Matushka Anne reside in Ellwood City, PA.

General information and details on conference workshops, speakers, schedules, accommodations and on-line registration may be found here.