St. Catherine representation church celebrates patronal feast day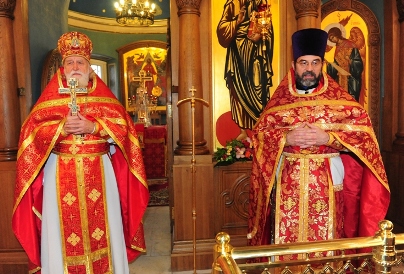 With the blessing of His Beatitude, Metropolitan Jonah, Archpriest Alexander Garklavs visited the Orthodox Church in America's Representation Church of the Great Martyr Catherine here during the first week of December 2012.

Father Alexander presided at the Vigil for the Feast of the Great Martyr Catherine, the parish's patronal feastday, on Tuesday, December 6. On Wednesday, December 7, he concelebrated the festal Divine Liturgy with Mitred Archpriest Nikolay Kretchetov, the district Dean.

At the conclusion of the Divine Liturgy, Father Alexander read a letter of greetings from Metropolitan Jonah, the text of which may be read here.

The OCA's Representation to the Moscow Patriarchate was established in the early 1990s. The community initially met in a chapel at Moscow's Danilov Monastery before the current church was offered for use as the Representation Church.
A photo gallery may be viewed here.