St. Tikhon's Seminary Board of Trustees holds early fall meeting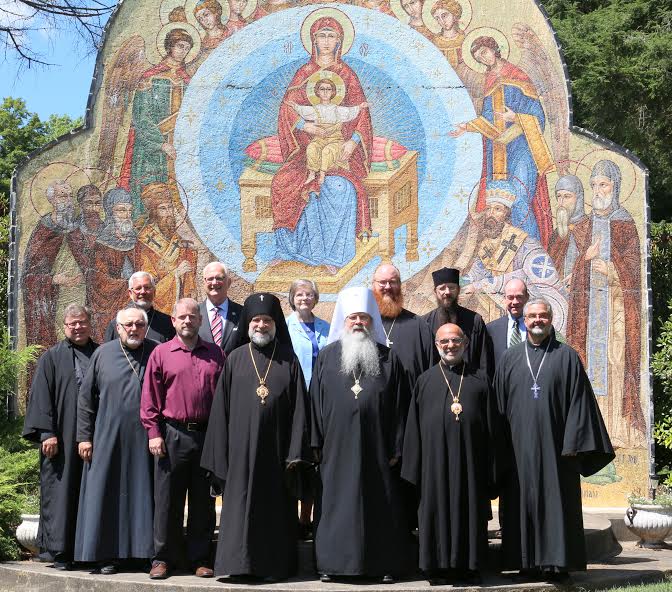 The Board of Trustees of Saint Tikhon's Seminary here met on August 20-21, 2015. Board committees met on Thursday, while the entire board gathered on Friday.

"Board committees are comprised of board members, faculty, administrative team members, seminarians, and others," said Archpriest Dr. Steven Voytovich, Dean. "These meetings form a multi-disciplinary platform bringing together many voices across the community, especially important now as Saint Tikhon's Seminary is in the midst of a self-study in preparation for a re-accreditation review in 2016."

At Friday's session, board members celebrated the completion of the $300,000.00 Married Student Housing pledge made by the Fellowship of Orthodox Christians in America, which was announced during the 18th All-American Council of the Orthodox Church in America in July 2015. [See related story.]

The board gratefully accepted a proposal from Peter and Sarah Jubinski to form the Peter and Sarah B. Jubinski Library Endowment.

"With initial funding pledged by the couple, the endowment will be focused toward acquisitions for the Patriarch Saint Tikhon Library," said Father Steven. "This is an especially meaningful gift, as it follows 40+ years of support and direct engagement in the library by Sarah Jubinski, who has served as librarian and ardent supporter. She also serves as Chair of the Seminary's Century Association, representing those who offer annual financial stewardship gifts."

For the first time, the board heard from seminary's recently appointed Director of Mission Advancement, Seraphim Danckaert, and from the Alumni Association's new President, Priest Patrick Burns, who was elected during the All-American Council. [See related story.] Board members participated in a presentation focusing on their development efforts by Dawn Miller of Zielinski Company. It was through her consulting efforts that Mr. Danckaert was added to the seminary staff.

The board also reviewed documentation indicating that the seminary ended the past year on a much stronger footing, Father Steven added.