Strong Orthodox Christian presence at Boy Scout Jamboree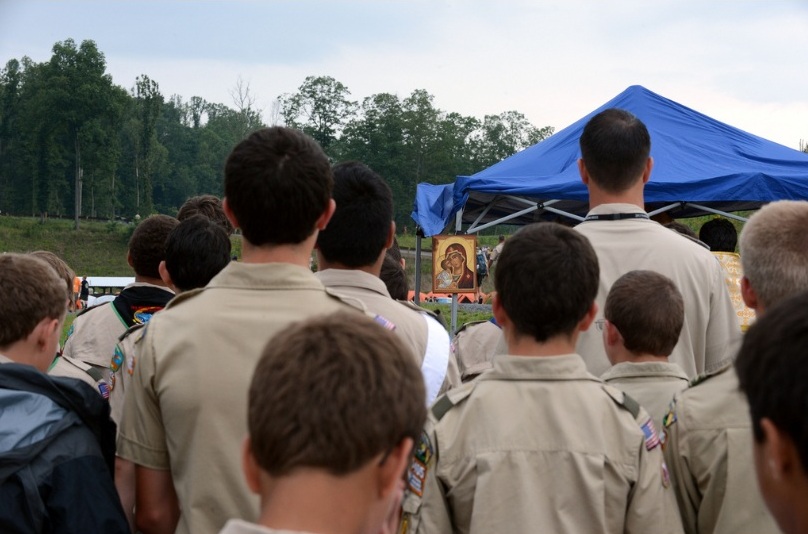 Over 300 Orthodox Christian scouts and leaders from troops around the country—and from as far as Russia, Egypt and Ethiopia—are among the 40,000 attendees at the National Boy Scout Jamboree here July 15-24, 2013, according to Archpriest Eric G. Tosi, Secretary of the Orthodox Church in America and one of two Orthodox chaplains at the gathering.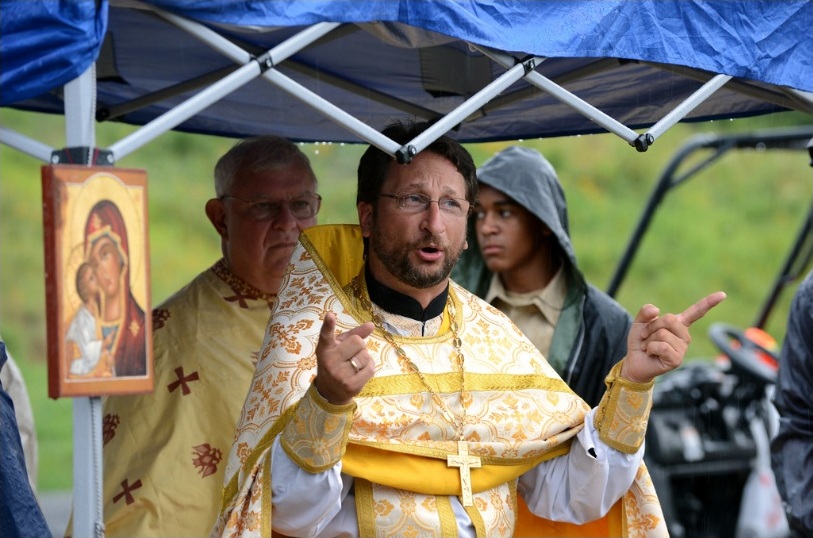 Together with Priest Joel McEachen of the Greek Orthodox Archdiocese of America—both are Eagle Scouts—Father Eric and some 100 chaplains of other faith traditions "perform a variety of duties at the camp, including hospital work, counseling, leading discussions, working with scouts to learn about their faith and other faiths, and in general providing a 'presence' among the scouts," said Father Eric. "The Orthodox scouts from abroad are especially thankful to make a connection with an Orthodox priest."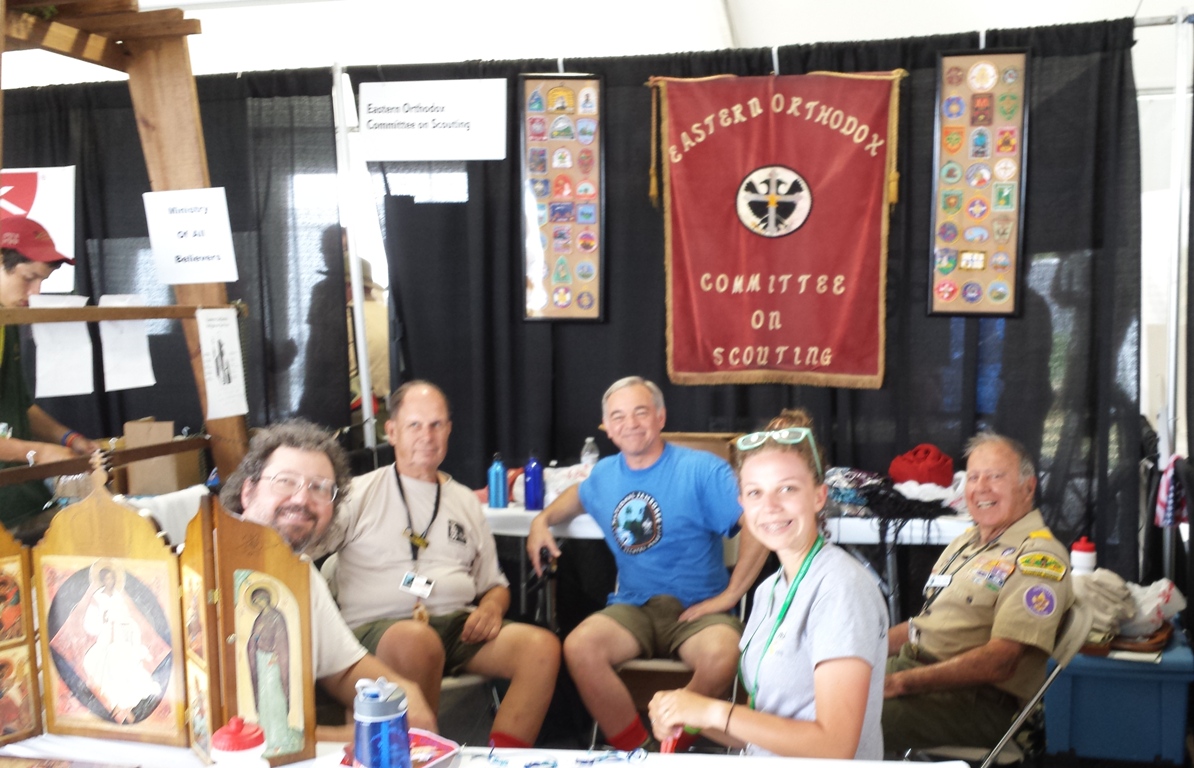 The Eastern Orthodox Commitee on Scouting [EOCS] maintains a booth in the Jamboree's Faith and Belief section. Staffing the booth are long-time EOCS chair George Boulukos of New York, Edward Korolenko of Florida, and John and James Prekeges of Washington. Many scouts enjoyed making traditinal prayer ropes during one of the booth's offerings.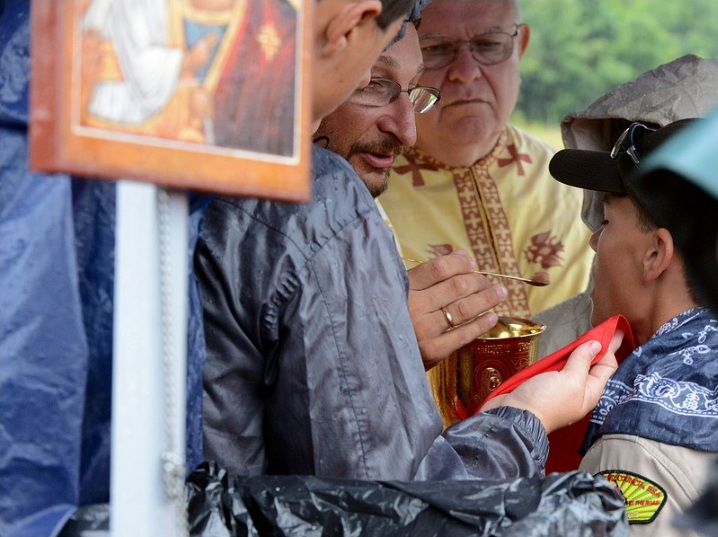 Fathers Eric and Joel concelebrated the Divine Liturgy for the Orthodox scouts in a makeshift tent—avoiding the rain!—on Sunday, July 21. The scouts sang the liturgical responses and assisted in other ways.

"Just as we started Liturgy, the rain began to pour," said Father Eric. "The scouts just put on their rain jackets and continued to sing at the top of their lungs. People from neighboring sites came to observe the service—one of the most poignant pastoral moments of which I have been a part as the kids enjoyed the Liturgy and being together.

At the conclusion of the Liturgy, every scout received a commemorative patch.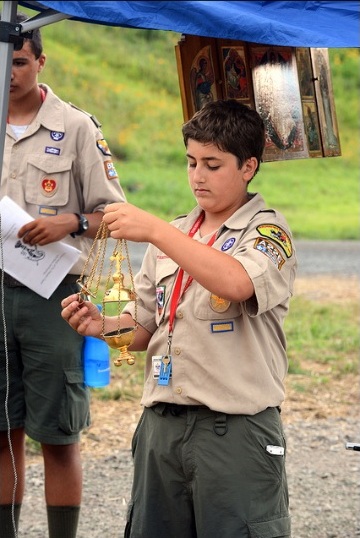 "It is rare that we as Orthodox Scouts can gather and celebrate," Father Eric continued. "Often troops have only a few Orthodox Christian scouts, so when they can gather together from around the country—and beyond!—and meet each other, they make meaningful connections.

"We are very thankful to the Eastern Orthodox Committee on Scouting and the good work they have done over the years keeping the Orthodox faith involved in scouting," Father Eric added. "Recently, George Boulukas recieved the prestigous Silver Buffalo award—the highest and rarely given award—for his good work in scouting and the Orthodox Church."

For more information on Orthodox Christian scouting visit the EOCS web site.