Sunday morning fire engulfs St. John's rectory, Nanticoke, PA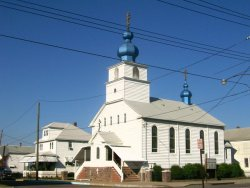 Flames engulfed the rectory of Saint John the Baptist parish here during the celebration of the Divine Liturgy on Sunday, March 4, 2012, leaving Priest Adam R. Sexton, his wife, and their eight children without a home.

According to an article published in Monday's Luzerne County "Citizens Voice," the fire broke out in the rectory basement and had been spreading for about half an hour before firefighters were called in around 11:00 a.m.

Nanticoke Deputy Chief Tom Sadowski was quoted as stating that the home's "balloon frame" construction — common in the 1910s, when it was built — meant there was nothing to stop the fire once it got into the walls from working its way to the first and second floors during the half-hour it went undetected. While he is quoted as stating that the fire appears to have been accidental, he added that the damage was "fairly serious," and that he was unsure as to whether it would be livable or not.

Fortunately there were no injuries to the Sextons, who were assigned to the parish in 2008. Father Adam also serves as chaplain for the Nanticoke fire department.

"Obviously to all the guys, it was personal," Sadowski told reporters, calling the Sextons "one of the nicest families you could ever hope to meet…. The community will pull together and help the family as much as we can."

Saint John's parish celebrated its centennial in 2011. Visit the parish's web site.