SVOTS hosts Orthodox Inter-Seminary Movement gathering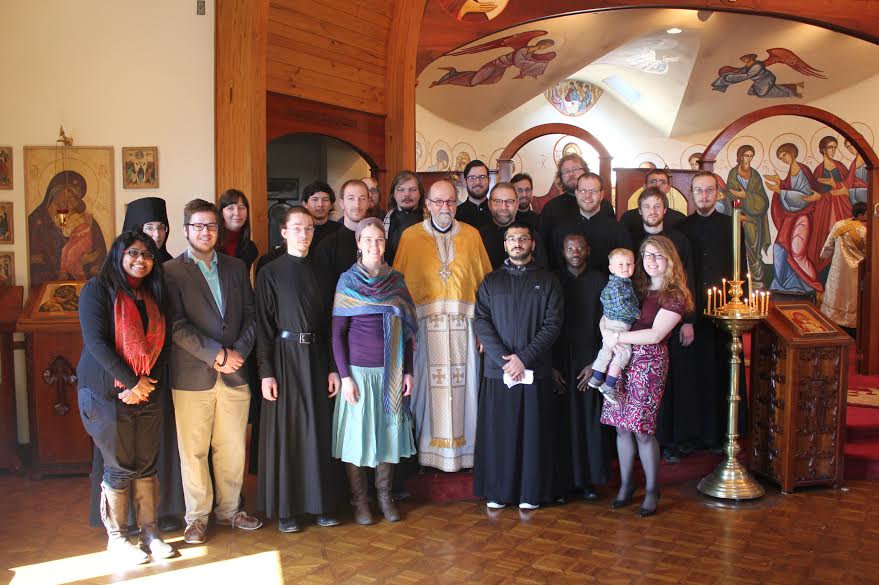 During the weekend of February 26–28, 2016, members of the Orthodox Inter-Seminary Movement [OISM] met at Saint Vladimir's Seminary here for their bi-annual gathering, which was centered around the theme from the fall OISM meeting—"Expanding the Mission of the Orthodox Church." The weekend offered a meaningful time for fellowship with students from other seminaries and served as a timely reminder of the importance of building relationships across jurisdictional lines.

In addition to students from the host seminary, seminarians from Saint Tikhon's Seminary, South Canaan, PA; Holy Cross Greek Orthodox School of Theology, Brookline, MA; and Holy Trinity Seminary, Jordanville, NY participated in the weekend's spiritual and fellowship events.

The weekend opened on Friday morning with a guided tour of the Byzantine collection at the Metropolitan Museum of Art, led by Deacon Evan Freeman, Lecturer in Liturgical Art at Saint Vladimir's Seminary.

"The Metropolitan Museum has one of the finest collections of Byzantine art in America," remarked Deacon Evan. "Our tour allowed us to examine sixth-century silver chalices from Syria, a twelfth-century Gospel book that was probably originally made for Hagia Sophia in Constantinople, late Byzantine and Russian icons, and many other beautiful works of art."

On Friday evening, basketball teams from Saint Vladimir's and Saint Tikhon's seminaries traveled to Hooperstown in Mount Vernon, NY, and competed in their annual "face off." The game is a well–loved tradition between the two schools. The winner of this year's match was Saint Vladimir's, with a final score of 56-29.

Saturday began with the celebration of a Service of Intercession celebrated by Priest Ignatius Green, a student at SVOTS, followed by a campus tour. In a presentation cosponsored by the SVOTS Saint Innocent Mission Society, Archpriest Vladimir Aleandro, SVOTS lecturer in Liturgics, and Matushka Suzanne Aleandro vividly shared their experience as missionaries to Kenya with the Orthodox Christian Mission Center. Archpriest Dr. Chad Hatfield, SVOTS Chancellor/CEO and Sessional Professor of Missiology, delivered two engaging lectures focused on the increasing need for mission work and evangelism in North America.

The seminarians were able to celebrate their unity in Christ by participating in the Divine Liturgy on Sunday morning, during which His Eminence, Archbishop Irenée of Ottawa and the Archdiocese of Canada, ordained SVOTS seminarian Deacon Ryan [Tikhon] Bishop to the priesthood. Following the Divine Liturgy, the seminarians mingled at coffee hour before the visiting students departed for home.

OISM was organized in the 1960s to foster closer relationships between students of canonical Orthodox seminaries in the US and Canada.