"Up from the ashes": Helping South Boston parish recover
Michael McBride lives directly behind Saint John the Baptist Church, which had been declared a total loss due to the fire that engulfed it on Wednesday, August 21, 2013.
"My fourth floor balcony has a bird eye view of the church, and every morning I would make a cup of coffee, grab my newspaper and head to the balcony to look over at the church and the sun rising to my right on the east," McBride related in an e-mail sent to the Orthodox Church in America web team the day after the blaze. "It was a special way to start each day."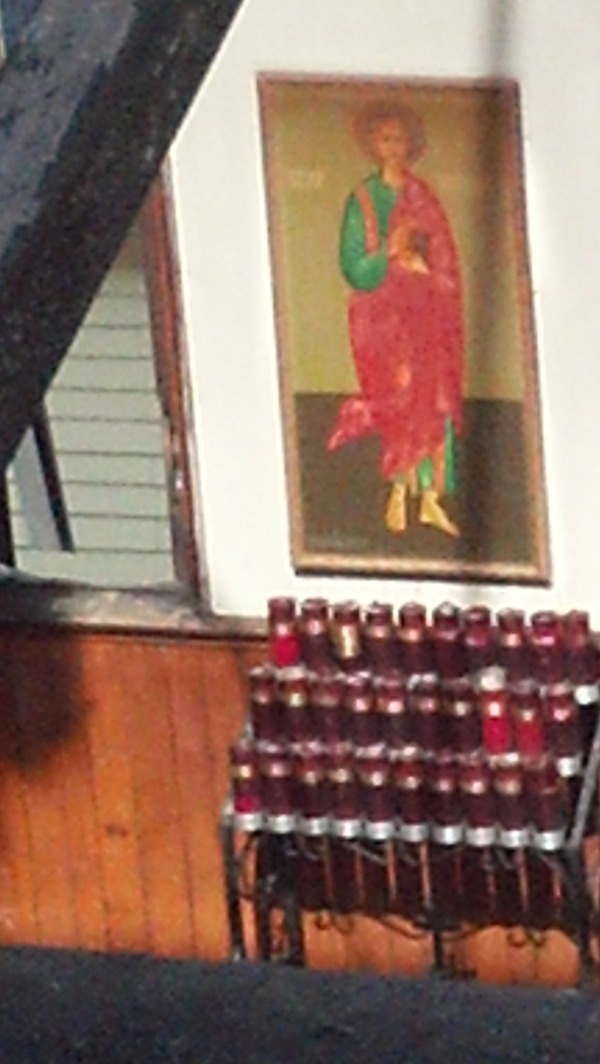 A few days after the fire, McBride went about his usual ritual, but as a result of the roof's collapse, he was able to peer inside the church. To his surprise, many of the icons and liturgical items survived, so he snapped a photo of an icon of Saint Thomas – and the votive candles that grace it – that had especially caught his eye.
"I wanted to share the picture I took after we were allowed back into the apartment building," said McBride. "I think it is truly miraculous, considering the strength and size of the fire, and I got the chills when I first saw it. It really made me stop and wonder how, amongst the terrible destruction, some of the church's prized icons survived untouched. I hope to see the church rebuilt, as it would break my heart to see it go!"
McBride's isn't alone in hoping the church will rise from the ashes. Many individuals have enquired as to how they can help Saint John's recover from the worst disaster to hit the parish since it purchased the building in the 1930s.
According to John G. Brown, the parish's lay chairperson, donations may be sent to Saint John the Baptist Albanian Orthodox Church, 143 Dorchester Street, Box 125, South Boston, MA 02127.
In related news, Boston fire officials reported that the cause of the five-alarm blaze was short-circuiting in a ceiling light fixture's antiquated wiring. The church, which dates back to the early 1800s, suffered extensive damage to the roof and the area behind the altar. There was a fear that the back half of the building would collapse completely.
Prayers are requested for the parish faithful, as well as for the eight firefighters who were injured in battling the blaze.