Update: Support for Abducted Syrian Hierarchs Spreads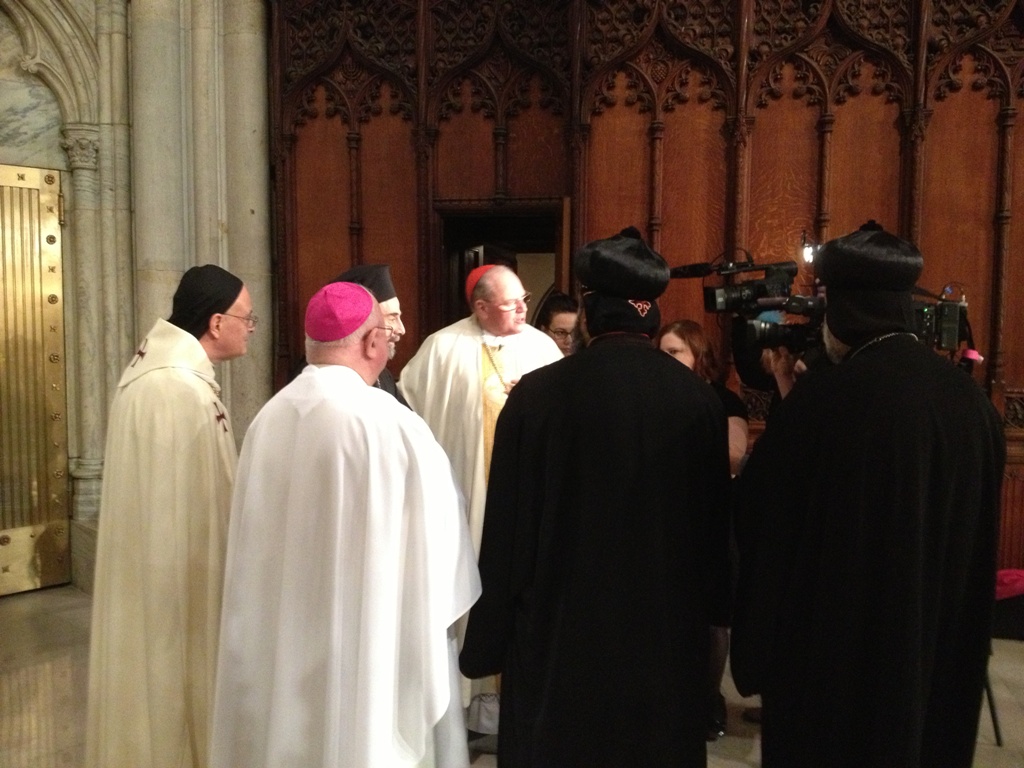 Timothy Cardinal Dolan, Roman Catholic Archbishop of New York, offered Mass at Saint Patrick's Cathedral here on Thursday, May 2, 2013 for the safety and well-being of Antiochian Orthodox Bishop Paul Yazigi and Syriac Orthodox Bishop John Ibrahim who were recently kidnapped in Syria.

Representing His Beatitude, Metropolitan Tikhon, was Archpriest John Jillions, Chancellor of the Orthodox Church in America, who noted that Cardinal Dolan had invited leaders from the Orthodox Christian community and Catholic leaders to join him in praying for the speedy return of the two kidnapped prelates. Also present were His Grace, Bishop Sevastianos [Skordallos] and Priest Mark Arey of the Greek Orthodox Archdiocese of America and Archbishop Mor Cyril Aphrem Karim and Reverend Eli Shabo of the Syrian Orthodox Church.

Cardinal Dolan drew attention to the plight of the two bishops and persecuted Christians in the Middle East. He noted that faith in the resurrection of Christ has from the beginning drawn Christians together and deepened their prayer, but it has also led to suffering as a constant throughout Christian history. The fact that Orthodox Christians are now in Holy Week and remembering the suffering of Christ alongside the suffering of these two bishops is significant, he said.

Catholic leaders present included Archbishop Francis Chullikatt, Permanent Observer of the Holy See to the United Nations; Bishop William Murphy of Rockville Centre, NY; Bishop Gregory Mansour, Maronite Eparchy; and Monsignor John Kozar, president of the Catholic Near East Welfare Association. New York City Mayor Michael Bloomberg's office was represented by Fatima Shama, Commissioner of Immigrant Affairs.

An audio copy of Cardinal Dolan's remarks can be found here.