2013 OCMC Orthodox Mission Team Opportunities Now Available!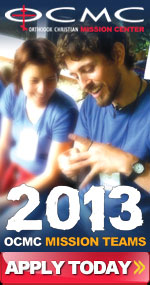 In 2012, 135 Orthodox Christians shared their faith through loving service as part of an OCMC Mission Team. They witnessed baptisms, healed the sick, strengthened the foundations of the Church, and brought the love of Christ to people around the world. They answered the call to make disciples of all nations. Is 2013 your time to share in this journey of faith?
OCMC is excited to announce 2013 Orthodox Mission Team opportunities. Next year, team members will have the opportunity to share the Orthodox Christian faith by offering evangelism, catechism, healthcare, construction, and youth ministry in 7 countries around the world. 2013 Mission Team dates and opportunities include:
Kenya - Teaching (3/1/2013)
Share the Gospel and teach the Orthodox Faith in Lodwar.
Uganda - Teaching (3/8/2013)
Offer w orkshops on Christian stewardship to both clergy and laity in four regions of Uganda.
Albania - Teaching (5/20/2013)
Earn credit hours while immersed in the daily renewal of faith in Albania.
Uganda - Healthcare (5/28/2013)
Provide healthcare services to the people of Uganda.
Alaska - Teaching (6/9/2013)
Teach in three Bethel-area villages that will come together for catechetical seminars.
Albania - Youth Work (6/14/2013)
Help administer a summer camp program at the Children's Home of Hope in Shen Vlash.
Alaska - Youth Work (7/19/2013)
Help the Church in Alaska enhance its youth ministry in the Kodiak Deanery.
Kenya - Teaching (7/22/2013)
Teach the Orthodox Faith in Lodwar where a catechetical training seminar will be offered.
Tanzania - Teaching (7/22/2013)
Offer seminars for church leaders of the Metropolis of Mwanza.
Guatemala - Construction (7/31/2013)
Work with OCMC missionaries in the western highlands of Guatemala to build housing at an Orthodox training center.
Mongolia - Teaching (9/23/2013)
Share the Gospel and help plant the seeds of Christianity in Mongolia by teaching and evangelizing those in Ulaanbaatar who have begun to respond to the Good News of Christ.
Tanzania - Healthcare (10/15/2013)
Work with local healthcare workers at the newly-established Orthodox Health Clinic in Bukoba.
Please prayerfully consider your participation on an Orthodox Mission Team in 2013. Visit www.ocmc.org or contact Teams Director Andrew Lekos, by phone at 1-877-463-6784 ext. 140 or by e-mail at .(JavaScript must be enabled to view this email address), for more information or to apply.