Ancient Faith Radio: Six new Holy Week reflections by Fr. Thomas Hopko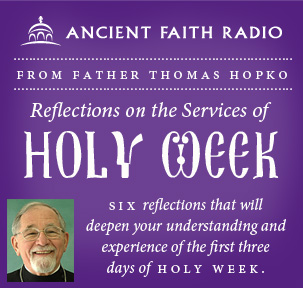 Now available on Ancient Faith Radio are six reflections by Father Thomas Hopko on the first three days of Holy Week. The podcast episodes are brand new to the internet radio station and offer a perfect way to prepare for the celebration of the Church's services prior to Pascha.

The reflections may be accessed here.

In six reflections Father Thomas, Dean Emeritus of Saint Vladimir's Seminary, Yonkers, NY, and a widely known author and lecturer, examines the significance of the Scripture readings and verses that are the focus of Holy Week.

Three additional podcasts by Father Thomas are available on Ancient Faith Radio, each containing numerous episodes on Christian belief and behavior: "Speaking the Truth in Love," "Worship in Spirit and Truth," and "The Names of Jesus." His reflections on Holy Week are part of the podcast "Speaking the Truth in Love."

Ancient Faith Radio seeks to deepen and enrich the faith of Orthodox Christians around the world with streaming audio programming and on-demand podcasts. It also features liturgical music from a variety of traditions, as well as prayers, readings, lectures, and interviews.