Fr. Daniel Hubiak, former OCA Chancellor, celebrates 90th birthday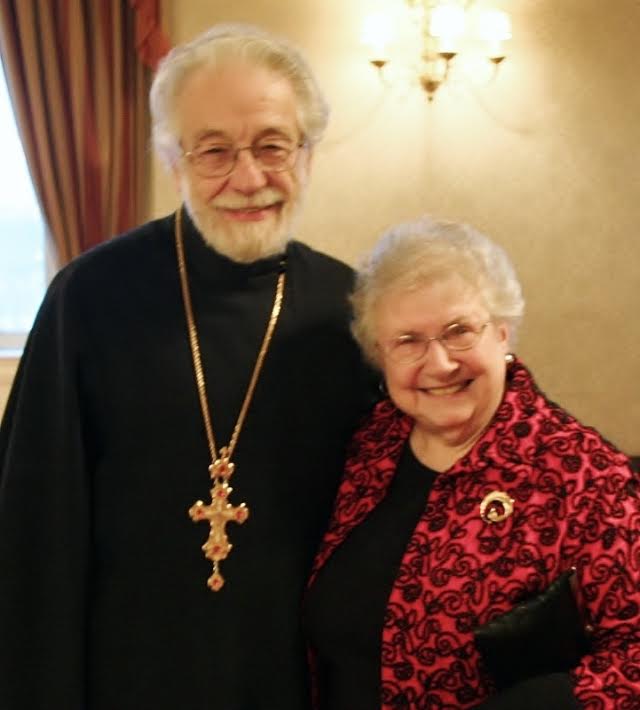 On Thursday, December 29, 2016, Protopresbyter Daniel Hubiak, former Chancellor of the Orthodox Church in America, celebrated his 90th birthday.
"On behalf of the Holy Synod of Bishops, the clergy, monastics and faithful of the Orthodox Church in America, please accept my most sincere congratulations on this, the celebration of your 90th birthday," wrote His Beatitude, Metropolitan Tikhon in a congratulatory message. "We arrive at this day with a sense of deep gratitude to our Lord and Savior for the gifts bestowed upon the Orthodox Church in America through your priestly service and administrative leadership. With the dedication and faithfulness of a true servant of Christ, you worked in the vineyard that is the Orthodox Church in America in a variety of capacities, always bringing a zeal and energy infectious to all you served. Your love of those given to your care, be they parishioners in Brooklyn, Long Island or Moscow, or the clergy you served as Chancellor, has always been an exemplary testament to the love you have for Christ and His Holy Church.
"May our Lord grant you and our beloved Matushka Evdokia peace of mind, strength, joy and an increase in every good thing as you continue to be a pastoral presence, and a light of Christ to those around you," Metropolitan Tikhon concluded.
Father Daniel and Matushka Evdokia —affectionately known by all as "Dunia"—have served the Orthodox Church in America with unwavering dedication and faithfulness in a number of capacities and parishes, including Holy Transfiguration Cathedral, Brooklyn, NY; Holy Trinity Church, East Meadow, NY; Saint Sergius Chapel, Syosset, NY; and Saints Peter and Paul Church, Jersey City, NJ.
Father Daniel served as Chancellor of the Orthodox Church in America for 15 years. In 1970, he was a member of the official delegation sent to Moscow to receive the Tomos of Autocephaly. For several years in the 1990s, he served as the OCA's first representative in Moscow and Dean of the OCA Representation Church of the Great Martyr Catherine. He and Matushka Dunia are fondly remembered, with love and respect, in every place they have served Christ and His Holy Church.
A recent interview with Father Daniel, conducted by the current Chancellor of the OCA, Archpriest John Jillions, may be viewed on-line.
May God grant Father Daniel and Matushka Dunia many years!