From All Saints Orthodox Church in Olyphant, PA, to Moldova: missionary Christina Semon works with youth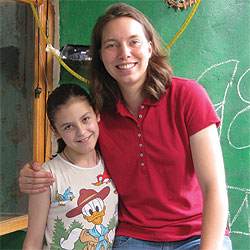 Orthodox Christian Mission Center (OCMC) missionary Christina Semon grew up in All Saints Orthodox Church in Olyphant, Pennsylvania, where her family and parish community nurtured her desire to live a life in service to others. Her involvement with Orthodox College Fellowship (OCF) and Orthodox Church in America summer camps also prepared her for the overseas missions and youth work which was to follow.
When Christina arrived in Romania in 2008, her first task was to assist at the Protection of the Theotokos Family Center (PTFC) in Cluj, Romania. The center assists at-risk mothers and children through spiritual counseling, a jobs program, and the provision of adequate food and clothing.
During her first years as a missionary, Christina also worked at the St. Dimitrie Program in Romania, a nationally recognized ministry spearheaded by OCMC missionaries Floyd and Ancuta Frantz. The St. Dimitrie Program collaborates with the Orthodox Church in Cluj, Romania to develop specialized services to help people in the Cluj Archdiocese struggling with alcoholism and other addictions.
Notes Christina, "Even though I didn't have a background in social work, God put me in an area where there was a need. Through the help of my supporters, I bought a used car in August 2009, and was able to further serve the St. Dimitrie Program by using it to drive to various hospitals, a prison, and even to the local mall to pick up food packages for the poor. I also would travel with staff members to conduct group meetings and informational groups."
After returning to the US in early 2011, Christina received her second assignment from the OCMC, and was appointed to work with church youth in The Republic of Moldova.
Christina had visited Moldova in her first team, in order to witness firsthand the outcome of missionary Floyd Frantz's anti-alcohol program. The Republic is "new territory" for the OCMC, and is one of the poorest countries in Europe. The Church in Moldova suffered greatly under seventy years of Communist rule and is still recovering from the economic and spiritual side effects of the totalitarian system.
Christina began her second mission term in mid-2011. In her Fall 2011 newsletter she described her life in Moldova. "I have relocated to a new parish in the town called Orhei to better serve my youth ministry….Now that school has started in Orhei, the amount of activity for the body of the church will increase at the local parish church of St. Basil. Through the blessing of Fr. Sergiu Aga, parish priest of St. Basil, I am currently developing an English program for all ages and a knitting activity with young ladies at the half-way house called 'Toward Independence.' It is run by Diaconia, the social outreach department of the Bessarabian Orthodox Church. We have already initiated these activities and are eager to provide more ways of feeding the souls of the youth."
Christina has also enrolled in the Masters' Program in the Theological Department at Alexander Ioan Cuza University in Iasi, Romania.
View a photo gallery of Christina's ministry.